The High End Society got in touch to let us know about some of the musical entertainment at this year's High End Show in Munich.
In addition to the numerous music demonstrations by the exhibitors at High End Munich, a wide spectrum of musical variety with a vast array of live performances will provide for an entertaining, delightful and melodious visit to the exhibition. Visitors will be treated to a colourful and diverse mélange of music – from mighty alphorns right down to jazzy and pop numbers played on saxophones.
Greeting with the sounds of Alphorns
Playing on: Thursday, May 18, 2017, from 9:30am to 1:00pm Werdenfelser Alphornbläserinnen – Entrance of Hall 4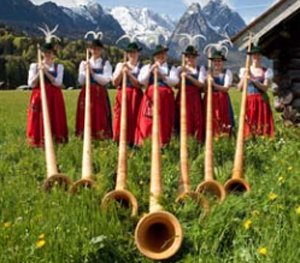 Traditionally, the HIGH END exhibition is opened with original Alpine music. On this trade visitor's day, it is natural for the HIGH END SOCIETY as the organizer of the exhibition to respectfully welcome the international guests from approx. 50 countries with Bavarian music. The guests are greeted again with the sounds of alphorns, as this has been particularly well received in the past, especially by our international guests. Since 1997, the "heavy wind instrument" (in this case "heavy wood" instead of "heavy metal") in Bavaria has no longer been "something for men only" but is also successfully played by women. That is why as the world's first all-female alphorn band, the "Werdenfelserinnen", have truly made history. The conservatory-trained trumpet player, Elisabeth Heilmann-Reimche, established Germany's first female alphorn group 20 years ago in Garmisch-Partenkirchen, which offers unforgettable visual and acoustic impressions in its colourful traditional costumes and with its mighty alphorn sound.
The exhibition's "Walking Act"
A "mobile band" in the truest sense of the word is once again providing for relaxed and delightful musical entertainment, completely unplugged from electricity, and without a stage or music stands, playing amid the flow of visitors. In the packed crowd of exhibition visitors, the "Walking Acts" with their thrilling musical enthusiasm offer the visitors professional entertainment and eye-catching colourful highlights. With charm and flexibility, the "Walking Acts" are captivating, inspiring and original, providing fun and good cheer among visitors.
Four Saxess
The quartet is performing from May 19 to 21, from 12:00 noon to 5:00pm, in the entire exhibition area.
Swinging jazz and groovy funk, fiery salsa and wild rock & roll songs are on the program of the "Four Saxess" saxophone quartet. Their musical repertoire includes many songs that are known (or somehow familiar) to everyone – passionately played jazzy evergreens. With their program, the four musicians from Munich thrill their audiences at various events not only in Munich but also in venues including Düsseldorf, Frankfurt, Brussels, Merano and Milan.