The EB-50 In Ear Monitors (IEMs) are British hifi manufacturer Musical Fidelity's first venture into the world of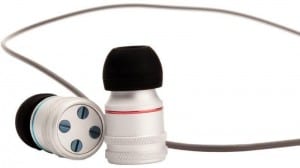 headphones and they have created them in house from scratch, with a flat frequency response being crucial to the design remit… the manufacturing of the EB-50s is done in China. The concept is to offer a studio quality monitor with the classic Musical Fidelity signature sound. The driver capsules themselves employ neodymium magnets and are enclosed in a multi-layer, anti-resonant material to help minimise internal vibrations and then this is itself encased in a milled aluminium case which is said to further improve damping.
The IEMs arrive in a well presented box containing 3 extra pairs of colour coded tips, presumably so they can be shared amongst your friends and family, seven pairs of differently shaped tips to get the fit you feel most comfortable with, over ear clips to keep the headphones in the right position (or to stop them falling out during physical activity), a tie clip, a mini to quarter inch adapter, a carry pouch and the headphones themselves.
The headphones come with a cable of about 1.2 metres, a 3.5mm gold-plated plug and a mic' mute button for users of smart-phones… and a handy cable tie attached to the cable which helps when packing them away into the supplied pouch. They look well constructed and solid, but surprisingly they do not feel heavy, in fact they feel unexpectedly light – 28g apparently.
As with all the IEMs I've tried in recent months the standard tips just don't work for me at all and I've found myself preferring the longer tips provided. Once you find the tip that is right for you the EB-50s are very comfortable over long periods…in fact after a short while you forget you are wearing them at all and I happily sat at my desk for hours at a time listening to music whilst using the EB-50s. The over ear clips proved to be a bit of a faff so I didn't bother with them at all and so cannot comment on their effectiveness or otherwise…I'm sure other more athletic types will persevere and find them a very useful addition – that said the phones did stay in my ears perfectly well whilst moving around, though I'm hardly likely to trouble the Team GB gymnasts in the 'moving around' stakes!
For listening tests I used the EB-50s with the HiSound Audio Studio DAP playing FLAC files and through the main rig using a prototype, 2W Class A, dual-mono headphone amplifier from Epiphany Acoustics.
Listening to Squarepusher's "Ufabulum" album it's clear that the EB-50s are a nicely balanced headphone with all the frequency range being present and nothing being over dominant…or indeed receding into the background. Hi-hats and cymbal hits were very pleasing with hi-hats being crisp and cymbal hits sounding very natural indeed.
On the bass heavy "Protection" by Massive Attack (Mad Professor remix) I found the EB-50s coped very well indeed  – with some headphones the bass can either appear very light or over-driven and distorted, but here it was to the fore (it is in the mix) and very well defined, but not over dominant. On rock (Cave – 'Neverendless') electric bass-lines appear accurate and tuneful – not a one-note bass at all and nice and 'bouncy'.
Jeff Buckley's voice on "Lilac Wine" from the album Grace was sublime and as good, if not better than I've heard on any IEM – beautifully controlled and full of the singer's rich tone, soulful intonation and emotion. I found myself hitting the play it again button time and time again on this track and on Hallelujah too.
Listening to poor recordings was not a pleasant experience, however and if you think you can get away with listening to low quality MP3s with these IEMs then you need to think again – the top-end clearly breaks up and sounds terrible. I ripped Neil Young's Americana to MP3 and got as far as the second track before giving up! They certainly do highlight the shortcomings inherent in low quality MP3 playback and if this is your preferred listening arrangement then perhaps you should look elsewhere…or re-rip your CD collection to 320kbs MP3 or preferably a lossless format such as FLAC!
Left and right stereo image is very good indeed with the image appearing wide and well beyond the earphones themselves, particularly when the higher registers have been panned left and right in the mix (psychoacoustics I know, but the effect is impressive for such small in-ear headphones). Within the mix individual instruments are easy to position, remaining rock solid and where the engineer has placed them.
These are a very sensitive headphone and I found myself listening at least 3 notches down the volume control to where I normally do and they do go loud very quickly as you increase the volume. They also offer a good degree of isolation from the outside world even when listening at low volumes.
Conclusions
When Musical Fidelity call the EB-50s 'monitors' I believe this is a very good description. They are flat across the frequency range as per the company's aims and seem to be pretty much neutral…they play what is there and add very little in the way of their own sonic signature. They are however not a cheap headphone and retail at just shy of £150 in the UK. For that price my view is that if you care about the sound of your music whilst out and about and use either high bit-rate MP3s or Lossless files then they represent great value for money. If you think that they will enhance the quality of low bit-rate files then you need to think again…they won't and you will come away disappointed!!

Author  -Stuart
Want to read more hifi reviews?