Musical Fidelity's recently introduced M6 Encore 225 has just received its most important updates with the integration of the Tidal service, both directly within the player and in the app, the addition of 24bit/192 audio compatibility over the USB – B input and the super fast copying of audio from USB sticks.
Musical Fidelity say "The M6 Encore is a unique complete audio solution blending the very best of British analogue audio expertise with the most up-to-date digital convenience".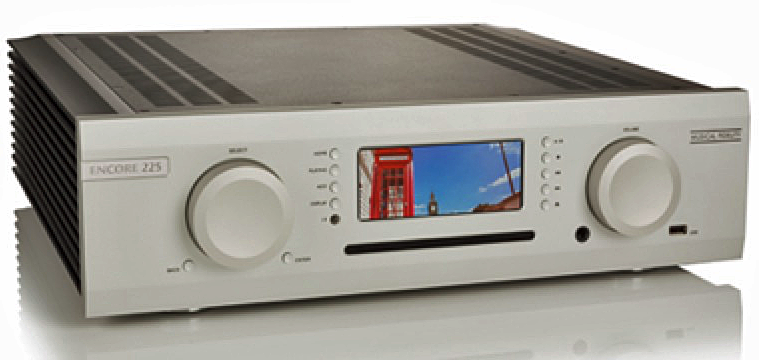 "Integrated into the attractive symmetrical design of the Encore 225 is an integrated CD player/ripper, an upgradable internal hard drive, Internet radio and high quality streaming with the integration of the Tidal service. The Encore 225 will also accept almost any conceivable digital or analogue audio source, with three analogue inputs, four digital inputs, four USB A connections (one of which has high current capacity for charging phones and tablets), a high-quality headphone amplifier, full network connectivity, fixed and variable line level outputs as well as a digital output".
"In addition to specifying an exhaustive specification, Musical Fidelity has also taken a unique conceptual position with regards to the design philosophy for the Encore 225. First, in the interests of providing the highest possible audio reproduction the company has chosen to minimise the influence of network quality by storing and playing all music directly from the upgradeable 1TB storage. Secondly, at the heart of the Encore is a very powerful dual core 64 bit Intel CPU with 2GB of RAM. This provides superb performance with near instant access to music and information and also allows Musical Fidelity to offer continual, free upgrades of the player's facilities – making the Encore virtually future proof.
The lack of latency in the players operation, the clear, high-resolution full-colour display, the well considered ergonomic layout and the option of free iOS and Android control apps all combine to ensure that Encore is always easy and intuitive to use. Power output is an impressive 225W per channel into 8ohm care of dual mono amplifier modules from the award-winning M6 separates range while the highest grade a 32-bit/384kHz chipset ensures the purest digital-to-analogue conversion".
The Musical Fidelity M6 Encore 225 is available now from specialist hifi retailers UK wide and is priced at £3999.