Having been impressed with MF's most popular player on the block, the A5 CDP, I was curious to know how its diminutive sibling the XRay V8 would fare so managed to get hold of one for an audition.  It arrived neatly packaged with the separate off-board power supply unit, leads and remote.  Initial impressions on build were quite good.  Well screwed together and quite an unusual design with the long slim casings and separate (and quite beefy) psu.  Assembled and left to warm up, I had a look at the remote which is a plastic affair with far too many buttons and a confusing layout.  The remote is intended for the matching amplifier and tuner operation too and the overall impression is that MF intended this to be bought as a package with those units (X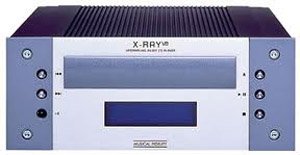 100 amp and X-Tuner).  They share a trademark casing design meant as an upgrade to the older cylindrical shaped units .
The DAC is a hybrid affair with the literature promising great detail and neutrality from a circuit loosely based on the KW series.  Sounds good, thought I.  Opening the transport mechanism is a bit of a letdown.  It appears to be quite flimsy and cheap, not any better than you'd expect from a family PC.  I've always preferred top loaders for this reason as there's less to go wrong, but at least they could have but a bit more effort, given the price tag.  It took quite a while for the CD to load up, so I tried another to see if it was the CD.  Nope, the second, third and fourth CD's tried were all the same with load times varying from 15 to 30 seconds.  Another black mark.  Sitting back I used the fiddly remote and tried to get the CD to queue, but you have to be almost directly in line to get it to work.  Go a few metres off to one side and it doesn't respond very well.  Black mark number three.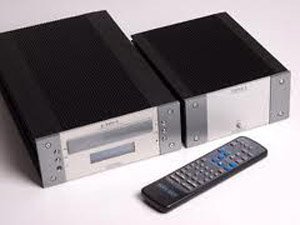 If the initial foibles annoyed me, at least I thought the listening would put some perspective on things.  Initial impressions of sound quality were "very detailed and spacious sound", certainly every little crumb of detail came through but there was something amiss.  Sound has a slight edgyness and lacks any real bass depth or warmth.   Don't mean "warmth" in the coloured sense of distortion, but presence in the mids was lacking, not helped by a slightly recessed 2-D sound stage.  Some more listening was in order.  I went through a dozen or more CD's and would sum up the sound as unoffensive, very detailed but lacking in emotional involvement and a little light.
On paper, at least, it has a decent heritage and good design.  It looks good too and with the right recording rewards with a more balanced sound, always retaining a sense of airiness, but its not for me.  The value needs to be compared with other players in the £1K market, and there's better, much better available for that sort of money, such as the Rega Planet and bigger brothers for example, which could show this rather trendy looking MF player a clean pair of heals in the sonic stakes.
However, put in contect of an all "X" series set up and it starts to make more sense.  Given a third of the players cost is associated with the offboard power supply unit and it matches well with the X-100, I decided to try it with the X-100 and to be honest it was a slightly better match than sat in my own system, with subtle improvements in mid presentation. If you have an X-series set up and want a very detailed player which competes well with the competition, then it might fit the bill. If you want it to partner your current non-X seris set up, look elsewhere would be my honest opinion as the sound is a little edgy, the controls fiddly, and the value for the sonics bettered by many alternative players at or below the price of an X-Ray and partnering PSU (without which you can't use it).
Author – Paul
Want to read more hifi reviews?