"Being the "high-res specialists from New York", the men behind Mytek have a reputation to live up to when launching a new product. With the Mytek Brooklyn and the new Manhattan II, their top notch DA converter with MQA they must have thought: why not build a portable USB/DAC/AMP to bring good sound to all wired headphones and associated smart devices? Of course for a fraction of the cost and offer noise cancellation in the process? Well, that is exactly what they are going to do with their newest product: CLEF." Was the opening gambit of the latest press release from Mytek so we had to read on…
For just under $300 you can pre-order a CLEF which Mytek will offer in the middle of May, in time for their big time launch during the biggest high-end audio show in Europe, HIGH END Munich in Germany. At this point in time everything surrounding the introduction is being kept under the hat.
The device is ready for Tidal Masters playback, plays the high resolution files through its Sabre 9018 DAC and has a dynamic range of 120dB. The headphone amp will drive any headphone with its 2.2VRMS output and 1 Ohm output impedance. Formats accepted via USB are up to 32-bit/384kHz PCM and DSD128 via DoP, MQA fully decoded via built in proprietary decoder. It plays all audio formats any computer can play, like FLAC, AAC, MP3, DTS, Dolby, etc. Even via Bluetooth CLEF promises better sounding AAC. CLEF has built in microphones to perform noise cancelling and can accept or decline calls coming in from your phone. It has two headphone outputs and drives them simultaneously. One doubles as a digital output (24-bit/192kHz, DSD64). CLEF will play up to 8 hours on a fully charged battery und weighs in at just 85 grams. It measures just 3.5 x 2.5 x 0.5 inch (93 x 60 x 12mm).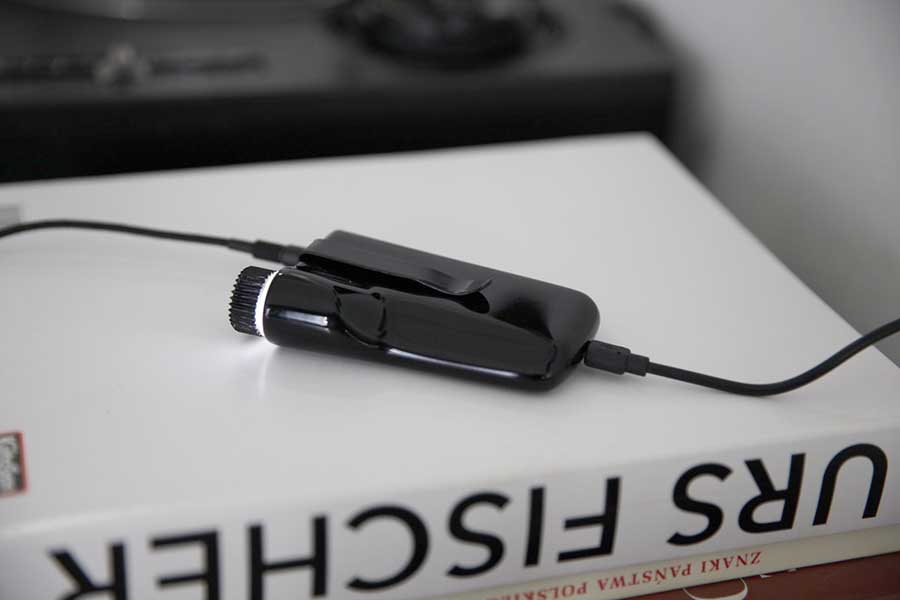 It'll play loud and high-res and turns any headphone into a Bluetooth set. Receive calls while listening and charge your iPhone 7 at the same time. Price is €299