Naim today announced that its Uniti range of all-in-one players will now feature Bluetooth (aptX) and Spotify Connect. "Naim's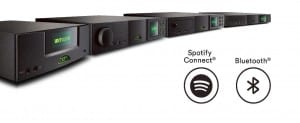 customers are music lovers and these new features add convenience and flexibility to their ability to play music from many sources" say Naim.
Naim's range of network players will also feature the new Spotify Connect functionality but not Bluetooth.
Naim's Uniti range was first launched in May 2009 with the arrival of the original NaimUniti and since then the range has grown to encompass three more all-in-one players.
Existing streaming product customers can have Spotify Connect as a free software update.