John Scott is entranced by the sleek, stylish beauty of Naim's £850 all-in-one speaker system but will she sound as good as she looks?
The Arrival Of The Queen Of Sheba
I described in the November 2014 issue of Hifi Pig Extra how I fell head over heels with the Naim Mu-So in the middle of the John Lewis department store without ever having heard her sing a note.  So, you can imagine my delight when she turned up on my doorstep and asked if she could stay for a few weeks.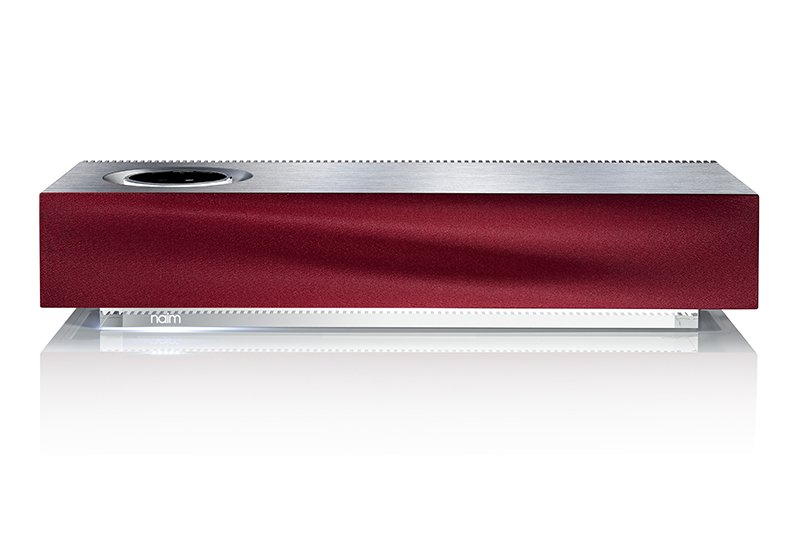 Okay, I'll try to stop anthropomorphising the Mu-So now before it gets really annoying but I can't promise.  The Mu-So arrived a day earlier than I was expecting and I was just about to go out with my wife to the cinema.  "I suppose you will want to stay home and play with that now" my wife said, pointedly – how well she knows me.  I was as surprised as she was when I heard myself say that I did still want to go out but that I'd just get the Mu-So out of its box and set it up in the sitting room in the half hour we had available  before we had to leave.
So, Mu-So out of box, power cord attached and plugged in, Ethernet cable attached and Mu-So powered up.  Music immediately started playing from one of its pre-set internet radio stations.  Set up and playing music in no more than five minutes, I was impressed.  I had already downloaded the Mu-So app to my iPad in anticipation of its arrival so I fired this up and tapped the Tidal button, typed in my registration details and my Tidal music library was immediately available to play.  Impressed again.  Tapping the UPnP button brought up a Windows Media Server icon and an LMS server icon, as used by my Squeezebox Touch streamer.  Tapping the LMS icon gave me access to my extensive digital music library stored on a networked external hard drive.  Could I be more impressed?
At this point I was physically dragged away to the cinema (Spectre, thanks for asking).  As much as I was enjoying the film, my mind kept slipping back to a certain sleek silver box that was waiting for me at home.  When my son texted me to say that he had forgotten his house keys and would be shut out in the wind and rain for the next two hours I took a lot less persuasion than I normally would to leave the film and return home.
Firing the Mu-So back up, I was surprised to see no sign of the LMS icon on my app and no evident way of making it appear (Tip: tapping the iPad screen really, really hard doesn't help and shouting at the iPad is, if anything, even less helpful; now, Siri wants to call the police any time I try to ask her a question) so I contented myself with listening via Tidal and resolved to sort out the UPnP issue in the morning.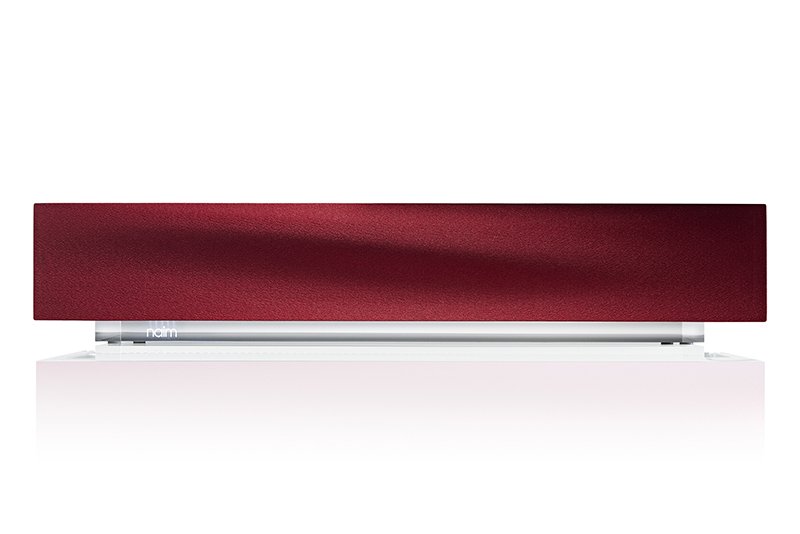 I'd been advised that the Mu-So had come direct from another reviewer and that it would be advisable to reset it to its factory default settings so bright and early next day, I did this – it's a simple matter of pressing a recessed button with a little pin-like tool – and then set about activating the Windows Media Server on my laptop – I'd never used WMS before – and importing my music library.  WMS clearly didn't like the look of my library and kept crashing so after about an hour of restrained swearing I began to google for an alternative solution and came up with a free server called Serviio – other free servers are available but Serviio worked like a charm.  It download and installed easily and I left it alone for a few hours to become acquainted with my music library while I went Christmas shopping with my wife, totally of my own free will and with absolutely no complaints whatsoever (ahem).
Back home, lighter of wallet and heavier of heart, the app now cheered me up by presenting me with three icons: WMS, Serviio and, you've guessed it, LMS; I can only imagine that the Mu-So was flirting playfully with me.  I'm happy to say that all three icons remained in place afterwards.  Also, there are differences in how Serviio and LMS present your music library within the Mu-So app and each have their individual good points so having both installed is not a bad thing.
If the set up process was slightly more involved than my first 5 minutes with the Mu-So had suggested, it was still pretty straightforward.  Having said that, if buying a Mu-So is your first experience of streamed, networked audio then you will have a bit of a learning curve to contend with.  The start up guide that comes with the Mu-So is pretty basic but the Naim website does contain more comprehensive support.
Before serious listening could start there were a couple of small adjustments to make.  The app allows the Mu-So to be set up to compensate for its position in the room; if it is far from a rear wall, the lower frequencies can be boosted and if the Mu-So is to be played at low volume, a loudness filter can be activated.  I set the Mu-So to play close to a rear wall and with the loudness setting deactivated.
A Small Technical Diversion 
Behind the Mu-So's grill lie six custom-designed speakers, each of which is powered by a 75 watt digital amplifier.  A bass port enhances performance of lower frequencies.  Naim claim that Mu-So's 32 bit digital signal processor is capable of one hundred and fifty million calculations per second, running a custom-designed code to ensure that each speaker receives the right frequencies at exactly the right time.  Connectivity is either by Ethernet cable, wireless, USB, Airplay or Bluetooth. WAV, FLAC, AIFF, ALAC and MP3 formats are all supported.  High resolution formats required a wired connection. 
A Thing Of Beauty Is A Joy Forever – Not Just Three Days, George
George Bernard Shaw said: "Beauty is all very well at first sight; but who ever looks at it when it has been in the house three days?"  George clearly wasn't a Hifi fan; if I lost my heart to the Mu-So at first sight there was no chance of my ardour waning during the time that I had it in my possession – it truly is a lovely thing, it's sleek, modern lines fitting in seamlessly to the traditional décor of my sitting room.  Mu-So's cabinet is made of wood, covered by a skin of anodised aluminium to increase rigidity and damping.  The front grill features a sculpted wave that echoes the design of Naim's flagship Statement amplifier.  The grill comes in black as default but replacement grilles are available in other colours albeit at the slightly eye-watering price of around £70.00 each.   On the top panel sits the beautifully tactile input/volume control made from a perfectly weighted sold ring of aluminium, illuminated from below.  Tapping this control turns the Mu-So on and off and provides input choices.  Turning the control adjusts the volume (from zero to eleven for Spinal Tap fans).  Control is also available via a supplied remote control or an iOS/Android app.  Such was the quality of the app that I found the remote to be entirely redundant.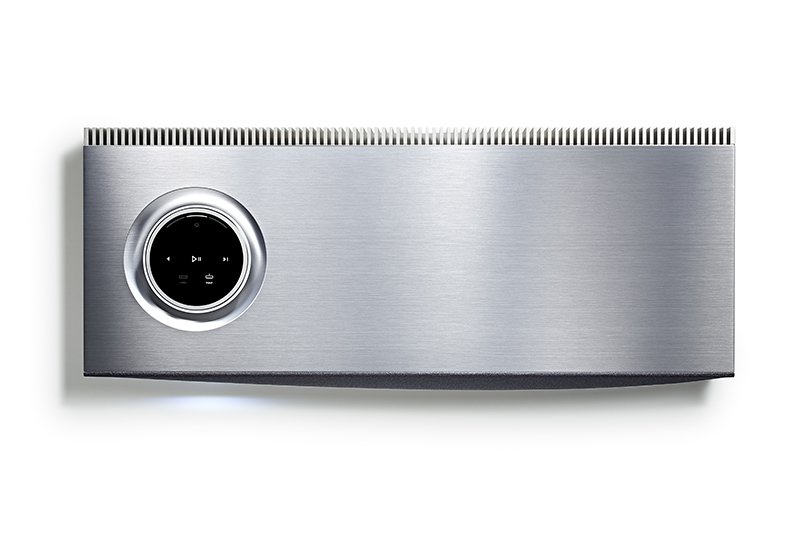 Easy Listening 
As mentioned above, the Muso's app allows you to access and play music stored on your network or via the Tidal streaming service (if you have a subscription). Hundreds of internet radio stations are also available and you can select five of these as pre-sets.  Whatever music source you choose, navigation is quick and simple.
Having got the Mu-So set up, it time to get down to some serious listening.  As the Mu-So had been out to other reviewers before I received it, no run in time was required.  What I hadn't anticipated however was that I was the one who was going to need a period of running in: for the first couple of days whenever I sat down to listen to some music I found myself staring at the Mu-So and thinking: "How can something as small as that be producing a sound as big as this?"   Fortunately, that feeling faded and I was soon able to give the music the attention it deserved. Playing the title track of John Martyn's Solid Air album, all the familiar warmth and ambience I expected was present.  Martyn's blurred vocals hung in front of the Mu-So with the instrumentation arranged around him and I could almost see the haze of cigarette (?)  smoke rising in the air.  Why So Serious from the soundtrack of The Dark Knight is a challenging track for any system to resolve correctly but the Mu-So took it in its stride.  Punishing dynamics, deep, deep bass and high rising strings were all handled without any obvious sense of strain.   Inevitably, the Mu-so's size and design means that it never going to present the biggest of sound stages but it does a better job than you might expect; the Mu-So seemed equally at home whether playing solo acoustic guitar of large scale symphony orchestras.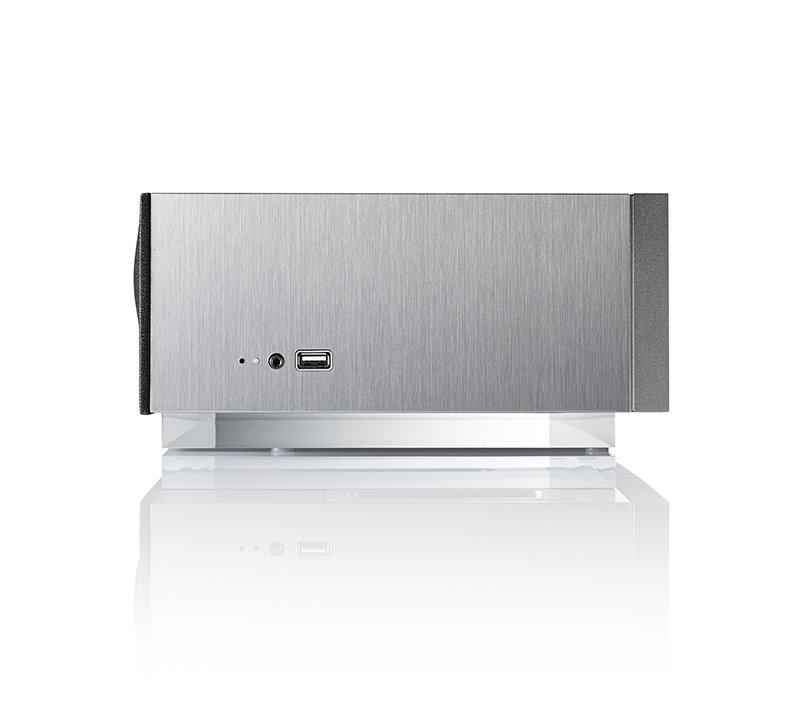 It wasn't all plain sailing though.  An Ethernet connection allows the Mu-So to play high resolution files up to 24/192.  I found that 192 files were prone to stuttering and drop outs but I'm confident that this was a symptom of my network set up rather than a failing on the part of the player.  My set up gave me no option but to make an Ethernet connection to my router via powerline adaptors. If you intend to use 192 files then I would strongly recommend a wired Ethernet connection directly from router to Mu-So.
Conclusion 
Naim's Mu-So delivers a level of performance that is in keeping with its build quality and stunning good looks and that belies its size.   If you already have a high-end traditional Hifi system made up of a collection of boxes and speakers then it is unlikely that you will want to replace these with a Mu-So.  If, however, your living arrangements make a traditional Hifi set up impractical, or if you want a second system for another room then the Mu-so is worthy of serious consideration. I still look at the space where "my" Mu-So used to sit and feel a little pang of loss.  But while she was with me we made beautiful music together.
Value for money:  8.7/10 
Build quality/styling : 9/10 
Overall:  8.6/10
Pros
Excellent build quality and styling
A sound you would expect from the Naim pedigree
Easy set up
Intuitive, comprehensive app. 
Cons
Limited soundstage (to be expected)
May be fussy about network quality
Replacement grilles expensive
John Scott