NAIM UNITI ATOM HEADPHONE EDITION LAUNCHED
Naim Audio release the Naim Uniti Atom Headphone Edition, which they describe as the "ultimate source for headphones".
NAIM UNITI ATOM HEADPHONE EDITION
British HiFi brand, Naim Audio has launched the Naim Uniti Atom Headphone Edition a headphone-optimised version of its Uniti Atom music streaming system, designed to be a solo listening source, a fully formed streaming system in one box, just add headphones.
NAIM STATEMENT
Uniti Atom Headphone Edition is fully re-engineered for personal, headphone listening. Using trickle-down technology from its flagship Statement amplifier, Naim has engineered a new discrete headphone amplifier, capable of powering even the most demanding premium headphones.
QOBUZ, TIDAL AND SPOTIFY
Naim's music-streaming platform allows you to escape into your own digital music collection, services such as Qobuz, TIDAL and Spotify, and a world of Internet radio, including a curated collection of HD stations, and podcasts. AirPlay 2 support, Chromecast built-in and Roon Ready status add even more streaming options, while analogue and digital inputs mean you can connect many other sources, too – including turntables – and a USB input supports playback from sticks/drives. Users can enjoy a huge range of music file formats, in resolutions up to 32bit/384kHz.
NEW TRANSFORMER DESIGN
In addition, Uniti Atom Headphone Edition features a completely new transformer design. The new discrete transistor circuit design enables Uniti Atom Headphone Edition to gain balanced headphone outputs, on both 4 pin XLR and Pentaconn, maximising the performance of high-end headphones with those connections. There is also a standard 6.3mm output.
"We have designed this special edition of the mighty Uniti Atom to be the premium music streaming system for solo listening – just add headphones to escape into your own world of high-quality sound," said Paul Neville, Naim Research & Development Director.
STREAMING PREAMPLIFIER
Naim Uniti Atom Headphone Edition can also double-up as a streaming pre-amplifier, feeding active loudspeakers for an instant system, or a power amplifier driving passive speakers.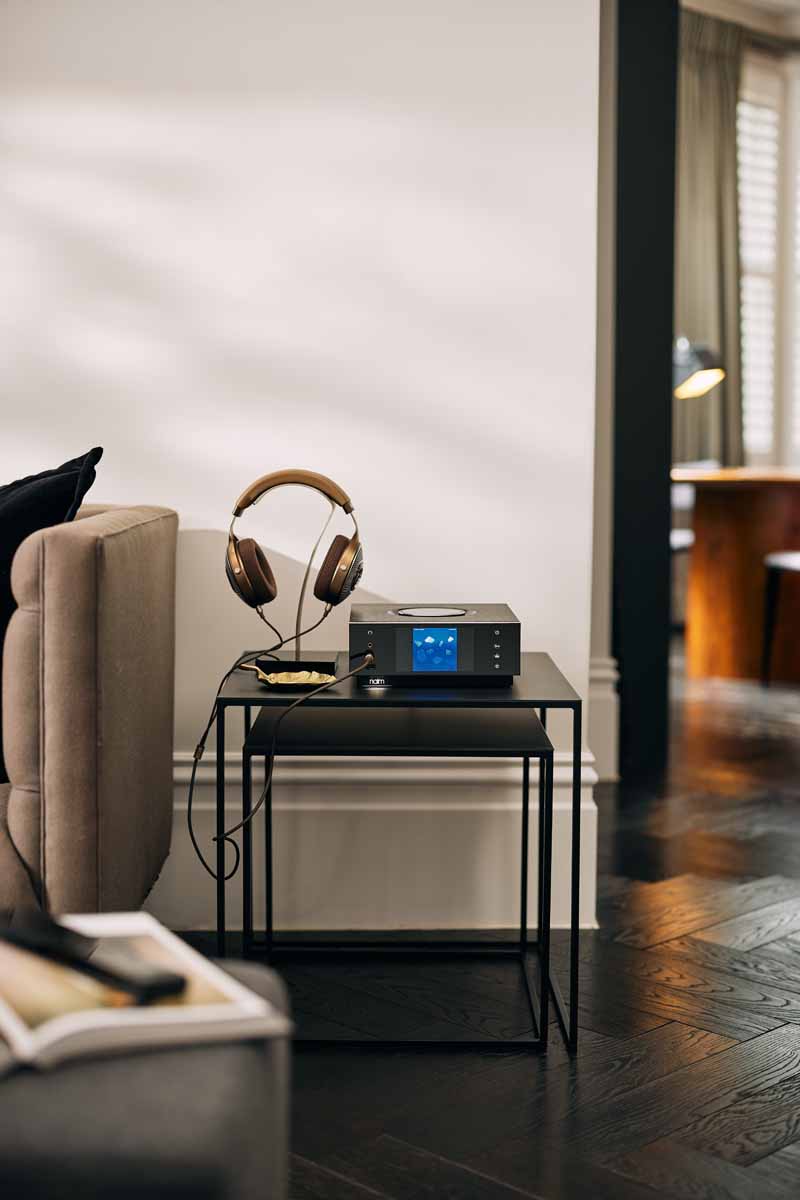 PRICE AND AVAILABILITY
Uniti Atom Headphone Edition is available now, with a suggested retail price of £2399/$3290/€2899, matching the SRP of the standard Uniti Atom.