National Audio Show 2013 – Show Report
What a great Show it was this year!
Now well established in its countryside setting of Whittlebury Hall in the gently rolling agricultural landscape of southern England, it was another excellent show managed by Roy Bird and the Chester Group. 
Lots of interesting new product sounding good, and it was a genuine pleasure to revisit more established designs as well.
I'm not sure how many visitors there were, but the corridors were well populated and many exhibition rooms quite crowded.
There were 3 free CDs available to all visitors as part of the 'welcome pack' from the excellent Chesky audiophile label – although to my disappointment two turned out to be laidback jazz music, probably (no, certainly!) my least favourite musical genre. — my apologies to all the jazz lovers out there who did appreciate the music!
As at the last year's National Audio Show, one of the stand-out rooms for me was the Analogue Alchemy room showing their implementation of the Linkwitz Orion open baffle loudspeakers.  Open, dynamic, musical with a real sense of in-the-room presence – very impressive indeed.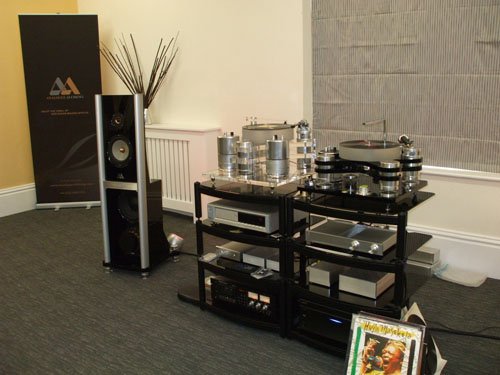 Noticeable this year were many standmount speakers providing a near to fullrange sound, with excellent dynamic scale and bass extension.
Perhaps the extreme example of this were the TAD speakers exhibited in the Z:Axis Audio room.  Stunningly realistic midrange and treble tonality, wonderfully unhyped resolution – I'd not heard TAD speakers before and these just sounded superb, although I have to confess that at £37,000 I would want more extension and heft in the lower frequency range.  Stunning, though.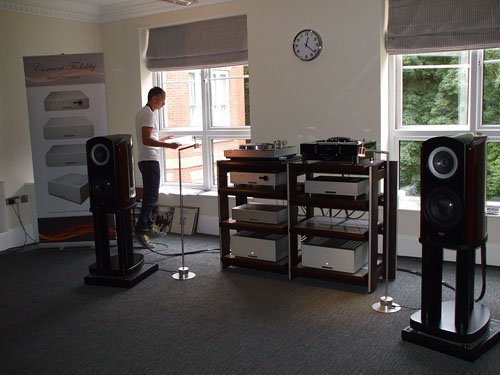 Still expensive at £12,000, the just-released standmounts from Gamut in the Audio Reference room were sounding pretty damn stunning driven by Gamut electronics.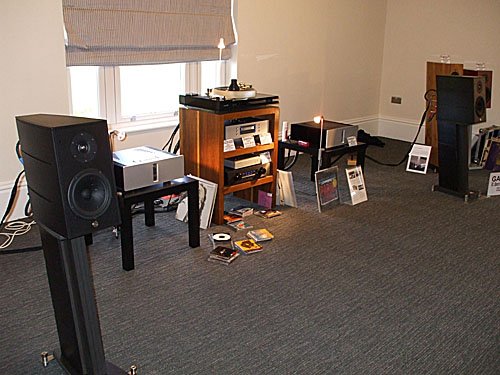 Epicurean Audio Limited were showing a small pair of Avalon floorstanders driven by EDGE electronics.  Very fine sound – articulate and enveloping, with perhaps a bit of added bass bloom – this may well be the best demonstration of Avalon speakers I have heard.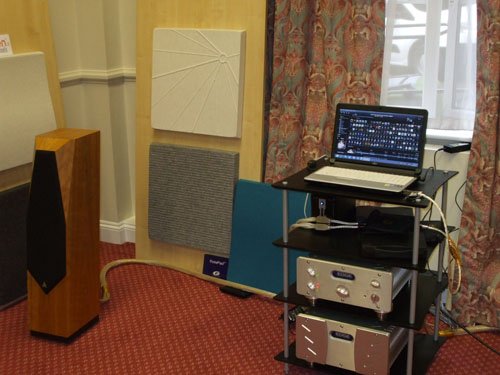 One of the stand-out rooms for me, both in terms of absolute sound quality and value for money was in Brian and Trevors' room.  Here a pair of moderate sized full-range floorstanding speakers from pro-audio company Adam were strutting their tautly controlled and room filling stuff for a little over £7,000 – this including the onboard active power amplification!  In all honesty, this display of fiscal generosity somewhat put to shame many of the otherwise excellent systems at the Show.  Simply stunning value for money in my opinion.  The whole system was able to be powered by PS Audio mains regenerator equipment, although sadly I didn't have time to attend the comparative demonstration of this capability.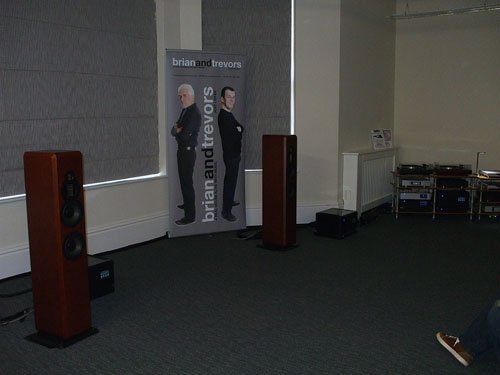 Taking a brief excursion from the mainstream of the equipment itself, I was highly impressed by the innovative audio and home entertainment furniture available from Audio-Cabinet.
Many, probably most, of us have problems accessing the rear panels of our audio and AV equipment to install and modify the setup.  Problem solved with this excellent range of products! — the internal equipment support racks are easily slid out and rotated to provide full access.  Each internal rack is capable of supporting 60Kg of equipment.
The maker claims that the internal dimensions are carefully chosen to maximise heat dissipation using the chimney effect.
Veneers and finish of your choice, the cabinets exhibited looked very high class indeed. And with very reasonable pricing and with enough options to tailor the cabinets for pretty much anyone's needs, these are well thought out and executed products and are very much worth looking into.
Back to the equipment! —
In the LWaudio room, a VYGER Atlantis turntable was looking stunningly magnificent!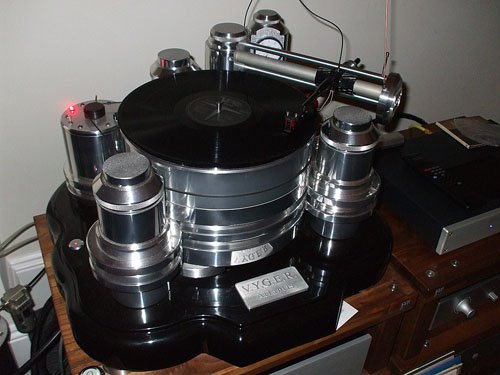 The Brodmann VC7 speakers are perhaps not to everyone's taste (what is?) but with assistance from some awesomely gorgeous and gobsmackingly expensive) Audio Music valve amplification this was very easy to enjoy
German high end company Burmester had a pair of large floorstanders driven by a massive power amp.  I fondly recall a Burmester CD player I owned a few years ago – it really was a lovely thing to look at, use and listen to!  Anyway, at the Show a bit more space could have been useful, as the sound was a bit disjointed and didn't really cohere unless you were near the back of the listening area.  But once I was suitably situated a very fine musical experience was to be had.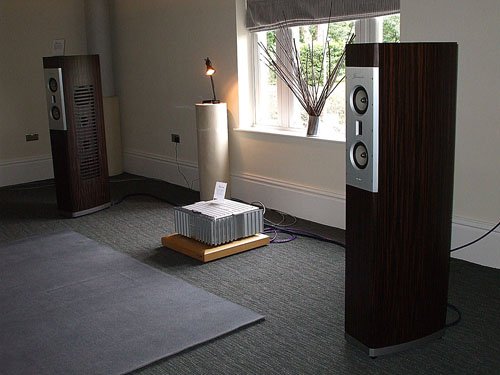 Part 2 of this National Show feature, covering many more excellent, innovative – and sometimes quite surprising! – audio offerings, will be appearing soon in Hifi Pig!
Read part 2 of Hifi Pig's coverage of National Audio Show 2013 – Whittlebury.
Jerry