Feline Felicitations
This DAC was off to a good start with me – a nice outline of a cat on the fascia.  Cats are always welcome in my home!  Apparently, neko means cat in Japanese and the proprietor and chief honcho of Neko Audio is a big fan of felines.  It also struck me that the aforementioned proprietor is Mr Miaw or Miaow, depending on the chosen Japanese to English transliteration, so perhaps there is a connection there as well?
DAC Differences
With their new-found home in computer audio, DACs are once again flooding the market at all price levels.  In all honesty, many of them seem remarkably similar to each other both in design and sound.  There are some innovatively designed DACs around, though, the recently reviewed Lampizator DAC with its novel valve circuitry being one of them.  The Neko D100 is another that deliberately bucks the "me-too" trend.  In the Neko D100 the output section is entirely passive, with Jensen output transformers providing isolation and gain, and this does appear to give a distinctive caste to the sound. Presumably as a result of the passive output stage, the output level of the D100 is significantly less than the 2V Red Book standard; so active gain from a pre-amp may be needed to achieve the volume levels you want in-room, depending on room size, speaker efficiency, power amp input sensitivity and musical taste.  Passive pre-amp owners are advised to check this out.
Another stand-out feature, although a rather baffling one in this computerised day & age, is that there are only 2 digital inputs – S/PDIF RCA and TOSLINK optical only – no USB!  This does not strike me as an approach that will endear itself to the digital-streaming fraternity.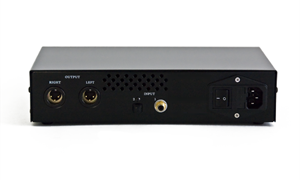 On the review unit there was only a single pair of XLR output connections at the rear, although I understand that an RCA output version can be purchased for the same price.  Belden XLR to XLR cables, and XLR to RCA cables for systems where XLR inputs are not available, can be purchased from Neko Audio. A pair of XLR-RCA cables were supplied with the review unit.  To be honest, these are of "OK" sonic standard, nothing special, and I thought they held back the capabilities of the DAC, decreasing transparency a little and adding a subtle grainy sheen in the treble.  Better cables will allow the DAC to show its considerable sonic prowess to greater advantage.
To summarise the technical spec, the D100 is a 16-bit and 24-bit, 44.1kHz – 192kHz (176.4KHz is not supported), dual PCM1794A chip, passive transformer-based digital to analogue converter employing tantalum capacitors, 0.1% output resistors and a choice of balanced XLR or single-ended RCA outputs.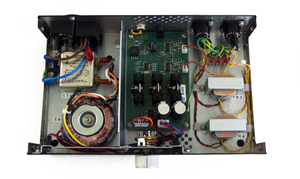 A pleasantly soft blue LED top left of the fascia denotes that the unit is powered up – no retina-searing blue searchlight on this item, thank goodness!
Comparison Capability
I used my well-regarded Resolution Audio CD50 CD player both as a CD transport, with an Apogee WydeEye RCA digital cable connecting to the Neko D100, and also using the CD50's own internal DAC as a direct comparison with the D100.  A single click on my Krell KRC-3 pre-amp's remote control handset allowed me to change between the CD50 and the Neko D100 DACs.
Level matching was a bit of an issue, the non-standard output level from the D100 necessitating the use of the CD50 CDP's analog volume control.  Levels were matched by ear using pink noise.
Listening at Leisure
Very transparent, well focused imaging with good depth.  In fact, the imaging was quite distinctive in its ability to isolate individual musical instruments from the ambient backdrop.  The superbly recorded solo lute sonatas by Silvius Weiss (a contemporary of J.S. Bach) on a Naxos CD were wonderfully presented with the solo plucked instrument set back within a natural acoustic.  Each delicate ting and strum of the lute magically captured.
The Scottish contemporary folk (well, kind of folky!) singer-songwriter Dougie Maclean, with his haunting and evocative vocal style and often spare guitar accompaniments was involvingly portrayed.
Pace and excitement were well captured on smaller scale works, with a strong sense of transient speed and realistic decay of notes.  Very atmospheric!
Midrange and treble tonality was pure with no added harshness, with a smooth (but not smoothed!) response.  Tonal colour was good, although I have heard more vibrant  contrasts between acoustic instruments – the Lampizator Level 4 DAC was particularly good in this regard and did redefine my appreciation of this aspect of sound reproduction, and my own RA CD50 was also slightly better in this regard.
Larger scale works, though, were a touch "watered down" and showed a lack of dynamic impact and seemed a little slowed.
Deep bass was there in proportion, but lacked something in slam and impact.  One of my favourite bass test tracks is the EMI studio recording of Mahler's 3rd symphony conducted by Klaus Tennstedt.  The opening brass fanfare was richly portrayed with the Neko, with good 'bite' and appropriately set back a little, but the subsequent bass drum roll and ongoing drum strokes lacked a little in power and ultimate definition, although bass weight was good.
I heard similar results at lower frequencies with contemporary music – the astonishing synthesised bass notes on James Blake's 'Limit to your love' had good room filling presence, but lacked the vibrancy and sheer stomach-wobbling tautness that they can attain with other equipment.
Conclusion
I guess it's too much to hope that any item of audio reproduction equipment will be able to excel in all ways.  And when that goal is approached the price tag can be prohibitive!
Realistically, the most one can expect is all-round good performance with some attributes that excel, and others that don't quite perform to that standard.  And such is the case here with the Neko Audio D100 DAC.  Excellent at small and medium scale music, with impressive hear-thru transparency and speed, but lacking just a little in larger scale music, where the sheer power and impact can be somewhat short-changed.
Review system:  Resolution Audio CD50, Krell KRC-3 pre-amp, Parasound Halo A21 power amp.  PS Audio Power Point Premier mains regenerator.
Price is $1495
Author – Jerry
A second opinion on the Neko Audio D100 DAC by Hifi Pig reviewer Jake will follow shortly.