Audiolab announces the M-CDT an addition to its LAB Series. The LAB Series now comprises five components, all having compact, space-saving dimensions –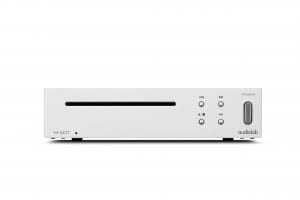 the M-CDT measures just 247mm across – and all designed to work with one and other. The age of stream is most definitely upon us, but millions of music fans steadfastly retain cherished Compact Disc collections, and the M-CDT aims to entice beloved silver discs down from the attic, in from the car, and up from the back of the sofa. And literally back into play.
Equipped with a slot-loading mechanism, the M-CDT also comes armed with a digital decoder, which feeds digital coax and optical outputs. The Trigger In and Out links enable remote switching of auto power on/off in installation environments, as well as set-ups where the users stacks the new CD transport with other Audiolab LAB Series models.
The Audiolab M-CDT is available now, in a choice of silver (natural aluminium) or classic Audiolab black, at an SRP of £399.00.