Launching at the High End Show in Munich (14th – 17th May), the brand new R-Series 2000 from T+A, sees significant updates and new thinking behind one of the company's most respected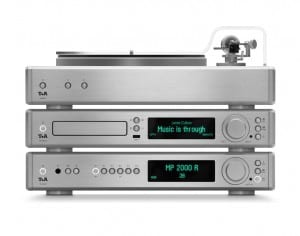 product lines. Designed from the ground up and utilising much of the technology developed for the company's HV Series, the new R-Series promises exceptional sound quality in a diminutive package.
The new R-series is a brand new development, and for this reason, the models bear new type numbers: 2000 R for the low-profile cases and 2500 R for the taller models. At present, the series consists of the PA 2000 R Integrated Amplifier (£4,204.00), the large PA 2500 R Integrated Amplifier (£5,577.00), the MP 2000 R Multi-source player (£4,204.00) and the G 2000 R Turntable (3,432.00 (MM) and £4,719.00 (MC)). Further products are already in development, including the P 2000 R Pre Amplifier and A 2000 R Power Amplifier, which will be launched later in 2015.
PA 2000 R Integrated Amplifier – £4,204.00 inc VAT
The amplifier stands only 8.2 cm tall, the PA 2000 R features linear output stages with very low negative feedback and a new power supply. The result is that the PA 2000 R can deliver a continuous power of more than 180 Watts per channel into 4 Ohm loudspeakers.
Gas-tight gold-contact relays are employed to switch loudspeakers, inputs and internal signal circuits. Separate tone controls are present for each channel and they and the Loudness function can be by-passed completely. When used in a home cinema, the PS 2000 R can be set to Surround Pass Through mode, selected by a trigger signal.
The rear panel offers three balanced (XLR) inputs, three RCA inputs, a pre-amplifier output (RCA) and heavy-duty speaker terminals machined from ultra-pure non-magnetic brass. An optional audiophile phono pre-amplifier module for MM or MC can be fitted internally if required. A high-quality headphone socket is also fitted to the front panel – allowing for personal use when needed.
PA 2500 R Integrated Amplifier – £5,577.00 inc VAT
Twice the height of the PA 2500 R, the PA 2500 R integrated amplifier exceeds the specification of the PA 2000 R in many areas, but in terms of sound quality, it retains the same dynamism and cultured sound quality. Although the circuit board layouts are identical, the heat-sinks are twice the size and the case accommodates two new high-performance power supply units, with the result that it can deliver more than 260 Watts of continuous power per channel into 4 Ohm loudspeakers.
The PA 2500 R is also fitted with three balanced XLR inputs (of which one can be configured as Surround Pass Through), four RCA inputs, balanced XLR and single ended RCA pre-amplifier outputs and two pairs of loudspeaker outputs with heavy-duty terminals machined from ultra-pure non-magnetic brass with rhodium-plated contact surfaces. A high-quality headphone amplifier is also included with the 1/4 " socket mounted on the front panel.
MP 2000 R DAC / Network Client – £4,204.00 inc. VAT
The MP 2000 R DAC / Network Client may appear to be a classic CD player at first glance but in fact delivers every digital music format available in the highest possible quality.
The onboard DAC converts PCM signals up to 384 kSps with the help of the quadruple converter – another in-house T+A development – and DSD files up to DSD 256. As well as housing a CD mechanism, the multi-source player also includes a digital tuner offering FM, FM-HD and DAB+ reproduction, a Bluetooth streaming module for receiving music from mobile devices, a streaming client with internet radio for connection to the home network via LAN and WLAN, USB Master Mode and HD streaming plus a digital connecting board with inputs for external sources (2 USB device modes and 4 HD-S/P-DIF).
G2000 R Turntable – £3,432.00 (MM) and £4,719.00 (MC)
T&A has introduced the G2000 R turntable into its new range. Developed from its predecessor, the G1260, further enhancements have been made, with the edition of a drive motor that is said to be completely consistent and smooth running along with improved damping to eradicate any mechanical sound. The G 2000 R comes fitted with a modified pressure-cast aluminium tone arm made by Rega and is fitted with the Ortofon 2M Bronze moving magnet system as standard. A High-End version featuring a Clearaudio Carbon-2 tone arm and MC-2 moving coil cartridge is also available. If required, T+A's PH G10 phono pre-amplifier module can be fitted in to the turntable chassis itself.
All four models will be available in the UK from late June 2015