KEF has announced that its new Ci200RR-THX Custom Installation loudspeaker is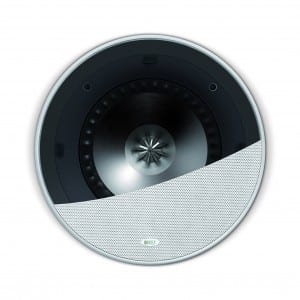 available to order from consumers and installers.

Ci200RR-THX is an in-ceiling speaker certified to THX ULTRA2 standard.  A thorough understanding of the film-making process and surround sound is at the very heart of every THX certified 2.1, 5.1 and 7.1 speaker system and the Ci200RR-THX is engineered with design characteristics of professional studio speakers.  THX re-creates the tonal balance of the filmmaker's final mix in your living room, resulting in action sequences which are "impactful, natural and engaging".

Featuring Uni-Q driver array from KEF's floor-standing speakers, comprising a 38 mm (1.5 in) vented aluminium tweeter and 'tangerine waveguide', mounted concentrically in a 200 mm (8 in) aluminium bass/mid driver, the Ci200RR-THX projects acoustically as if the sound originates from the screen. Performance is said to be to professional home cinema standards and dispersion is wide. Along with the KEF's unique Ultra-Thin Bezel (UTB) design offering the slimmest possible rim around the speaker, Ci200RR-THX can be integrated into any setting to achieve the minimum of visual intrusion on the interior space.

Ci200RR-THX: SRP £475.00 (per piece)