ASIMI LUXE
Atlas Cables has introduced the latest development to its range-topping Asimi speaker cable. The Asimi Luxe has been designed by Atlas to surpass the performance of all previous products and utilises the company's Grun grounding solution plus the addition of Luxe finishing.  Asimi Luxe utilises the purest conductor available to any audio company worldwide – OCC solid silver – and is finished in hand-stitched Nappa leather.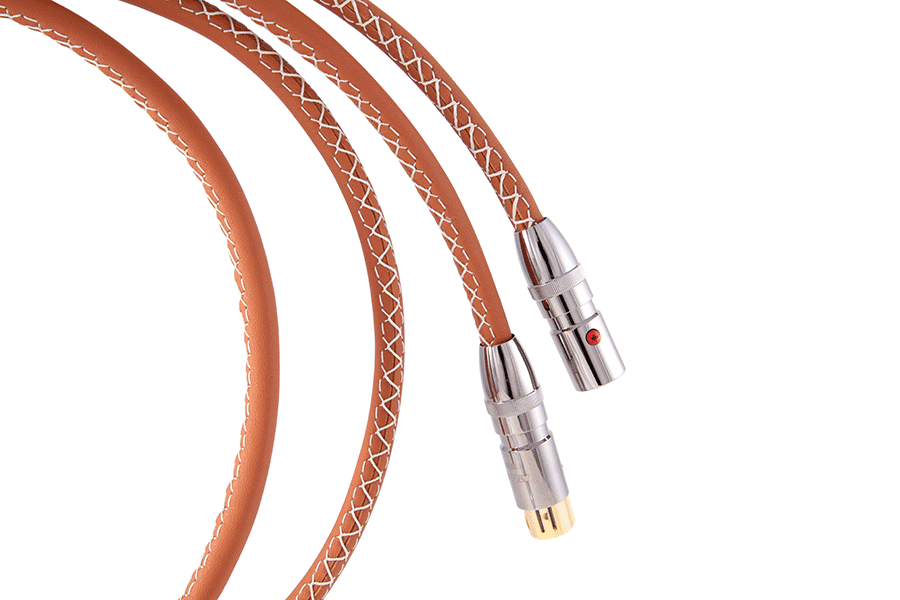 Conductor:
Asimi Luxe is made up of six separate OCC (Ohno Continuous Casting) solid silver conductors, shrouded by the most complex dielectric material that Atlas has produced to date. 
Dielectric:
The Asimi Luxe uses a helical cotton spiral (dielectric constant 1.3 – 1.4) to create an air (dielectric constant 1.000589) spaced void near the cable surface. The cable geometry is stabilised by a tensioned controlled layer of microporous PTFE (dielectric constant 1.7). This transition controlled graduated dielectric delivers near perfect electrical properties say Atlas.
Plug quality:
The solder-free Asimi Luxe is terminated with Atlas Transpose deep silver-plated plugs, which allows easy switching between expanding 4mm connectors, spade and Z-plugs, giving the consumer total choice and flexibility in the future.
Screening – the Duel Drain and Grun Effect:       
The Asimi Luxe uses a double screen (Alu-Mylar/95% woven) alongside the acclaimed Atlas dual drain system, which, when used in conjunction with Atlas Grun cables, effectively snubs out any RF (Radio Frequency) emission from the cables and reduces the overall system RF load.
The Luxe treatment
Hand crafted Nappa leather is applied to each cable to the exact specification of the customer with a choice of finishes – Ebony, Brogue, Ivory and Daytona Red and two stitching options -Cross stitch and Baseball stitch. No other manufacture offers this level of customisation or quality.
The Asimi Luxe with Grun is available in three configurations;
Asimi Luxe 2-2
Asimi Luxe 2-4
Asimi Luxe 4-4
UK retail prices for the Asimi Luxe 2-2, 2-4 or 4-4
1.0m      –              £6,600 inc vat
1.5m      –              £9,400 inc vat
2.0m      –              £12,200 inc vat
2.5m      –              £15,000 inc vat
3.0m      –              £17,800 inc vat
Luxe
Luxe Speaker Cable
Luxe  is the new luxury finishing concept introduced with the launch of its flagship cable – the Asimi Luxe speaker cable above. Referring to the luxurious Nappa leather covering that is hand-stitched the length of the cable, Luxe allows customers to choose from a range of colour and stitching options, offering them a unique feel and lavish finish for their cables.  Available as standard on the new flagship Asimi Luxe speaker cable and all Asimi interconnect products the Luxe finish is also available as an upgrade on many other Atlas cables, offering Atlas owners the chance to upgrade their existing cables to this sumptuous option.
The Luxe upgrade is available in four standard Nappa leather finishes; Ebony, Brogue, Ivory and Daytona Red.  Completing the finish is two stitch options – Cross stitch and Baseball stitch.  A fully bespoke service is also available, so were a customer keen to match the leather in their favourite Ferrari, Atlas could manufacture a one off.
Atlas Luxe finishing is supplied as standard on the following cables;
Asimi Grun          –              speaker cables
Asimi Ultra          –              interconnect cables
Asimi XLR            –              interconnect cables
Atlas Luxe is offered as an option on the following cables;
Mavros Grun      –              speaker cable
Mavros Ultra      –              interconnect cables
Mavros XLR        –              interconnect cables
Ascent Grun        –              speaker cable
Ascent Ultra       –              interconnect cables
Ascent XLR          –              interconnect cables
Eos superior        –              power cables
Luxe standard upgrade is priced at £225per meter (UK retail)
Bespoke finishes have a fixed one off set up charge of £550, with a variable charge starting at £225 per meter depending on the cable.
Atlas Cables, the engineering-driven cable specialist, has launched its latest range of high-performance screened mains power cables – t
EOS Superior
Eos Superior utilises similar technology that was researched and implemented into the company's range-topping Asimi Ultra and Mavros Ultra audio interconnects and carries on from the EOS 4dd.
Available now, the Atlas Cables Eos Superior power cable range is available, starting at £1,050 for a 1 meter IEC/13A plug length.
Ultra pure OCC (Ohno Continuous Cast) copper conductors, high efficiency stable dielectrics as well as a new multi-layer screening process.
Key Features
High current capacity 4mm2 OCC conductors
Highly stabilised dielectrics
Multilayer Cu Mylar and woven screen
Atlas dual drain Rf termination
All mechanical terminations damped
Airtight terminations
Atlas Silver plated plugs
13A, Nema, Shuko, 10A & 16A variants available
Kevin Kelly (Managing Director) had this to say: Power management and distribution devices are growing more in popularity principally due to the increase in RF pollution that floods our homes and daily life. We have been designing power products for many years and this latest improvement comes from continuous product development in our signal cables. We have made huge steps forward by improving the conductors with OCC copper while utilising a far more advanced dielectric alongside the inclusion of our Dual Drain technology. The EOS Superior is the culmination of years of research and development.
All versions of the Atlas Eos 4 Superior are available now:
Eos 4, 1.0m, 13A/Schuko/Nema/IEC C14 female – rsp £1,050.00 inc vat
Eos 4, 1.5m, 13A/Schuko/Nema/IEC C14 female – rsp £1,130.00 inc vat
Eos 4, 2.0m, 13A/Schuko/Nema/IEC C14 female – rsp £1,210.00 inc vat
Eos 4, 3.0m, 13A/Schuko/Nema/IEC C14 female – rsp £1,370.00 inc vat