Parasound has announced the launch of their new ZoneMaster Model 1250, a universal amplifier which can simultaneously power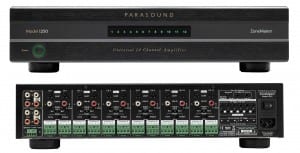 a home theatre surround system and additional zones with independent sources.
The ZoneMaster 12-channel power amplifier has connections for 24 speakers combined with 2-ohm stability, allowing the use of two speakers per channel. It's rated at 12×50 watts into 8 ohms, and 12×90 into 4 ohms. Each channel pair can be bridged to deliver 6×160 watts into 8 ohms and 6×200 watts into 4 ohms RMS, all channels driven.
There are independent line inputs and level controls for each channel, two Bus inputs with looping outputs, plus a speaker-level input that can be routed to any zone. There are also independent 12-volt and audio triggers with looping trigger outputs for each zone, and a global 12-volt trigger.
Detachable Phoenix-style speaker connectors accept up to 12-gauge wire and the Model 1250 has a power consumption of just 0.5 watt standby power consumption to meet Energy Star and European Union specifications.
"The ZoneMaster Model 1250 is a game changer in a category populated by mediocre generic IC amplifiers," said company president, Richard Schram. "The Class AB input stage and premium Class D power stage generate performance consistent with Parasound's heritage. It is as useful for distributed audio as it is for home theater, where it could augment an AV receiver with 3×160 plus 4×50 watts."
The Parasound ZoneMaster Model 1250 will be available from December with a UK SRP of £1,995.