ER4S, ER4PT and HF series of isolator earphones from Etymotic Research have just been launched onto the UK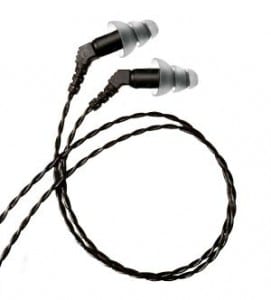 market. Unlike most earphones Etymotic earphones are designed to be inserted inside the actual ear canal. The airtight seal created by the earphone's custom-designed ear tips allow highly-focused sound waves to reach the ear drums and the bass response does not dissipate. The noise isolation of 35 dB – 42 dB is documented as being the highest of any earphones or headphones on the market today meaning the volume level need not be as high as regular non-noise isolating earphones, reducing the risk of ear damage.
The HF3 and HF5 earphones are very compact and useful for frequent travelling and going to the gym. The high accuracy and sound isolation of the ER4S have made these earphones popular with musicians, recording engineers and audiophiles. The ER4PT earphones are intended for sound engineers and audiophiles and come equipped with extra accessories and adapters.
HF5 Earphones – £99.95
HF3 Earphones (With remote and mic supported with iPhone 3Gs – iPhone 5s, iPad & iPad mini) – £119.95
ER4PT Earphones – £299
ER4S Earphones – £199.99