An album that took three years to make, with over 180 collaborators from 12 different nationalities, of which include Grammy award winners and critically acclaimed artists, 'Passport', by Omar Rahbany, unfolds over 59 minutes. The forthcoming album, 'Passport', breaks down barriers between cultures and countries, having travelled across world to complete it. Heavy jazz and classical influences are fused with Arabic and Lebanese overtones throughout the album, meeting in a place where there are no divisions, culturally, linguistically or artistically.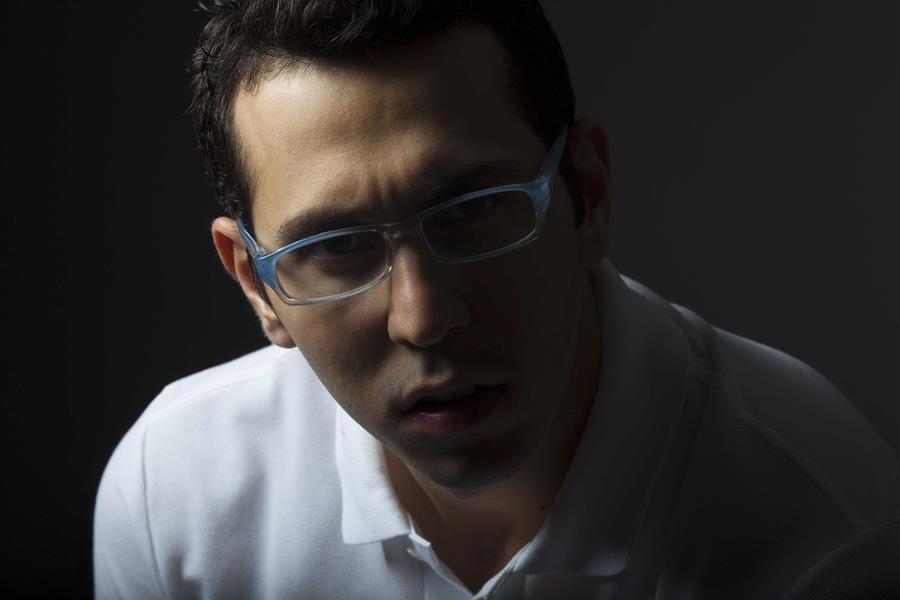 Born in Beirut, Lebanon, in 1989, Omar comes from a rich musical lineage. His grandfather, Mansour, and great-uncle, Assi, known colloquially as the Rahbani Brothers, forged Lebanon's musical identity with their distinct and innovative pieces. Similarly, Omar's childhood was infused with a rich variety of artistic mediums; his father is a playwright composer and lyricist whilst his mother is famed for her professional dancing.
Omar's debut album sees him carrying his heredity forwards, whilst innovating and developing his sound. With a deep interest for the German concept of 'Gesamtkunstwerk' (a total work of art) – an idea that only stimulated his burgeoning creativity – his interests widened to include film and choreography. Omar's vision of uniting these various aesthetic elements to form one total work of art soon became more pronounced, leading him to compose his first musical at the age of nineteen.
In many ways 'Passport' takes forward the idea of 'Gesamtkunstwerk', the record is a genre all of its own. Omar makes use of the wide variety of the musical tools at his disposal, setting the album apart as an entirely unique body of work. The songs are complex, deeply textured and cinematic, they are as infectious and as diverse as they are accomplished.
Speaking about the album, Omar says, "After a three year journey to perfect every note on Passport, and to achieve the overarching vision of the album, we are now ready to share it with the world. The successfully enriched sounds of Passport are attributed to the 180 talented individuals that took part in making it, all unified by one vision."
The socio-political situation in the Middle East has also been a big influence on the new album. Most of the world's ruling civilisations, at one time or another, have left their mark on the city of Beirut. This fact, combined with the effects of globalization and the internet, has created a city, and indeed a country, which is torn between three languages, eighteen religions and one history that no one can seem to agree upon. This is a nation that undertakes a constant struggle to find its 'absolute' identity.
Understanding his own position within this debate has become a personal mission for Omar. Speaking about the impact this has had on the new album he says, "The melting pot of cultures I grew up in, the double-edged sword that shaped me as a person, the confusion, the creativity, the struggle itself is my identity. I am a citizen of planet Earth and my nationality is that of a human being. This is my PASSPORT. And I'm certain that this view is shared by everyone that contributed to the making of the album."
Mixed at Real World Studios (Manic Street Preachers, Kanye West, Jay-Z, Beyoncé Knowles, Ludovico Einaudi and more), and with every single part of the album written and composed by Omar himself, the album features over 180 guest musicians. Guests on the album include fourteen-time Grammy Award winning producer Steve Rodby (bassist for the Pat Metheny Group), Keith Carlock (drummer for Sting and Steely Dan), Wayne Krantz, Karim Ziad, and Cuong Vu (trumpeter for the Pat Metheny Group), along with accompaniment from the Kiev City Symphonic Orchestra.
The completion of such an ambitious project is owed to Omar's distinct, original sound and technical proficiency. In many ways this album is an artistic passport, a tool in which the listener can travel freely across a multifarious range of styles, genres and experiences and can submerge themselves in the unknown.
New album 'Passport' due out 10th March 2017