Audioengine has launched two new products clearly aimed at lovers of computer-based music.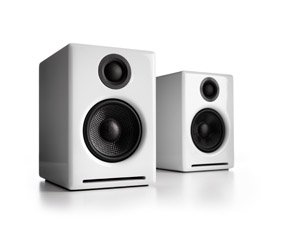 First up is the Audioengine D3, a 24-bit USB DAC and headphone amp. It slots into the USB socket of any Mac or PC and "instantly improve the audio output to headphones, powered speakers or any music system". No additional power supply, cables or software required.

Key D3 features:
• Stream bit-perfect native 24/96 HD audio
• Headphone amp
• Plug-and-play: no drivers or software to install
• Durable, aluminium case
• 3.5-6.3mm headphone adapter included
The Audioengine D3 is available now for £165.
Next up is an update to Audioengine's A2 speakers. They've added a USB DAC, new power supply and other enhancements. There's also an optional W3 adapter which allows the A2+ to become wireless stereo speakers – without the audio compression of Bluetooth.

Key A2 + features:
• Built-in USB DAC
• 30W per channel amplification
• Work with all computers, phones & tablets – and anything with an audio output
• All cables included
• Wireless with an Audioengine W3 adapter or by adding an AirPort Express for AirPlay.
The Audioengine A2+ comes in satin black or high-gloss white finishes. The speakers are available priced £215. The optional W3 audio adapter is £125.