New from Cabasse is the StreamAMP, a compact four-channel amplifier with all the music streaming capabilities and 'connect and
play' approach of the Cabasse Stream products. StreamAMP brings "style and performance to the home" with the ability to connect to all the user's digitally stored music, access thousands of internet radio stations and stream Spotify and Deezer.
Simplicity of connection and flexibility are the cornerstones of the StreamAMP approach to music distribution. Centrally stored digital music files from downloads and CD rips can be streamed via the Wi-Fi or Ethernet connections, all controlled by the new Cabasse StreamCONTROL app for iOS and Android. Locally stored music from the tablet or smartphone can be instantly made available via Bluetooth and NFC and a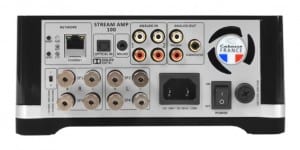 high definition connection can be quickly made using the Stream AMP's Wi-Fi direct mode. The app also provides access to thousands of internet radio stations and control of both Deezer and Spotify which are built in to the system.
StreamAMP is fitted with four loudspeaker outputs, enabling stereo use with one or two pairs of loudspeakers, or mono distribution with two or four groups of speakers. To meet the requirements of custom-installers for an unobtrusive installation it is fitted with a silent fan for use in racks. The power optimisation impedance switch enables StreamAMP to serve as an all in-one-solution supplying music or radio programmes to up to 8 Cabasse Archipel in-ceiling speakers.
The preamplifier section of StreamAMP also includes two analogue RCA inputs, an optical SPDIF input, a preamplifier output and a subwoofer RCA output.
Cabasse has also incorporated its digital signal processing (DSP) in the StreamAMP, to provide integration with the current range of Cabasse speakers, wherever they are positioned in the room. Using the app simply select which speakers are used and choose between a direct setting and various positional options: such as one metre or more from walls, against the back wall and one metre or more from side walls, or placed in the corners.
The StreamAMP is the perfect companion to the existing Stream range, sharing the features and benefits of the Stream 1, Stream 3 and Stream Source:
WAV, FLAC, WMA, AIFF, AAC, ALAC, MP3 files up to 96 kHz/24 bit resolution
Bluetooth with NFC, Wi-Fi and LAN Ethernet connections
StreamCONTROL app for Android and iOS smartphones and tablets which includes vTuner, Deezer and Spotify
Use of smartphones and tablets as media sources and renderers
Local USB input with an integrated DLNA server making all the music stored on USB sticks and HDDs available across the network
With StreamAMP, Cabasse offers high-fidelity sound and highly flexible streaming in a jewellery box sized package..
Available from February 2015. UK retail price £449