Here's an interesting and practical concept that we've just come across and I'm sure will be a bit of a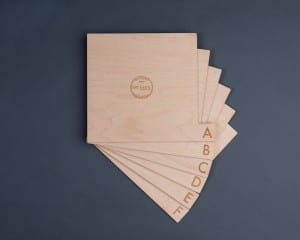 boon for vinyl collectors wanting to keep track of their valuable records. Basically these simple but clever dividers are a collection of typographic laser cut wood panels for alphabetizing and organizing vinyl records as well as books and other media.
Each set of durable laser-engraved wood dividers is handcrafted in San Francisco by Kate Koeppel Design and a team of craftswomen (and men). The collection includes styles for 12″ and 7″ records, stored vertically or horizontally with the 7″ sets being suitable for organizing books and other media on bookshelves. The collection starts at $150 rising to $410.
Speaking to Kate about the dividers she said "Initially we set out to find a beautiful solution to organize our growing vinyl record collection. After a lengthy search, we discovered only a few products existed – nearly all of them plastic, ugly, poorly made, or a combination of all three. In the summer of 2013, I set out to build a better organizational solution that would be both useful and aesthetically pleasing".