At Rocky Mountain Audio Fest (RMAF) 2019 Nola Speakers will be featuring the world premiere of its Concert Grand Reference Gold 2 loudspeaker system, an ultra-high-end $250,000 open baffle line source array design of loudspeaker.
The Nola Concert Grand Reference Gold 2 will be demonstrated at RMAF September 6 – 8, 2019 at the Gaylord Rockies Resort and Convention Center, Aurora, CO, Room 4125. It will be complemented by other components including a Valve Amplification Company (VAC) preamplifier, power amp and D/A converter, Audio Research CD transport and Nordost Odin 2 cables.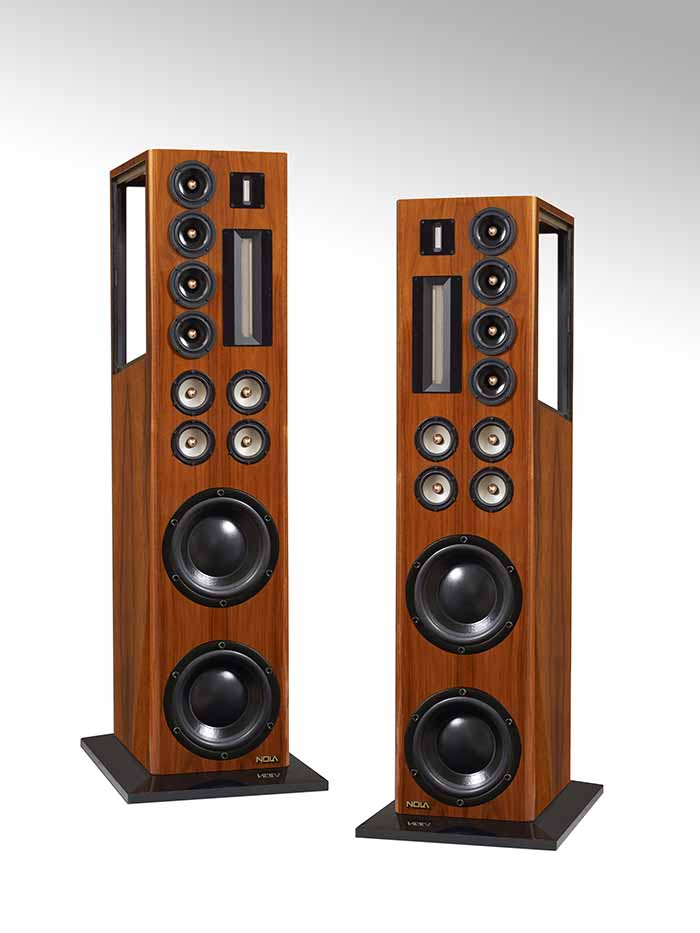 Nola Gold Collection
The Concert Grand Reference Gold 2 is part of Nola's Gold Collection series of floorstanding loudspeakers. The loudspeaker employs a unique 12-inch-long true ribbon tweeter, which has been upgraded to deliver even lower distortion and greater clarity. High-frequency dispersion above 10 kHz is provided by the addition of a 2-inch true ribbon tweeter that extends the response of the speaker to 100 kHz.
Midrange And Bass Drivers
The newly-designed 4-1/2-inch midrange drivers are housed in a line source open dipole array, a classic Nola configuration. The four midrange drivers utilize large Alnico ring magnets and solid copper, gold-plated phase plugs for superior resolution, dynamics and clarity.
The speaker's four 4-1/2-inch magnesium-cone bass drivers have an ultralight 7 grams of moving mass each and also feature large Alnico ring magnets and solid copper, gold-plated phase plugs. The loudspeakers' 12-inch subwoofers are each housed in a separate chamber and deliver bass down to 18 Hz.
The Nola Concert Grand Reference Gold 2 loudspeakers are available in mirror-imaged pairs and use Nola's exclusive Unison crossover technology that mounts the components on separate, isolated boards. Premium wiring and components are used throughout. Each loudspeaker is mounted on a ball-bearing double isolation base to eliminate unwanted floor-borne resonances.
Nola Concert Grand Reference Gold 2 Loudspeaker Specifications:
Dimensions: 71″ H x 15″ W x 22″ D (overall including bases)
Weight: 275 lbs. net per side
Frequency Response: 18 Hz to 100 kHz
Sensitivity: 91dB @ 2.82 volts
Impedance: 8 ohms/4 ohms minimum
Grilles: left side, right side, and rear
Finish: True Piano Rosewood with True Piano Black base, True Piano Black and other finishes available on special order.