Oak Audio are a British company making the interesting Hurricane, transmission line loudspeaker that costs £599 and uses latest generation Mark Audio Alpair 7 full-range drive unit. Dominic Marsh puts them through their paces. 
I very much liken hifi to good food, in that a good sounding hifi system is the equivalent of a tasty meal cooked superbly with skill using simple fresh ingredients, which to me tastes far better than a complicated menu with a plethora of ingredients from indeterminate origins served up cold, no matter who has cooked it.
Oak Audio are a newly formed  British company which seems to have grasped that simple notion of taking a few in number of fresh ingredients and creating a dish that satisfies the taste buds and the hunger in one go without adding superfluous flavourings or padding to the dish.
CONSTRUCTION
How simple do you want this product to be?  A machined MDF carcass, painted in whatever colour you may wish for, a single driver per cabinet, no crossover, no grilles, one pair of binding posts per speaker?  The real value of this speaker however, is the design implementation.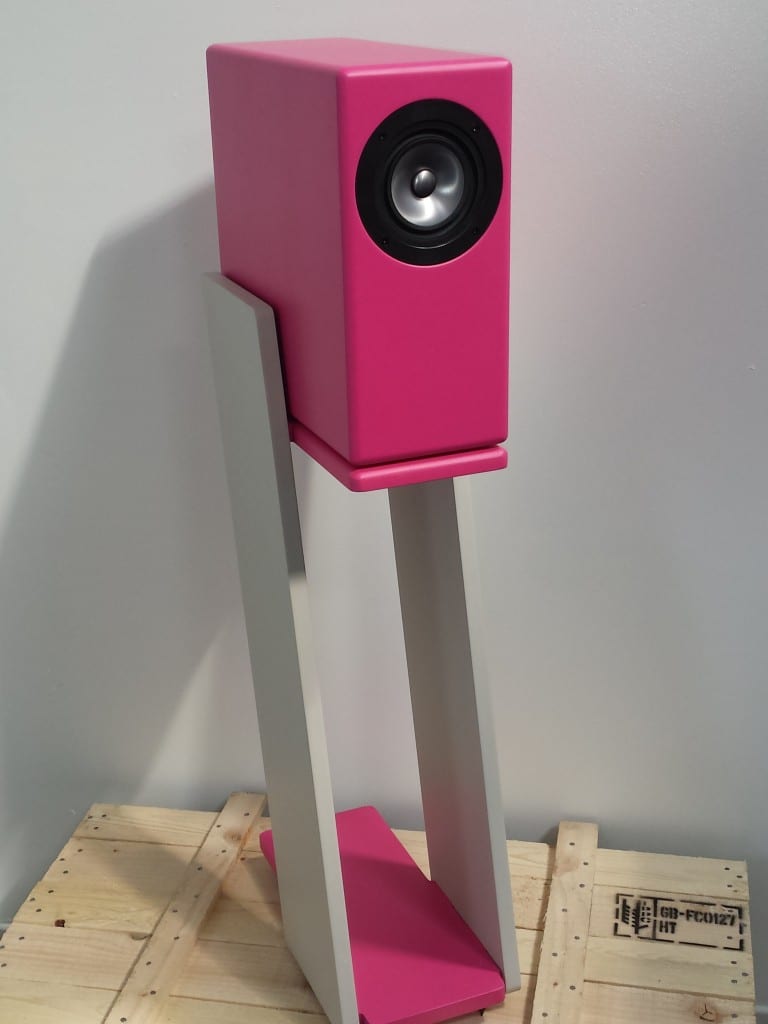 The pair submitted for review arrived in a deep pink colour and I suspect this was a Hifi Pig  plot come challenge with Oak Audio to send us a pair of speakers in the corporate pink colour we are so well renowned for, or it's a standard catalogue colour of theirs by sheer coincidence?  Oak Audio say that they can take a colour sample, a Dulux paint name or number, or a Pantone colour code and match it exactly. If however you require a veneered finish or a high gloss lacquer, then these are not offered as an option on the Oak Audio website.
The cabinet itself is a folded transmission line design with an additional baffle arrangement within the cabinet, with a full width rear exit throat that is a slot cut into the cabinet.
The real stars of this show are the diminutive Alpair metal coned drivers and you will probably be doing as I did, asking yourself again and again how such a small full range drive unit can produce the sounds that it is capable of producing. The drive units are wired with Audioquest cables so Oak Audio say, although the construction and materials of same is not specified.
A bespoke stand is available from Oak Audio designed to fit the Hurricanes exactly and is an extra cost option. These were not supplied to Hifi Pig for the review.
Price at time of testing:   £599.00 per pair.
SOUND QUALITY
I have met Alpair drivers before, albeit in another design incarnation entirely and that design needed to be fine tuned for the room they were to be installed in. I was hoping that the Oak Audio Hurricanes were not that critical in what environment they were going to be used in and thankfully no adjustments or tuning tweaks were needed at all when installed into my listening room. Not having the correct Oak Audio speaker stands available, I sat them onto a pair of black 24 inch Atacama stands which didn't look all that elegant, but they served their purpose admirably for the listening sessions, taking the drivers up to approximately ear level.
First impressions fresh out of their box was very pleasant and I wasn't too fussy about setup and placement either, so they ended up around 10cm from the rear wall and no side walls to reflect from in a moderately damped listening room. Some full range driver speakers can sound rather peaky especially around the mid range, vocals in particular, but the Hurricanes produced a realistic and coherent sound right across the board from bass right up to upper treble with no discernable peaks at all. Close your eyes and you would be hard pressed to tell by listening alone if there was indeed a single driver full range speaker in front of you, although the slight beaming effect of the sound in the sweet spot might have given the game away.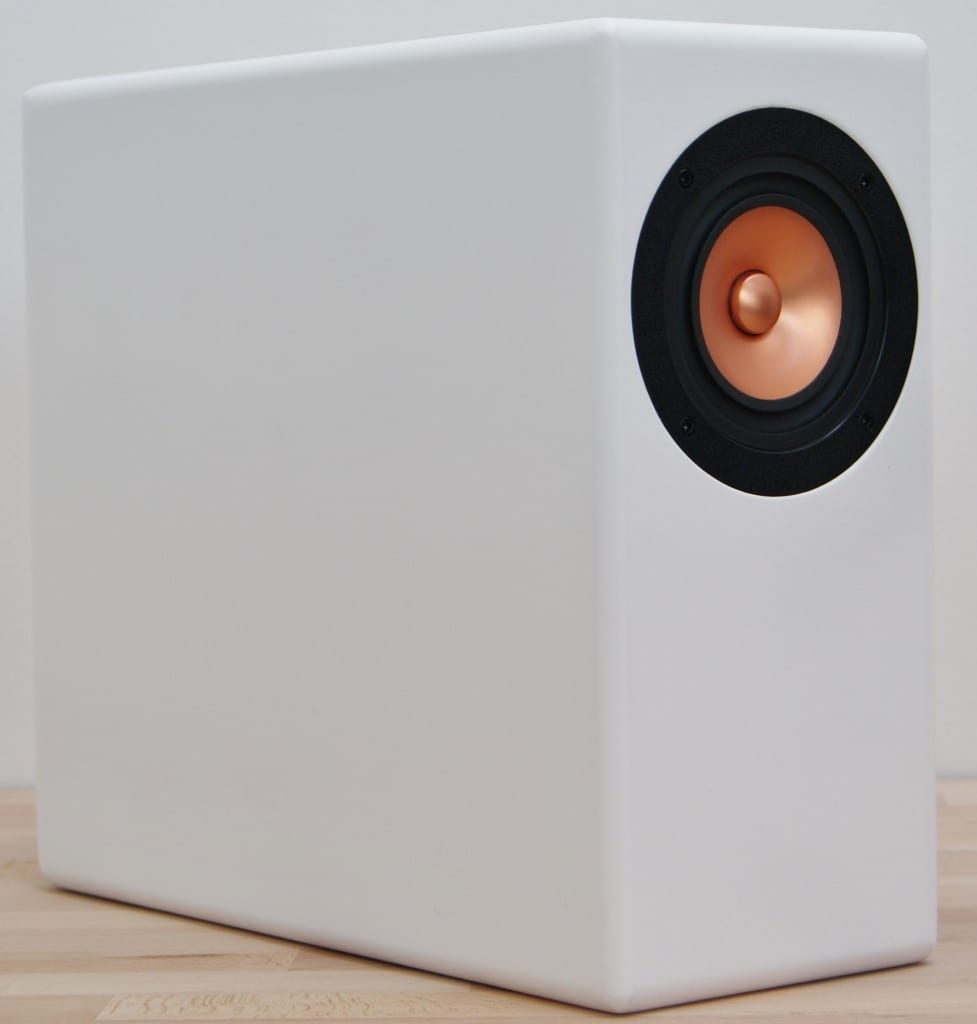 Moving on to some actual music then, I spun Fink's "Wheels Beneath My Feet" live album in the CD player. The opening bars on the track "Biscuits" has some delicate strikes on the ride cymbal and my fear with that metal coned driver is that it would be a shade over emphasized and sound just a bit too metallic, but no, it was recreated very accurately and full of subtle timbres.  Throughout that whole first  track on the album we have a repetitive single kick drum beat with the hard face on the beater and the sceptic in me again was doubting whether that little Alpair driver could deliver the weight and heft of that instrument, but once again it proved my fears were entirely unfounded. The real test of bass performance though comes in the track "Sort of Revolution" on this album where the drummer really does drive into the Floor Tom with power and force, so there is a pounding slam to it and of course the speakers have to have a fast excursion to it's travel and have quick recovery too, otherwise the speakers simply won't convey that energy in the way it ought to.  Don't ask me how the Alpair driver does it, but it does, presumably the way it interacts with the enclosure it is mounted in. Oak Audio say it extends down to 50Hz and I wouldn't argue with that claim at all and I could detect no chuffing at all from the rear facing port either.
This album has the tracks recorded at various venues around Europe and each one has a different ambience which is clearly audible. Some tracks sound almost like they are recorded in a large venue with the reverberations echoing around the walls and others are more intimate with a damped almost soft background. Coupled with that is the refined imaging and sound staging the Hurricanes ably demonstrate. Not quite holographic, not quite walk through and around realism, but a very good portrayal nonetheless, with the images hanging in space and not wavering, staying put where they should be.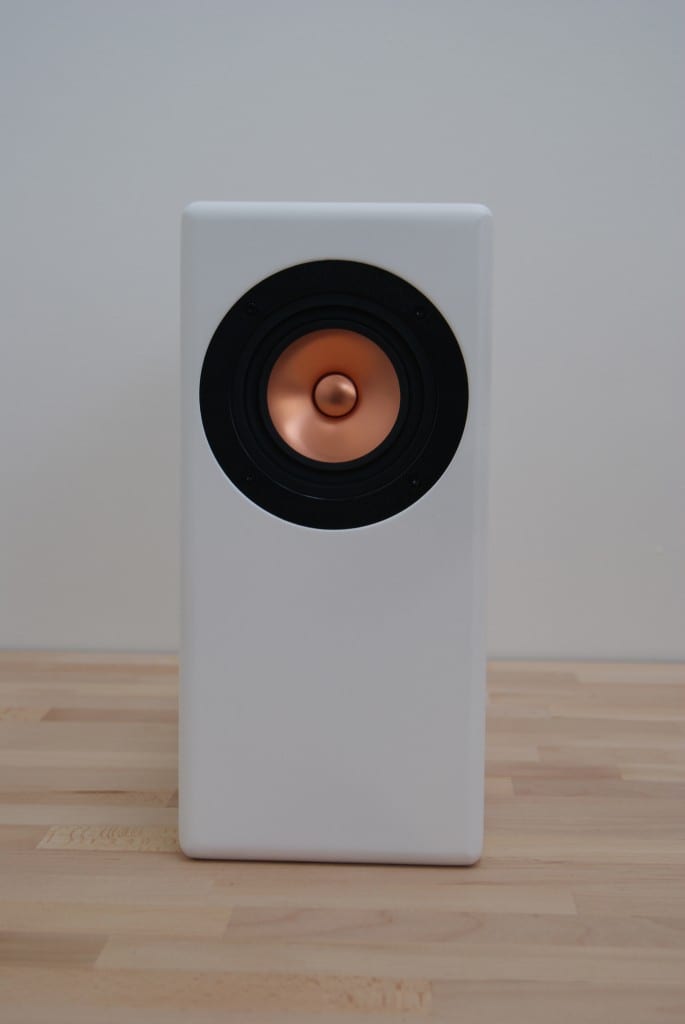 On then to the acid test of what the Hurricanes would do and into the CD player went Porcupine Tree's "Deadwing" album. This album takes no prisoners with it's raw unbridled energy and it quickly became apparent that Hurricane owners are not the breed of audiophile that would play this kind of music, or indeed any kind of heavy rock music, much as an owner of a thoroughbred race horse wouldn't set the animal to plough fields because it simply isn't suited to that task. Deadwing is a coarse and uncouth  recording and the Hurricanes simply let you the listener know that it was exactly that because they dished it up in it's entirety, warts and all which quickly became fatiguing. This isn't a criticism of the Hurricanes, it merely points to the fact that they excel in other areas, so I set myself the task of finding out what those areas were.
Some Loreena McKennit seemed a good choice at that moment, so into the CD player went her "An Ancient Muse" album.  Loreena's voice simply soared out into space with a refreshing cleanliness and vibrancy, so the Hurricane's were thriving on this kind of music, the simplicity of textures and crispness suiting them admirably. Spurred on by that, I then chose to play some Jazz.  "What did he just say?"  He said "Jazz, which he never normally plays or mentions in reviews".  Dominic also played some Classical, but let's deal with one shock at a time please, with no disrespect to all classical music fans out there, but it isn't a genre of music that enervates me personally. Dave Brubeck's "Take Five" went into the CD player and that was a delight too.  Saxophone had a real breathy and earthy rasp to it, the piano had a solid depth to the sound and the drums had some real crisp impact and rawness which was very beguiling and much to my surprise had me listening more than once, where even the once is usually more than enough for me in any one session. Overall, the sound was very much alive, full of subtle energy and spatial pinpoints which were very easy to follow with the Hurricanes and I don't think there are many multiple driver and crossover equipped speakers that can master that level of refined simplicity in their presentation.  Next, some classical music and the keep it simple rule applied here too. Large orchestral works were somewhat diffuse and it wasn't an easy task as a listener to keep the various orchestra sections separated and in their rightful place in the soundstage, but move to trios, quartets and quintets, then the Hurricanes excelled with an uncomplicated and uncluttered yet still refined presentation.
Finally for completeness more than anything else, I played Derrin Nauendorf's "Live At The Boardwalk" album and as the title suggests, it is recorded live with his acoustic guitar, a set of drums and that's it in total, apart from Derrin's singing, which at times is executed as well as a cat with it's tail caught in a cat flap. That is of course no matter, as what the man can do with an acoustic guitar that is the focus of this album. Close mic'd and well put down in the recording, it brings out the visceral energy of this instrument and the Oak Audio Hurricane's did a fabulous job or relaying that sound directly to you, with rich deep textures and tones from the instrument's body. Finger fret work on the guitar was real enough to set your teeth on edge and each string's vibrations and harmonics delivered with crisp taut precision.
CONCLUSION
If you are looking for a loudspeaker that handles heavy rock music with ease, then the Oak Audio Hurricanes are not going to satisfy that desire, so let's not pretend otherwise.  As you wouldn't put paraffin into a Ferrari's fuel tank for it to run at it's peak performance, so too would the Hurricanes flounder with reproducing rock concert pressure levels, so don't even think about it, it will only end in tears.
They do however love clean simple music that's well recorded and gives it polish and refinement that will delight.  Feed them some acoustic, Jazz, solo artists, simple orchestral, small ensemble and chamber music and they are in their true element, so their benefits then have far outweighed their drawback in not excelling with bigger scale music and hard rock. Horses for courses, as they say.
Build quality: 7.8/10
Sound quality: 8.7/10
Value for money: 8.5/10
Overall:          8.3/10
PROS
Choice of any colour
Seamless sound quality
Good value for money
CONS
Restricted in music genres
Dominic Marsh

Designer's Notes
Technically, the Hurricane is a standmount transmission line loudspeaker employing the latest generation Mark Audio Alpair 7 full-range drive unit. The Alpair series drivers are at the cutting edge of contemporary full-range driver technology and incorporate a number of features that are not found in any other units. All components apart from the magnet are designed in-house, from the ground up. The cone is made of a low-mass magnesium-aluminium alloy, multiformed into a very shallow profile to maximise off-axis dispersion and ensure the drivers provide a well-balanced sound across a wide listening window, far removed from the notorious 'beaming' of high frequencies most full-range drivers suffer from. The suspension and voice-coil also provide exceptional linear excursion. Where many full-range drivers have less than 0.2mm of linear travel before distortion rapidly increases, the Alpair 7 has over 8mm point-to-point travel and a unique arrestor, which provides both an audible warning, and physically limits travel to prevent damage occurring. Despite their large excursion abilities, the total moving mass of the Alpair 7 is less than 4 grams, and the coil, suspension and cone are designed to maximise resonant sensitivity, allowing low-level signals to be properly reproduced. Like other full-range drivers, it is also a point source.
The Hurricane cabinet is designed to extract the maximum bandwidth from the Alpair 7 in a compact package with interesting proportions, and is optimised for general listening in small – medium sized listening rooms. Unlike many standmount loudspeakers, the Hurricane is deeper than it is tall, to reduce the visual impact and minimise the baffle area. Coupled with the inherent driver response and the gentle roundovers, this helps ensure audible diffraction effects are minimised. Internally, the Hurricane enclosure packs a highly tapered transmission line / damped quarter-wave into its compact dimensions.
There is probably more myth, misunderstandings and outright nonsense associated with transmission lines than any other type of loudspeaker enclosure. The name itself, derived from the electrical transmission line, is unfortunate. First popularised by Bailey in the title of an article written in the 1960s, it has become a 'catch-all' phrase, and is often employed to describe speakers that are functionally the exact opposites of one another. A pure acoustic transmission line is a cabinet designed to provide the flattest possible impedance, with no other design considerations whatsoever. The term is rarely used so narrowly however, and has come to be used to describe most cabinets that use some variation of quarter-wave resonant characteristics. A few common of the most common myths are:
-A TL is tuned to 1/4 wavelength of the driver's resonant frequency.
Not true. A TL / quarter-wave should be tuned to achieve the specific design goals, like any other vented enclosure
-A TL should have proportions that are multiples of the driver's surface area (Sd)
Not true. Driver surface area has no direct relationship to the cross section of a transmission line / quarter-wave cabinet 
-Long-hair wool is the optimal type of damping material to use in a TL
Not true. There is nothing mystical about long-hair wool. Long hair wool is an effective damping material, but all damping materials possess a different set of benefits and trade-offs. Other types work perfectly well
-Damping material significantly slows the speed of sound in a TL, and this can be up to 50%
Not true. The speed of sound is not reduced to such an extent. 10% is the maximum encountered. 
-The tuning frequency of a TL is purely created by axial length
Not true. Acoustic length and physical length are different things. A highly tapered (narrowing toward the terminus) TL will have a lower resonant frequency than an untapered or expanding line of the same physical length. 
The Hurricane standmount uses a highly tapered, lightly damped line, exiting to the rear of the cabinet, with the driver offset from the end of the line. The high taper ratio and offset driver position provide a low tuning frequency with tight control over the driver, while minimising unwanted harmonic resonances of the line. The impedance load is relatively unreactive, allowing the speakers to be used with a wide range of amplifiers.
S.Lindgren