Onkyo have released their TX-8250 Network Stereo Receiver and TX-8220 Stereo Receiver, which they say are "are an excellent value proposition for music, film, and game lovers".
The TX-8250 (Pictured) combines Wide Range Amplification Technology with universal network streaming and multi-room audio over 5GHz/2.4GHz Wi-Fi, along with Hi-Res Audio*1 playback, digital inputs for TV/BD/CD, USB Audio, and an MM phono input. Digital connectivity is joined by six gold-plated line-level inputs, Zone 2 pre-/line output, and Bluetooth wireless technology.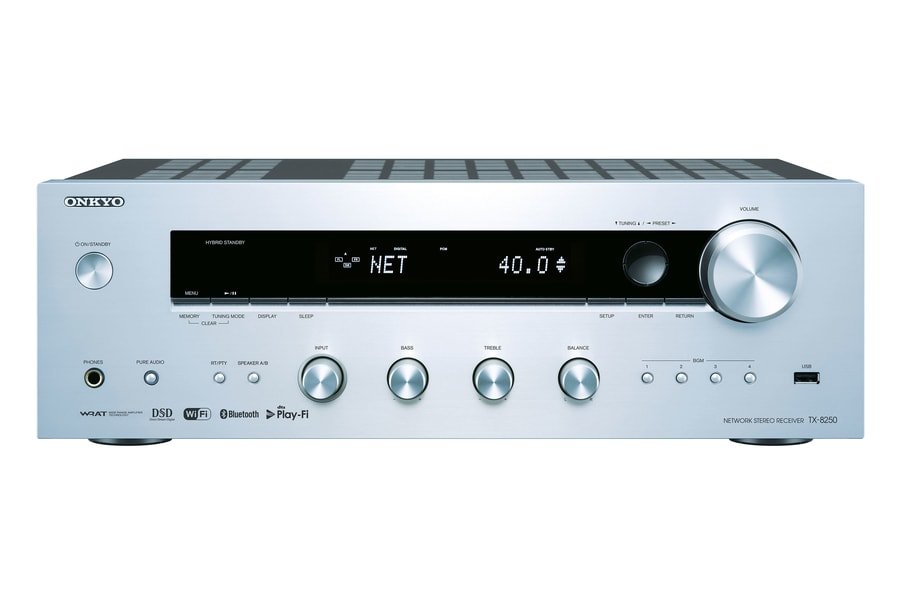 Network and multi-room audio support includes Chromecast built-in, FireConnect*2 powered by Blackfire, and DTS Play-Fi*3 technology; Spotify, TIDAL, Deezer, and TuneIn music streaming services*4; and house-wide playback management via Onkyo Controller*5 app for iOS and Android devices. Chromecast built-in allows users to stream any music. Playback is controlled with Chromecast-enabled apps from an iPhone, iPad, Android phone and tablet, Mac and Windows laptop, or Chromebook. TX-8250 also works with the Google Assistant. Multi-room capability goes further with FireConnect to mirror network and analogue sources connected to the receiver, such as vinyl records playing in the main listening space, on FireConnect-ready speakers in other rooms. DTS Play-Fi technology enables streaming from online services, media server, or device library over Wi-Fi to any number of compatible products via Onkyo Music Control App*6 for iPad, iPhone, and Android phone/tablet. DTS Play-Fi connects systems for synchronised music in every room, and can stream different music to different rooms from the same device. Users of iTunes and compatible apps can stream over AirPlay from Apple iOS devices, PC, and Mac, and there's more content available via the built-in FM/RDS tuners and DAB+. Up to 40 stations can be saved and named, with four of these instantly accessible via front-panel buttons.
The TX-8250 offers 135w + 135w (6 Ohms, 1 kHz, 1% THD, 1 channel driven, IEC) delivered via high-current low-impedance analogue amplification featuring discrete output transistors, non-phase-shift amp circuitry, and massive EI transformer with custom capacitors. Quality D/A processing from AKM supports 192kHz/24-bit Hi-Res Audio playback via LAN and USB, as well as Direct DSD 2.8/5.6 MHz playback. For those that don't require network capability, the TX-8220 Stereo Receiver generates 100w + 100w (6 Ohms, 1kHz, 1% THD, 1 channel driven) of wideband stereo power, and boasts two digital audio inputs, five line-level inputs, and subwoofer pre-out.
The receiver includes Bluetooth wireless audio streaming technology with Auto Connect for pre-configured devices. DAB+ transmissions are accessed via the supplied USB UDB-1 DAB Adapter (also available separately). TX-8220 also opens the door to analogue amplification for vinyl with inclusion of an MM phono stage for turntable. It also adds a built-in FM/RDS and DAB+ tuner for digital radio.Speaker A+B and A/B drive capability lets radio, music or TV play through another pair of speakers in another room.
*1 Hi-Res Audio playback is recommended for wired LAN and USB only. Performance with Wi-Fi cannot be guaranteed. *2 Sharing external analogue audio is enabled with a future firmware update. Transmission rates of 44.1kHz and 48kHz are supported. *3 Enabled with a firmware update. *4 Availability of streaming services depends of region and may require a subscription. *5 Please check device and OS requirements at App Store or Google Play before installing Onkyo Controller app. *6 Please check device and OS requirements at App Store or Google Play before installing Onkyo Music Control App.
Prices (all models available in September, in either black or silver)
TX-8250 Network Stereo Receiver – £529.99
TX-8220 Stereo receiver – £249.99
UDB-1 DAB+ adapter – £39.99