Onkyo has launched of three new home cinema products. They comprise the THX Select certified 7.2-ch TX-NR696 Network A/V Receiver, the 5.1.2-ch HT-S5915 Home Cinema Package, and the 5.1-ch HT-S3910 Home Cinema Package, all supporting Dolby Atmos and DTS:X soundtracks.
TX-NR696 7.2-Ch Network A/V Receiver
Developing 175 W/Ch (6 ohms, 1kHz, 10% THD, 1-ch driven), the TX-NR696 benefits from noise reduction measures such as a refined HDMI board, isolated network board, and enhanced amplification system, featuring a strengthened power supply. It also boasts a quad-core SoC (System on a Chip) enabling high-speed 802.11ac 2×2 MIMO*1 Wi-Fi and evolved network functionalities. In addition, 3D sound virtualisation technologies from Dolby and DTS, simplified multi-room audio distribution, 4K HDR support, and a host of proprietary functions are included. The TX-NR696 is THX Select certified having met and exceeded 2,000 stringent bench-tests, in 75 categories covering 14,000 data points, satisfying THX sound-quality requirements for achieving cinema-reference volume in rooms where the viewing position is about 3.5m from the screen.
The TX-NR696 can play Dolby Atmos and DTS:X formats through 5.2.2 channels as well as legacy soundtracks remapped for 3D audio playback through height speakers using Dolby Surround or DTS Neural:X upmixers. The TX-NR696 features Next Generation Network Audio, a versatile, multi-service platform that integrates Amazon Musicand many other services, all shareable around the home via Works with Sonos, Chromecast built-in*, AirPlay 2, DTS Play-Fi, and FlareConnect*. As a Works with Sonos certified product, the TX-NR696 can easily be integrated into a Sonos Home Sound System by pairing it with a Sonos Connect*, with control coming courtesy of the Sonos app. Multi-room capabilities also extend to Chromecast built-in, enabling users to stream music from smartphones, tablets, laptops, and PCs from popular apps with just a tap or click. Voice control is available when used in conjunction with a Google Assistant enabled device, such as Onkyo Smart Speaker G3 or Google Home. Apple AirPlay 2 lets users stream music or podcasts from their iPhone, iPad, or Mac to speakers throughout the house. The TX-NR696 offers 384 kHz/32-bit multichannel signal D/A (Digital to Analogue) conversion optimised by VLSC (Vector Linear Shaping Circuitry) 'pulse noise' removal technology on the Front L/R channels.
HT-S5915 and HT-S3910 Home Cinema Packages
The 5.1-ch HT-S3910 Home Cinema Package is a system supporting home cinema surround sound via 5.1 channel or 3.1.2 channel operation, and includes a 155W/Ch (6 ohms, 1kHz, 10% THD, 1-ch driven) A/V receiver and full-range speaker system including a passive subwoofer. The step-up HT-S5915 package, meanwhile, offers a 5.1.2-ch configuration with 160W/Ch (6 ohms, 1kHz, 10% THD, 1-ch driven). It ships with 2-Way Front L/R speakers (includes Dolby Atmos-enabled speakers), centre speaker, full-range surrounds and a 90W active subwoofer (with a 20cm driver).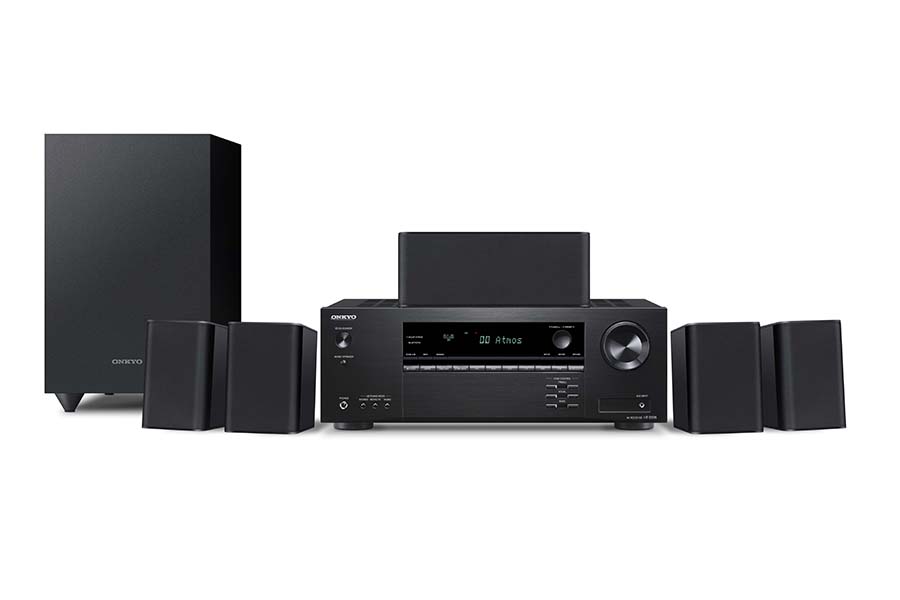 Movie fans can experience 3D surround sound from legacy formats using Dolby Surround or DTS Neural:X modes with a 3.1.2-ch (HT-S3910) or 5.2.2-ch (HT-S5915) layout. A virtualised surround sound listening experience can be enjoyed without surround or height speakers connected, thanks to Dolby Atmos Height Virtualizer and DTS Virtual:X. Both receivers have four HDMI inputs and one output with support for 4K/60p, HDR, 4:4:4/24-bit, BT.2020, and HDCP 2.2 standards. The GUI (Graphic User Interface) over HDMI includes a media input/output display allowing users to conveniently view useful media playback information, such as the HDR format of content or the audio codec being used, while actually watching/listening to it. Each package has a High-Current, Low-Noise Power Transformer and audio-grade capacitors, and the systems are rated to drive 4 ohm speakers. The HT-S5915 also gains AccuEQ and AccuReflex technologies for room-acoustic calibration. The home theatre systems sport Onkyo's new Vocal Enhancer feature as well as Zone B line-out for sharing the same main-room source to a compatible audio system or a transmitter for wireless headphones. Both are also equipped with Bluetooth wireless technology, Advanced Music Optimizer, a powered USB port for dongles, coaxial/optical digital audio inputs, and three analogue RCA inputs.
Prices
Onkyo TX-NR696 7.2-ch THX Select Network A/V Receiver with Dolby Atmos and DTS:X – £699.99 (available in black or silver, in April). Onkyo HT-S5915  5.1.2-ch Home Cinema Package with Dolby Atmos and DTS:X – £tbc (only in black, available in June). Onkyo HT-S3910  3.1.2-ch Home Cinema Package with Dolby Atmos and DTS:X – £499.99 (only in black, available in April).
READ MORE HIFI NEWS WITH HIFI PIG