Ortofon has announced a new flagship moving magnet cartridge, which also celebrates one of history's greatest composers.
The 2M Black LVB 250 joins the range in 2021 as a new flagship cartridge, sitting above the 2M Black cartridge in the range.
Cadenza Black
The 2M Black LVB 250 draws inspiration from the superior Cadenza Black design to create a moving magnet cartridge, featuring a Nude Shibata diamond stylus mounted on a boron cantilever.
2M Black LVB 250 Details
The 2M Black LVB 250 builds on the concept of the original 2M Black cartridge design to take one step further toward  high-end sound.
.The 2M Black LVB 250 uses a Nude Shibata diamond on a Boron cantilever. This combination is also found on the  MC Cadenza Black cartridge. The Nude Shibata stylus's slim, highly polished profile allows for an exceedingly wide contact area with the record groove walls and ensures detailed reproduction throughout the spectrum, including even the highest frequencies. The use of an extremely stiff and lightweight Boron cantilever adds transparency, speed, and responsiveness to the sound.
To attain an optimal interaction between compliance and damping, a new rubber compound for the suspension system has been developed. The new rubber compound formula is based on the Multi Wall Carbon Nano Tubes (MWCNT) nano filler. The new MWCNT-based compound offers desirable mechanical properties, which ensure better damping and improve the overall performance of the cartridge.
Also, the new MWCNT rubber compound allows for more environmental-friendly production, adding further benefit. The MWCNT powder is applied in a rubber polymer matrix and not in a powdered form, which makes the production process more clean, non-polluting and energy-saving.
With an optimal weight of 7.2 g and compliance suited to most modern tonearms, the 2M Black LVB 250 is easily compatible with an endless array of modern High-End equipment.
.In all other elements of its general design, the 2M Black LVB 250 draws from the 2M range's principles. Its structure, materials and generator system are all drawn from the standard 2M Black for proven performance. For that reason, the 2M Black LVB 250 stylus can also fit on and bring a notable upgrade to existing 2M Bronze and 2M Black customers.
Ludwig Van Beethoven
Announced in 2020, to commemorate the 250th anniversary of the birth of Ludwig van Beethoven, the 2M Black LVB 250 sits within Ortofon's own long tradition of paying tribute to persons who have been highly influential within high-end audio culture. From the MC Rohmann and MC Windfeld onto the  Kontrapunkt series and the flagship MC Anna Diamond, Ortofon frequently dedicates market-leading products to iconic people. The 2M Black LVB 250, therefore, joins a series of products, devoted to celebrating musical culture while also pushing forward the technical possibilities of hifi design.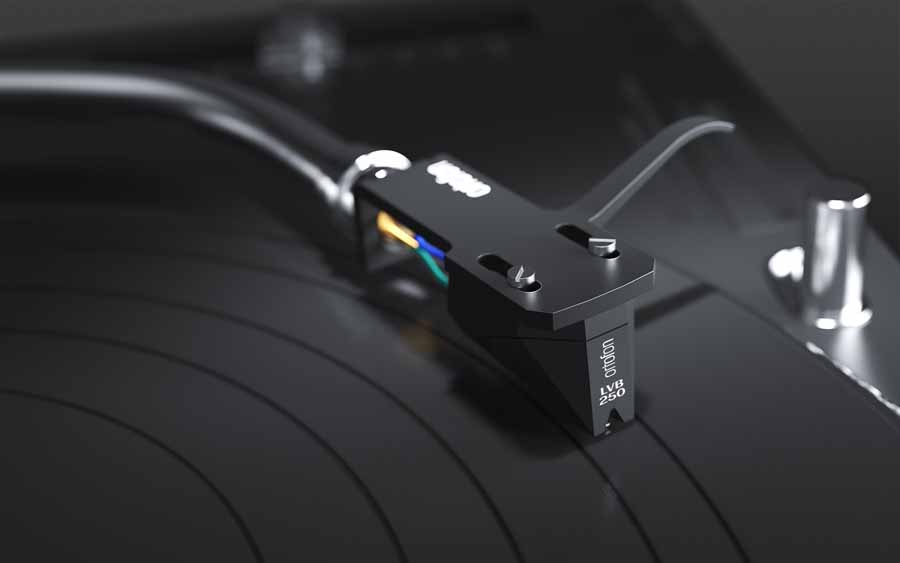 Technical Information
Output Voltage (at 1kHz, 5cm/sec): 5mV
Channel Balance at 1kHz: < 1dB
Channel Separation at 1kHz: > 27dB
Channel Separation at 15kHz: 15dB
Frequency Response: 20Hz – 20kHz ± 1dB
Tracking Ability at 315Hz: 80μm
Compliance, Dynamic, Lateral: 22μm / mN
Stylus Type: Nude Shibata
Cantilever: Boron
Stylus Tip Radius r / R: 6 / 50μm
Tracking Force Range: 1.5 – 1.7g (15 – 17mN)
Recommended Tracking Force: 1.6g (16mN)
Tracking Angle: 20°
Internal Impedance / DC Resistance: 1.2kΩ
Internal Inductance: 630mH
Recommended Load Impedance: 47kΩ
Recommended Load Capacitance: 150 – 300pF
Cartridge Colour / Stylus Colour: Black / Black
Cartridge Weight: 7.2g
Replacement Stylus: 2M Black LVB 250
Interchangeable Stylus Units: 2M Black and 2M Bronze
Stylus Lifetime: With proper care we find that up to 1000 hours is possible without degradation of performance.
Price And Availability
2M Black LVB 250: £829.00 (SRP)
Available from January 2021 through Henley Audio's network of dealers in the UK
Replacement stylus price TBC.