UK distributor Fidelity Art has launched a new range of unique Anti-Vibration Accessories from Pro Audio Bono, a specialist manufacturer of dedicated audiophile-grade products based in Poland.
PAB's complete range includes PAB Anti-Vibration Platforms, PAB Stand-Mount Speaker Stands, PAB Anti-Vibration Feet and PAB Anti-Vibration Racks.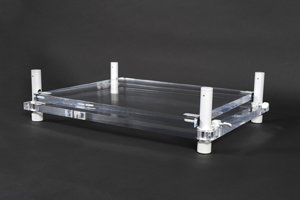 PAB Anti-Vibration Platforms are designed to support audio/video equipment and isolate it from external vibrations,  minimising unwanted resonance. This is mainly achieved by suspending hi-fi components on specially designed shelves that minimise physical contact with adjacent units.Each shelf is suspended on strings which can be adjusted by using tension screws (the design is patent pending with the Polish Patent Office).
In order to provide optimum support for all audio equipment, PAB also offers ball-bearing antivibration feet. With bearings placed precisely between two brass bushes, contact between surfaces is significantly reduced.
Finally, encouraged by the excellent reception of its anti-resonance platforms by the audiophile community, the company has introduced PAB Anti-vibration Racks. The standard anti-vibration rack consists of a massive top plate and base (double plywood) with two anti-vibration shelves placed inbetween. Suspension mechanisms for the shelves are hidden in the legs of the rack, and are covered with varnished aluminium plates. Similar to PAB Anti-Vibration Platforms, the mechanisms are made from non-magnetic materials. However, the design was thoroughly re-engineered to make it more sturdy, especially with respect to the bottom shelf intended for an amplifier.
About Pro Audio Bono
Hifi Pig will be reviewing PAB Anti-Vibration Platforms very soon.