Parasound has announced the addition of a new 2.1 channel preamplifier to its Halo product line( Jerry reviewed the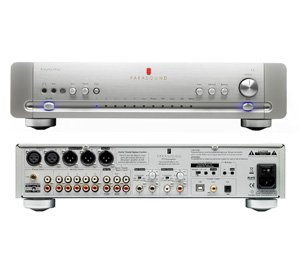 Halo A21 amp some time ago giving it a Recommended award). The new Halo P 5 replaces the Halo P 3 preamplifier adding a DAC with coaxial, optical and USB inputs. Also included is a subwoofer output, home theatre bypass, phonostage and a motorised volume pot.
Inputs include one pair of balanced XLRs, phono, five stereo RCA inputs and a 3.5mm mini jack on the front panel so you can plug in your iPod or mobile phone.  Outputs are balanced XLR, unbalanced RCA and a choice of balanced/unbalanced subwoofer outputs.
The onboard phonostage will cope with moving magnet cartridges and pretty much all moving coil cartridges with a 100ohm/47 ohm switch for impedance matching.
Available in September the price will be $950 which would appear to be a good price for such a well loaded product.