First generation punk act Penetration are set to play a number of UK tour dates during 2019, starting with a London show at the Royal Albert Hall on 21st June with Buzzcocks and Skids that is being treated as a celebration of the life of Buzzcocks frontman Pete Shelley, who died in December 2018. Penetration singer Pauline Murray will also be one of several guest vocalists performing with Buzzcocks on the evening.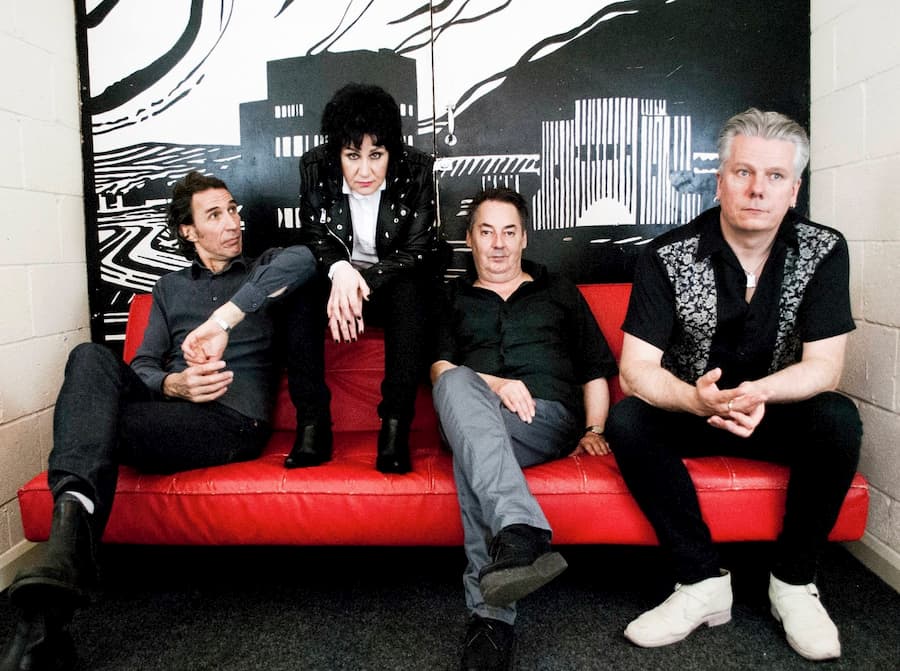 It follows her recent appearance with Buzzcocks guitarist Steve Diggle and a house band at the Vive Le Rock Awards ceremony in London where she presented him with the Rock In Peace honour and said this about his sadly departed bandmate:
"I first saw Buzzcocks as an 18-year-old at the Screen On The Green in 1976. Punk inspired young people to explore talents they didn't know they had and Pete Shelley wrote love songs with a twist, simple yet profound. I wish Pete was here tonight to know how much he was appreciated for his lifelong dedication to music and providing the soundtrack to the lives of a generation. It's only when someone leaves us that we notice how their lack of presence can change everything."
Penetration toured with Buzzcocks in 1978 and covered one of their classic singles from that year, 'I Don't Mind', for the sessions that resulted in their acclaimed 2015 comeback album, 'Resolution'. The group's line-up at that time included former Buzzcocks drummer John Maher (who played on the original version), while a live video for the song was shot during a show at The Playhouse in Whitley Bay.
Penetration's 2019 tour includes a set at the annual Rebellion Festival in Blackpool that will also see a rare outing for Pauline Murray & The Invisible Girls. Featuring both Murray and Penetration bassist Robert Blamire, they will be playing songs from their self-titled 1980 album that was produced by the legendary Martin Hannett (Joy Division, Magazine).
Pauline Murray has been working on a new solo album and will preview songs from it at an intimate acoustic show at the Betsey Trotwood in London on 20th June. A release date for the record is yet to be announced.    
Tour Dates:
21.06.19  LONDON Royal Albert Hall (w/ Buzzcocks & Skids)
22.06.19  PORTSMOUTH Wedgewood Rooms
12.07.19  LONDON 100 Club
13.07.19  LEWES Con Club
14.07.19  HALIFAX Lantern
03.08.19  BLACKPOOL Rebellion Festival
06.10.19  SHEFFIELD O2 Academy
18.10.19  NEWCASTLE Cluny
19.10.19  GLASGOW Audio
About Penetration:
Penetration were formed as a quartet in Ferryhill, County Durham in late 1976 at the very beginning of the punk rock phenomenon, with singer Pauline Murray's fearless yet vulnerable vocals fitting perfectly with often anthemic song arrangements. They signed to Virgin Records in 1977 and released their first single, the classic 'Don't Dictate', that autumn. A second guitarist was added to the group prior to recording their debut album, 'Moving Targets', which was released in 1978 to considerable acclaim and reached no. 22 in the album chart. Its follow-up, 'Coming Up For Air', was produced by Steve Lillywhite (in between helming the debuts of both Siouxsie & The Banshees and U2) and was made immediately after a US tour. Although rushed, the sessions produced superb songs such as 'Come Into The Open' and 'Shout Above The Noise' that ensured another Top 40 chart position. However, pressure from both their label and management resulted in the band splitting up after completing a UK tour in late 1979.
Murray and bassist Robert Blamire continued to work together and teamed up with producer Martin Hannett to record the proto dream pop single 'Dream Sequence' with The Invisible Girls. Released in August 1980, it was swiftly followed by the Top 30 album 'Pauline Murray And The Invisible Girls'. That same year, Murray also provided guest vocals on the final album release by The Only Ones, 'Baby's Got A Gun', while Blamire began an association with the highly rated Scars that resulted in him producing their acclaimed 'Author Author!' album.
Personal life changes and disillusion with the industry caused Murray to turn her back on music in 1982 at the age of 23. When she eventually reappeared it was as a fiercely independent artist. Setting up the Polestar label with partner Blamire, she released several singles during the latter half of the '80s and a solo album entitled 'Storm Clouds' at the end of the decade. In 1990 she also set up Polestar Studios, a music rehearsal and recording facility in Newcastle.
Murray was persuaded to reform Penetration in 2002 and the group started making regular live appearances. However, it was only in 2015 that they finally released a well-received third album, 'Resolution', while their back catalogue was reissued as 'The Virgin Years' box set. The band have toured ever since, while Murray has also participated in various BBC TV and radio programmes, magazine/newspaper articles and panel discussions about Punk and influential women in rock.