Pioneer has announced the release of three new generation AV receivers, the VSX-LX302, VSX-932 and the VSX-832, which they say are "packed to the gills with every facility needed to form the heart of seriously capable home entertainment systems".
VSX-LX302 – £699 7.2-channel AVR
Delivering 170W per channel (and capable of driving two subwoofers), this AVR offers Dolby Atmos and DTS:X Playback (using a 5.2.2-channel layout) as well as a new feature dubbed Reflex Optimiser. This is designed to eliminate and overcome the phase-lag issues that many Dolby Atmos elevation speakers can suffer from.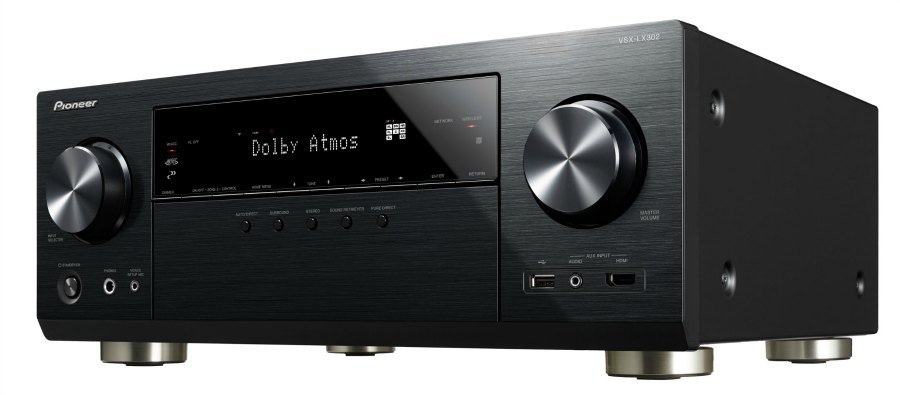 On the video front, the VSX-LX302 supports 4K/60p/4:4:4/24-bit video signal transmission (with HDCP 2.2 technology) on six rear HDMI inputs and two HDMI outputs. There's full 4K Ultra HD and HDR compatibility (HDR 10, Dolby Vision and the BT.2020 standard). The Bluetooth and Wi-Fi-enabled (5 GHz/2.4GHz Dual-band) VSX-LX302's talents also encompass music as well as movies, with onboard support for a host of free and subscription music services (TuneIn, Spotify, TIDAL and Deezer). 
For an even greater range of music options, owners can take advantage of the VSX-LX302's Chromecast built-in facility. This allows you to stream your favourite music from your smartphone, tablet or laptop right to your speakers. Control playback anywhere in the house using Chromecast-enabled apps on your iPhone, iPad, Android phones, tablets, Chromebook, and the Chrome browser on Mac, Windows, and Linux PCs. There's full support for Hi-Res audio including DSD 2.8MHz/5.6MHz and even Dolby TrueHD content (up to 192 kHz/24-bit) via the USB input. The task of decoding digital content falls to a high-grade 384 kHz/32-bit DAC (AK4458) produced by AKM. For vinyl fans there's a built-in phono stage (moving magnet) plus AM/FM radio while an optional USB dongle – for DAB radio reception – will be launched later this summer. With Airplay, Bluetooth connectivity, DTS Play-Fi compatibility, FireConnect wireless audio distribution (to optional compatible speakers), Powered Zone 2 operation (including Zone 2 digital audio outputs) and Pioneer's MCACC auto set-up system on board, Pioneer say that "the VSX-LX302 is, by any standard, a breathtakingly well-equipped AVR".
VSX-932 – £499 7.2-channel AVR
This AVR offers a very similar but slightly more modest specification compared to the VSX-LX302. As well as slightly less power (130w vs 170w a channel) the AVR features four HDMI inputs/one HDMI output (vs six in/two out), has a single subwoofer output (instead of two), omits Zone 2 outputs and uses an AK4438 AKM DAC instead of an AK4458.
VSX-832 – £449 5.1-channel AVR
This is the most affordable Pioneer AV receiver to offer Dolby Atmos and the first five-channel model to do so. Here, the latter is delivered in the form of the 3.1.2-ch Dolby Atmos Surround Enhancer, a virtual speaker technology that uses DSP (Digital Signal processing) to recreate the sound that normally comes from separate Atmos speakers*. The 3.1.2 soundstage is virtually expanded to 5.1.2-ch to create a 3D surround sound field. While the power output, at 130w a channel, is unchanged from that of the VSX-932, the VSX-832 makes do without that model's vinyl-friendly phono input and, of course, offers just 5.1-channel operation vs 7.2.
The VSX-932/832 are available now while the VSX-LX302 is scheduled to go on sale in May.