I first saw Pixies playing live nearly 30 years ago at Manchester International supporting Throwing Muses (who were promoting their second album 'House Tornado' – still one of my all-time favourite albums).  I didn't actually realise at the time, but it was to be one of those tours which people still talk about years later ('You were there??!!  No way!!').  I was – and still am – an avid 4AD fan, so I'd purchased Pixies' album 'Surfer Rosa' on its release just over a month prior to the gig.  The album's now well-documented 'loud-quiet-loud' songs made for an essential listen; Pixies didn't sound like much else at the time – and certainly nothing on the 4AD roster.  I likely don't need to tell you that bands such as Nirvana, Radiohead & David Bowie cited them as a huge influence.  It still amazes me how Pixies signed to a London-based label, despite originating from Boston, Massachusetts – and even 4AD themselves nearly passed on the opportunity had it not been for the girlfriend of then-chief Ivo Watts-Russell who managed to persuade him.
A lot of people seemed to join on board the Pixies fan bus in the U.K. only after the tour had finished and they'd returned to their native U.S.  It was as if there was a delayed reaction to their music.  Not really surprising as the class of 1988 consisted of bands such as Pogues, REM, Sugarcubes, My Bloody Valentine et al – not exactly making the kind of alt-rock being pumped out of Pixies' rehearsal room.  During those six months, the fan bus came close to overflowing.  When Pixies returned a year later following the release of their second album 'Doolittle', they were hailed as all-conquering heroes.
On first hearing 'Doolittle' in April 1989, I remember being slightly deflated.  Maybe I'd expected 'Surfer Rosa 2.0', but instead we actually got Pixies v2.0.  I'd initially go to play my 'Doolittle' album but find myself giving 'Surfer Rosa' another spin instead.  It took me quite some time, but I finally came round to the fact that 'Doolittle' was good.  In fact, it is very good…
First looks can often sometimes be deceiving – particularly when you've already had a bite of the cherry, as I had with both 'Surfer Rosa' and its predecessor, the mini-album 'Come On Pilgrim'.  However, I persevered with 'Doolittle' and it paid off.  Ironically, it was 'Wave Of Mutilation (UK Surf)', a remake of the third track on the album (which appears as a B-side on the 'Here Comes Your Man' 12" single) which I recall hearing during the 80s movie 'Pump Up The Volume' (featuring Christian Slater) which somehow really got me into the record several months after its release.
The beauty of 'Doolittle' lies in its connectivity – the tracks gel just beautifully.  'Debaser' kicks off with its trademark bass guitar and four notes later the guitar & drums come crashing in.  The 'vocals' are spewed forth like venom and there's lyrics about slicing up eyeballs and girls looking groovy.  By second track, 'Tame', it's clear that they're violently angry – as if any encouragement from the success of the first album had distinctly the opposite effect and upset them to the point where they're destroying their instruments and smashing each other to pieces in the rehearsal room.  'Doolittle' is one of those albums with the rare quality of not sounding like it dates from any time in particular.  So, despite the fact that it's from 1989, it could easily have come from 2017 or even 2039.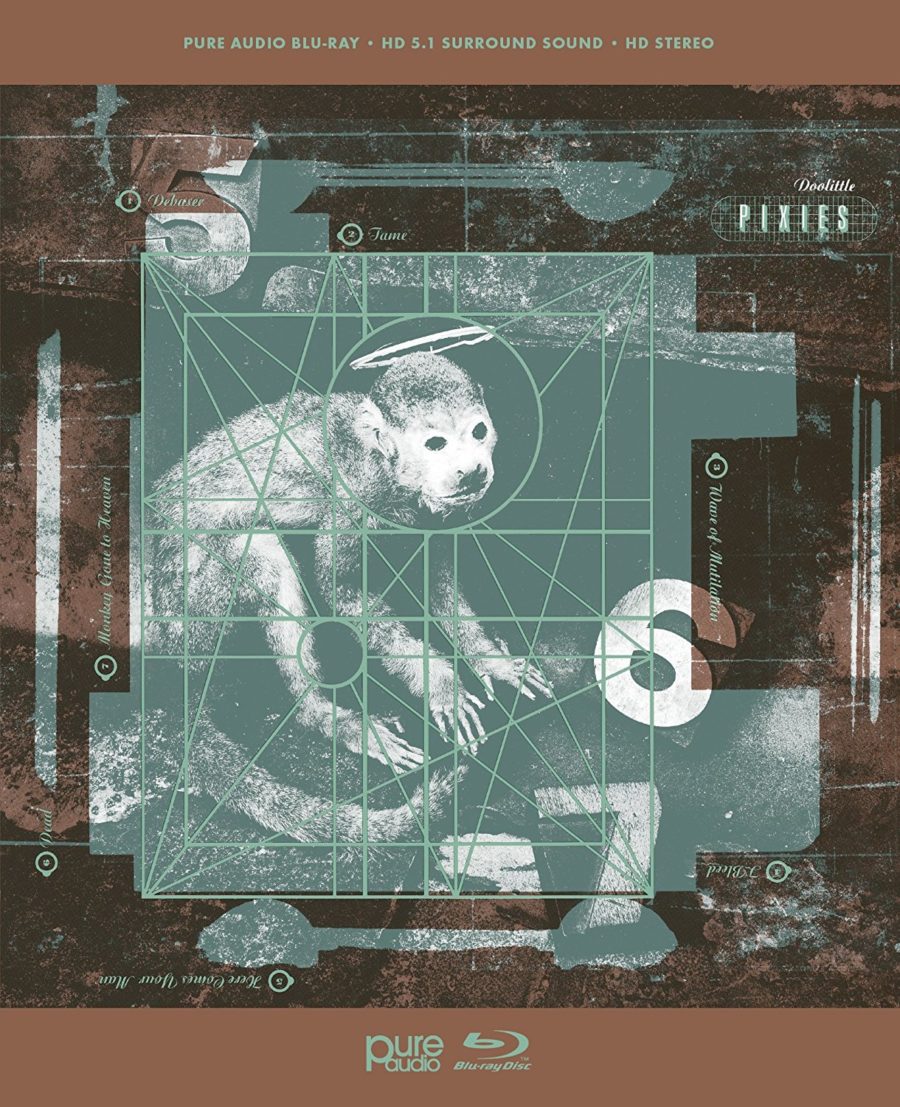 This special edition version of 'Doolittle' follows on from the 3-disc version from 2015 which bundled the original album together with loads of demos, B-sides & Peel Sessions.  What we have on this latest outing is a Blu-Ray which can be played in any standard Blu-Ray player.  On the disc are three versions of the album including an LPCM Stereo version, a DTS-HD Master Audio 5.1 version and finally a LPCM 5.1 version.  The transfers are 96 khz/24 bit.  Firstly – they've done an incredible job.  For music where so much is happening, there's an incredible clarity (particularly evident during 'Dead', 'La La Love You' and 'There Goes My Gun') and no sign of any audio clipping which can sometimes occur when the volume is ramped up during the remastering process.
4AD purists will either love or hate the fact that the booklet is CD-sized whereas the case is a cardboard Blu-Ray-sized digipak, but it's the sound which you'll be most interested in – and on that score, it's absolutely essential – particularly if you have a 5.1 surround-sound system.
Paul Lockett