Distributed in the UK by Absolute Sounds and costing £2698, the Prima Luna Evo200 Integrates amplifier offers a great deal of versatility in that output tubes can be swapped out from the supplied EL34s. Janine Elliot gives it a whirl.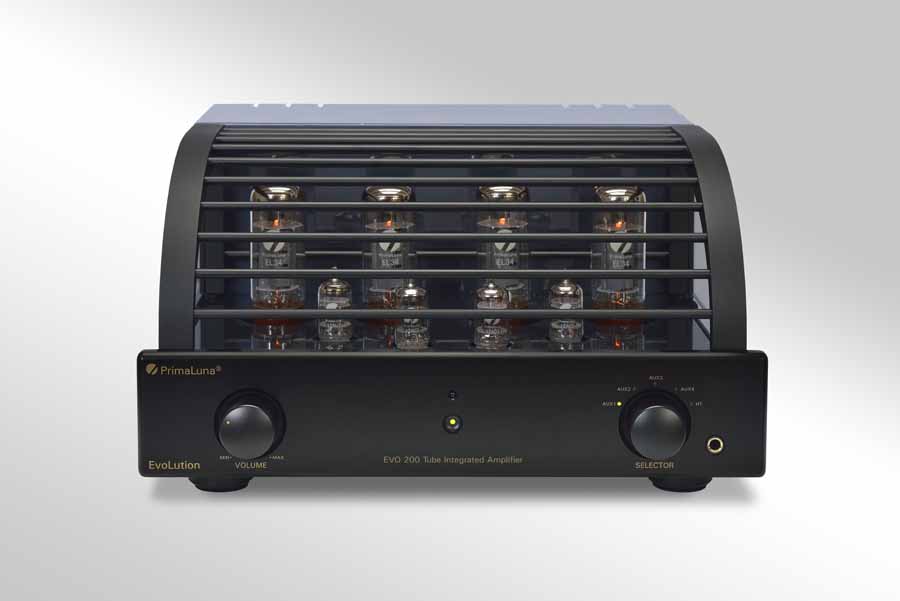 I first got my hands on a PrimaLuna amplifier when I was temping at a HiFi shop in Bedfordshire in the noughties. I was immediately taken in by the lifelike sound produced at a lifelike price, initially believing they were Italian due to the name, meaning "First Moon". The company is actually from the Netherlands, launching its first valve amplifier back in 2003. Company founder Herman van den Dungen not so long ago decided to create a whole new range of tube amps and so came up with the 13 model 'Evolution' series. Each of the four "levels" – the entry level 100, 200, 300, and 400 – include an integrated, pre-amplifier and power amplifier. For you mathematicians out there that would quite rightly equate to 12 products, so they also have a valve DAC making up the 13, the world's first tube-based data clocking device.
PrimaLuna perhaps is best known for introducing "Adaptive AutoBias". This continually monitors the tubes and makes adjustments in real time, by addressing what they call "tube pinch off" at higher volumes, and thereby reducing distortion and extending tube life. This means the tubes always perform at their best and you don't have to worry about setting the bias. PrimaLuna's system needs to be distinguished from regular "cathode bias" which reduces power to the amp and runs the tubes hard thereby reducing their life. PL's valves work with less stress meaning they last longer and don't distort.  Adaptive AutoBias also allows the flexibility of substituting other valves which means a cheap upgrade, a feature in all their amplifiers.
CONSTRUCTION
The Evo200 is the second in a family of four lookalikes of different sizes. The front has a sloping metal valve guard, though this can be removed if you want to see the valves and don't have babies or pets. Whether you choose to have the cover on or not the unit looks distinctively prime and of excellent build quality. The front panel is available in silver or black and kept sparse with just a motorised volume control on the left and input selector on right. To the right is also a headphone socket. This is operated by a rocker switch to the right side of the amplifier which selects between main loudspeaker and headphone output. There is no separate headphone amplifier and attenuation circuitry ensures that your cans don't get fed with 44W. This is an unusual way of doing things but highly desirable as it means the headphones you plug in use the main amplifier stage, rather than a cheap op-amp. It also means you can keep the headphones plugged in when using the speaker output. In the centre is the remote sensor with the LED below showing on and mute. Switching on the unit is done using a rocker switch on the left, placing the unit into mute for the first minute, indicated by a red light, turning green when everything is hunky-dory, the SoftStart circuitry that powers the amp up gently extending the tube life. The rear has five line-inputs including HT (more on that in a second) and a useful tape output (if like me you have a reel to reel tape recorder). The loudspeaker connections include a choice of 4 or 8 ohms taps. There is also provision for adding a moving magnet phono-stage in a module underneath the back of the unit; the RCA and grounding connectors are already there for you. The HT (Home Theatre) input allows you to use the Evo200 as a power amp as part of a video set up, or to be used in conjunction with a separate preamp, after all, the preamp section of an integrated usually isn't quite as good as a separate. It is also well recognized in the world of audio that input selector switches can leak noise and audio from other sources, because when playing one source the others are never turned off. Switches can also deteriorate with age. Also, because they are situated at the front panel there will be long runs of cable to the sockets at the back, possibly picking up RF and EMI interference. Because of all these factors, PrimaLuna has designed it so that selection is done using top quality sealed relays that are mounted at the rear close to the sockets. Only the selected input has a relay closed, the others left open so that no noise or signal can possibly interfere with the music.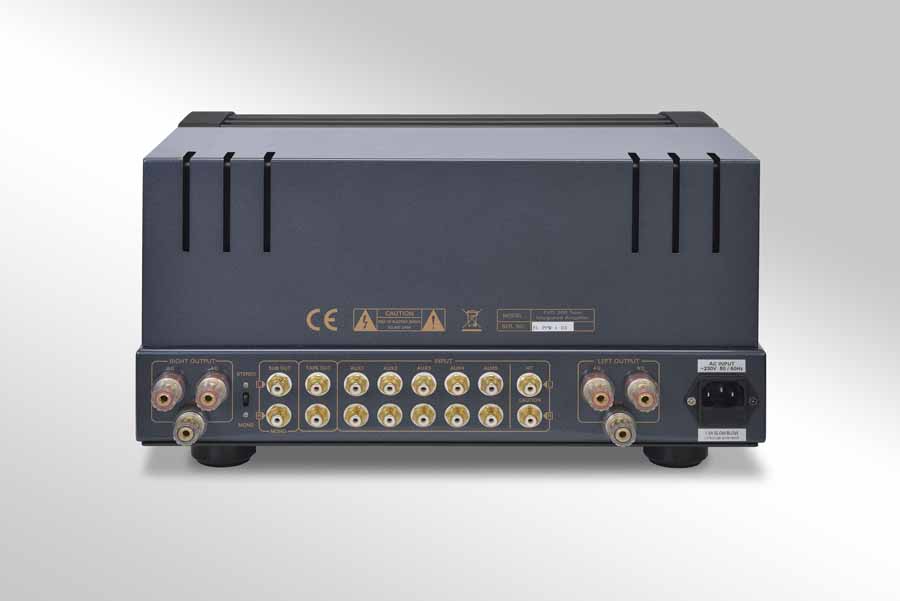 The Evo is supplied with four PrimaLuna EL34's for amplification and four 12A7's for the preamp stage. EL34s are probably the best-known output stage tubes and are regularly used in guitar amplification. The Adaptive AutoBias means the unit is able to deploy virtually any tube on the output stage should you not want an EL34, allowing fine-tuning for not only the supplied tubes but also 6L6G, 6L6GC, 7581A, EL37, 6550, KT66, KT77, KT88, KT90, KT120, and KT150 octal socket tube types, allowing differences in sound and power output. A switch on the right-hand side allows you to change between high and low bias; the EL34 working at high bias. If a tube fails, Adaptive AutoBias will put the amplifier into a protection mode so that there is no damage. A red LED will indicate which of the output tubes needs to be replaced. PrimaLuna also supplies the plate and screen with lower voltages than most would do (417V). Another major point is that PrimaLuna employs Point to Point Wiring on all their products. The entire signal path, including resistors and capacitors, is painstakingly hand wired with heavy-gauge cable. PCBs are only used in less important areas. Rated at 44W into 8 ohms the Evo 200 uses its own hand-wound toroidal transformers that are then sunk into a non-microphonic resin case to ensure noise levels are kept to a minimum. It is true that the output transformer is the most important and the most expensive part of any tube amplifier. It determines how high the treble and low the bass go. PrimaLuna believes that 250 watts of power will have no top and bottom extension if the output transformers don't have the bandwidth. To rectify this, they use lower power to extend tube life, and bandwidth to give "slam". PrimaLuna output transformers are custom-designed, wound in-house, and massive. They are also very heavy. 
The unit comes supplied with a cute heavy metal remote control to adjust volume and change input, plus a mute switch for when the phone rings. There is also provision for stop/pause and eject suggesting it can be used for other purposes. I spent ages working out where the battery compartment was. It is a well-designed box.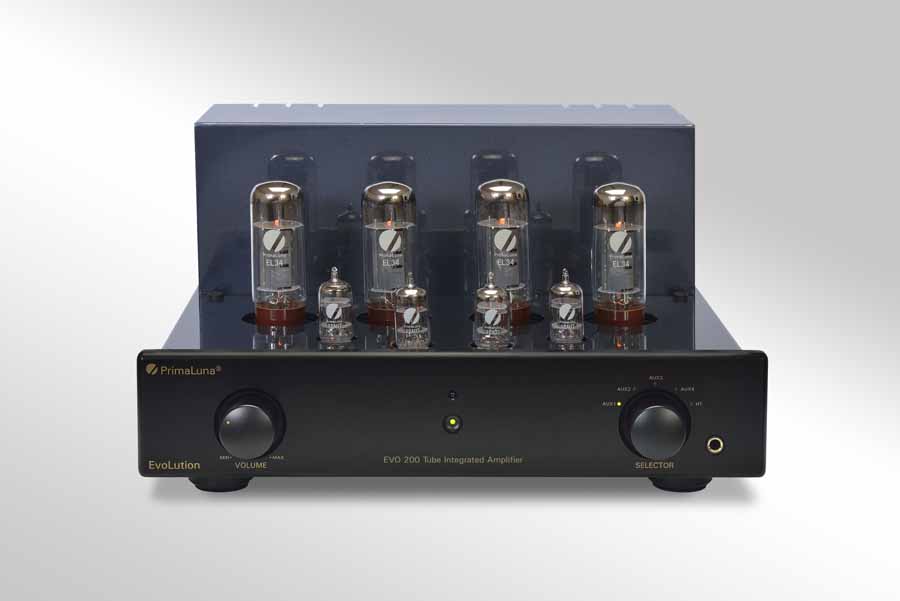 THE LISTENING
I started by listening to a track on reel to reel from 'The Crimson Investigation', a brilliantly recorded album from a 14-piece big band, with excellent saxophone solos, and definitive soundstage. The EVO is not like my weighty solid-state Krell. This is pure valve heaven, producing a lustre to the music that was highly engaging. "Our love is Here to Stay" had a sheen on the vocalist's voice plus contrastingly tight drums. Turning to a tape copy of Pat Matheny Group 'The Way Up', one that I copied from digits to magnets in order to produce a much more analogue sound, still had the brilliantly clear cymbals and guitars but was much more controlled and a realistic sound.
Turning to vinyl and classics I decided to play Hummel's Piano Concerto in A minor op85 (Chandos; Stephen Hough and English Chamber orchestra). Hummel is one of those composers you wonder why he wasn't better known with such a good CV. His teachers were no less than Haydn, Mozart and Beethoven, and he himself taught Mendelssohn. His style is somewhere between Mozart and Chopin, and as a result I really love his piano concertos. The Evo allowed the "royal" chordal progressions and vibrant sounding textures to come to the fore. This album has significant reverberation and I wanted to see just how well the valve amplifier would behave. My own modified but ancient Leak Stereo 20 turns this album into one of my very special recordings keeping that reverb just as it should be, but the modern Evo 200 turned it into a much faster and crisper offering, maintaining full control of all frequencies and ambiances, with all the EL34's warmth and distinctive mid-band detail. Similarly, the bass end was excellent from this album, tight and extended. If this is just the second in the series, I just wondered how good the top-of-the-line Evo400 must be. Being able to change the output tubes to create the sound you want is a great feature of the Evo 200, though I do find the basic EL34's an excellent choice. However, I would have loved to try the massive curvy KT150 tubes, as regularly used by Audio Research amongst others!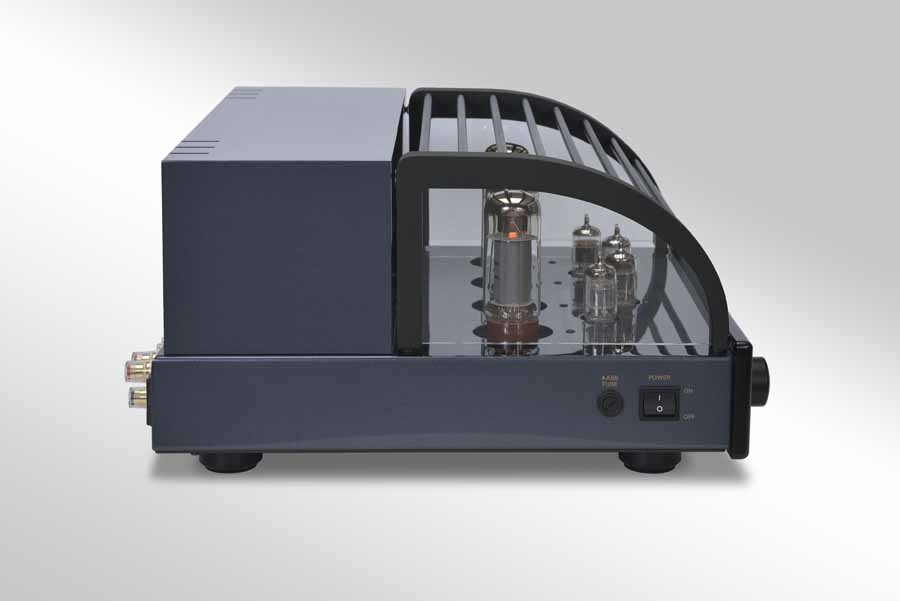 Turning to jazz and Herbie Hancock's 'The Imagine Project' the album gave both warmth and detail, with a prominent piano and excellent depth of sound with extended bass guitar. "The Song Goes On" starts with a solo sitar. This Indian style song is soon to be joined by the Tabla and other instruments. This is a fast number and the PrimaLuna handles with ease the differing textures, structures, and timbres. Hard to believe this substantial valve machine comes in at under £3000, easily matching some tube amps at twice the price. Its speed and 'bite' match solid-state amplifiers combined with all the lustre and richness of valves, particularly in the midrange. I soon got hooked in this performance with both Herbie and PrimaLuna at the controls, the Evo grasping the music with great ease.
I wanted to see how progressive rock would work so Pink Floyd was the next call of the day. 'The Division Bell' gave a forceful but well-controlled performance with a detailed and large soundstage both left, right and behind the speakers. 44W is more than enough for anyone.
Turning to headphones, the amplifier gives a very capable performance with all the music I played, and only very inefficient cans that require having to turn up the wick might suffer some audible noise. It certainly beats most headphone amps in integrated amps; usually just an op amp. As a loudspeaker amplifier goes this is a very quiet affair, the pair of EL34s per channel giving a warm and lucid performance of the Pink Floyd with potent vocals and an energetic bass tom tom. This was fun!
Turning to digital music from my DAP, everything sounded natural. Decays from instruments were realistic and extended, and all mids and bass were especially authoritative.  Ingrid Fliter playing Chopin Piano Concertos (Linn) was decisive and enjoyable, even with Linn's distinctive sonic fingerprint. Dee Dee Bridgewater's powerful version of "Cotton Tail", celebrating Ella Fitzgerald 80th Birthday, exudes precision with precise cymbal solos and excellent powerful piano runs. Finally, vocals in Missquerada "Far from Love" had a beautiful vocal sheen over the computer-generated semiquaver backing. There are questions in the internet as to whether Missquerada is indeed a real person or just a computer-generated being. Whether or not she is, this was a very human performance ably accomplished by the PrimaLuna.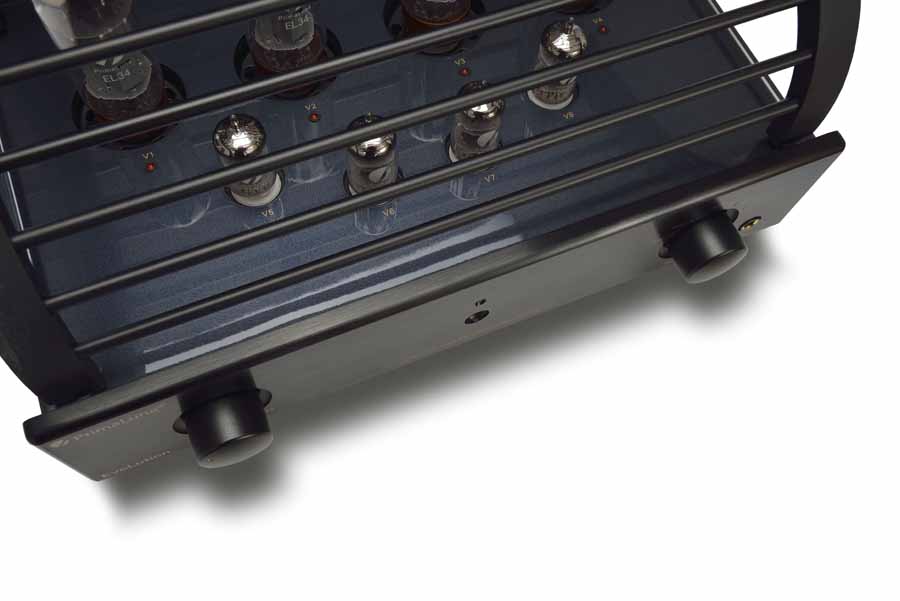 CONCLUSION
I had much enjoyment playing with the Evo200. This amplifier offers a detailed and fast sound with excellent mid-band and secure top with a beautiful patina that simply makes music human again. It also looks pretty good whether or not you use the valve safety cage. What's more, you can tailor the sound to just how you want with the Adaptive AutoBias; the EL34 works just great but there are other great tubes to upgrade at your hi-fi leisure. PL are renowned for value for money and this product carries this forward; at under £3000 this is a lot of tubes and music.
AT A GLANCE
Build Quality: A very well-made construction including point-to-point wiring and excellent transformers.
Sound Quality:  An excellent mid-band and bass working well with a clear and secure top end. A very quiet and fast amplifier.
Value for Money: £2698 is exceptionally good value.
Pros:
Excellent bass and mid-band with tight and secure top end
Grasps the music with ease
You can upgrade with different valves.
Cons:
Hard to find any fault at this price.
Price: £2698
Janine Elliot
Review Equipment:
Ferrograph Logic 7 and Revox B77 (reel to reel); Pre-Audio GL 1102AN (turntable); Krell KPS20i (CD); iFi Zen Blue (streamer) Graham Audio LS5/9 plus Townshend Supertweeter (speakers); Townshend, Tellurium Q, Ecosse (cables), Townshend Seismic stand.
Specification
Power Ultra-linear – 44 watts x 2 (EL34) (8Ω, 1% THD)
THD – < 0.2% @ 1W < 2% @ Rated Power
S/N Ratio – 86 dB, 95 dBA
Inputs – 4x Stereo RCA Stereo,  RCA HT Bypass
Outputs –4 & 8 Ω, Stereo RCA Tape Out, 1/4″ Headphone
Response – 10Hz-65kHz +/- 1dB, 9Hz-95kHz +/- 3dB
Power Consumption – 280 watts (EL34)
Standard Tube Complement – 4 – 12AU7, 4 – EL34
Dimensions (WxHxD) – 14.4″ x 8.1″ x 15.9″ (365 x 205 x 400mm)
Weight – 52.8 lbs (24kg)