Pro-Ject make a huge range of turntables to suit pretty much all pockets. Today Ian Ringstead takes a listen to the £1400 Pro-ject 6 Perspex SB Turntable Package.
I have been a huge fan of Pro-Ject turntables ever since their introduction back in the nineties. As a company, Pro-Ject never rest on their laurels and are constantly introducing new and innovative models to the range. The choice can be daunting at first glance, but there is logic to it and they certainly cater for all tastes and pockets.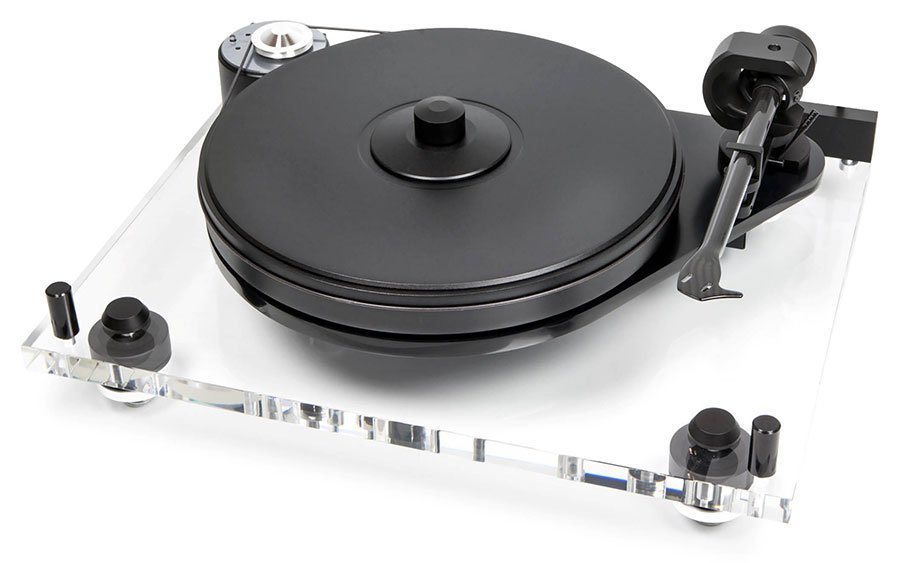 The Pro-Ject 6 Perspex SB is an update of the original Perspex 6 with some radical design improvements. It comes with a new perimeter drive belt mechanism where the motor sits in its own pod in a dedicated cutout at the back left of the plinth. The cut is lined with damping material to cut down on resonance issues. The AC motor is in a smart looking machined metal housing that has its own speed control incorporated and is controlled by a simple push switch that actuates speeds of 33 1/3 and 45. You just push the switch to engage the speed and if you press it for a second or so it will change speed. To stop the motor simply hold the switch down and the platter will stop rotating. The motor has been designed to offer better speed stability through the electronic circuits incorporated in the motor pod housing allowing for a stable speed unaffected by mains fluctuations.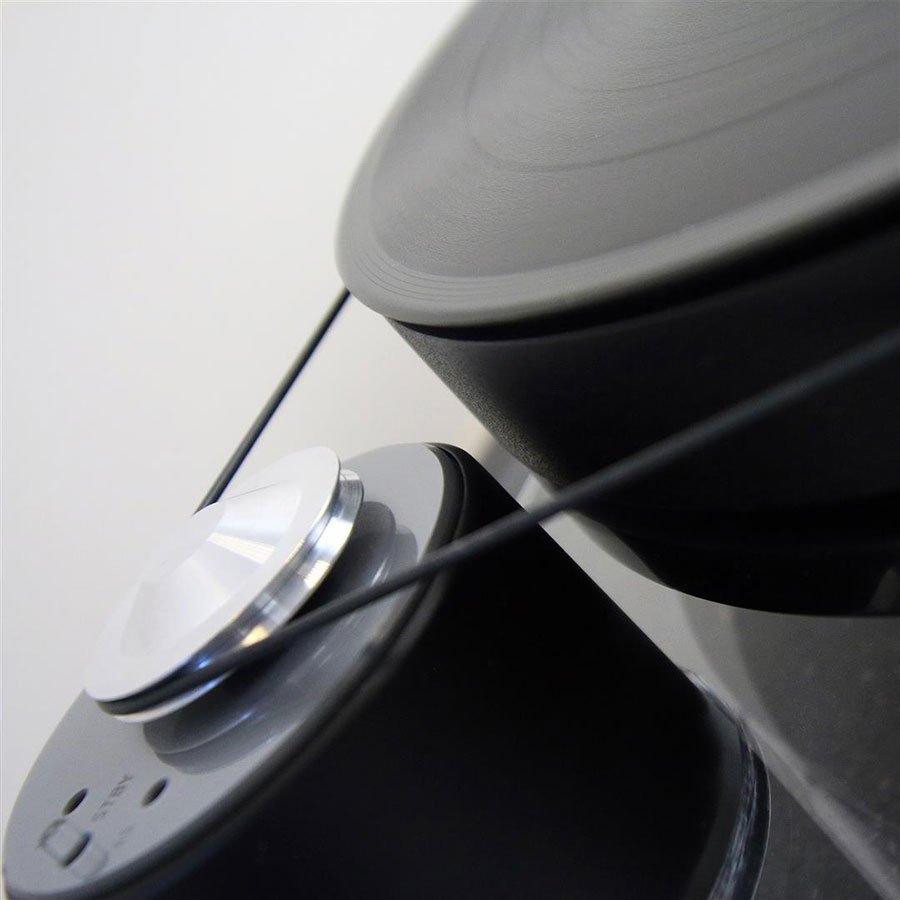 The plinth is superbly engineered from Perspex and incorporates the sub-chassis; platter and TPE damped aluminium coned feet. The sub-chassis is unusual in that it is made from Corian which I remember from years ago being used in a Technics turntable. The Corian has great isolation properties and so suits this design very well.
The other unique part of the design is that the sub-chassis is isolated from the Perspex plinth by using magnets so creating a floating platform. The platter is a vinyl/mdf sandwich that is accurately balanced for excellent speed accuracy and rotation the same as car tyres and wheels are balanced to run smoothly.
An inverted bearing is used which has a stainless-steel axle with a ceramic ball and is greased to allow smooth running with minimal wear. Like many of Pro-Ject's designs the platter is topped off with a vinyl layer to act as the interface with the record. Finally, the platter has a threaded spindle so you can use the supplied screw on record clamp.
The arm supplied is the excellent Pro-Ject 9cc as fitted to my Extension 9 turntable and is a very successful design which I can vouch for. The phono cable supplied is detachable from the rear of the deck and is the Connect-IT E, a good quality lead which can be upgraded if you so wish. Finally, a nice dust cover is supplied to protect the unit when not in use.
Not only does the 6 perspex SB look great, it also sounds great. After unpacking the deck and setting it up (which took about half an hour) I sat back to enjoy my records.
Henley kindly supplied an Ortofon  2M Bronze moving magnet cartridge which at £200 is a good starting point. You can buy the deck from Henley Audio as a package deal with either the Ortofon Quintet Bronze or Black moving coil cartridges and save between £190 and £254. I can vouch for both cartridges as a I use a Black and used the Bronze recently for another review.
The great thing about the design is that it allows for tweaking if you so desire. I experimented with a better arm lead and used my Pro-Ject 9 turntable weight instead of the screw on clamp. Both of these reaped rewards in performance.
The Sound 
Straight away it was obvious that this turntable was a good design as it gave a very clear and reasonably deep sound stage. If I had put my Quintet Black on it would have improved again, but I wanted to see what a decent moving magnet could offer. I tried the deck through several amps and speakers varying in price from about £1000 to £3600 for the amps and about £800 for the speakers. The deck worked well with all of them and did not disgrace itself when paired with the Densen 150 amp I am currently trying out. Speakers were either my resident Triangle Titus EX or floor standers from TAGA.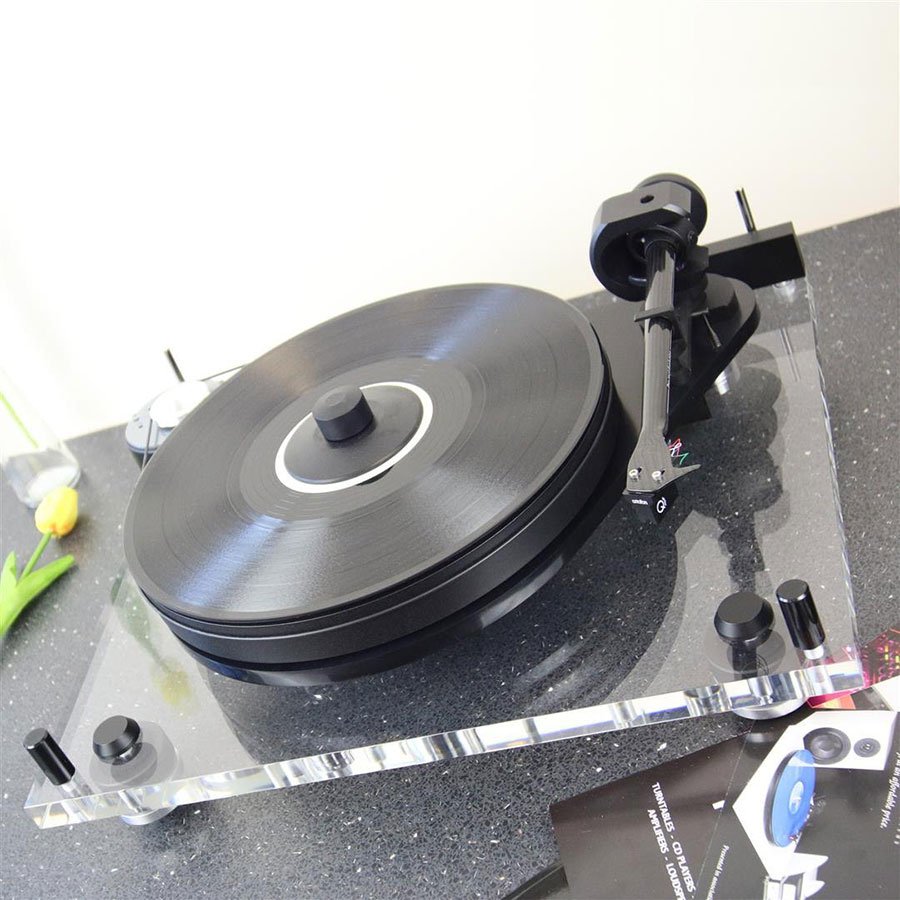 I tried all genres of music and dug out some records I hadn't listened to for ages. I have a large collection of vinyl going back 40 years and it surprises how well a lot of older albums were recorded. Bands from the seventies, Yes, AWB, Led Zeppelin, King Crimson, etc. all sounded good and it was easy to hear the interplay of all the musicians and their individual instruments placed in a coherent and believable sound-stage.
I recently attended a live concert of the Messiah, a favourite choral work of mine and it reminded me how important it is to regularly listen to live music. I was sat on the front row, not an ideal position you might think, literally a few feet away from the musicians and conductor. Normally in a concert hall I would prefer a seat mid stalls or balcony, but it amazed me how good it sounded even close to and I could clearly hear all the singers and musicians located perfectly. Going back to the Project in my system, this did a similar thing like any good component should do, but not all are equal. As I mentioned earlier I played around with the deck by putting a much more expensive silver interconnect on it. This upped the game in detail and I would recommend this to anyone if they buy this deck to try. I did this with my Project 9 and the difference was well worth it. The record weight also improved the bass and clarity to a degree, but the screw on clamp works well. It just takes longer to screw and unscrew as opposed to the weight's simple placing on and off.
The Isolation system worked well and placing the deck on my rack gave no issues, even when playing music loudly.
Overall the Project 6 Perspex SB offers a lovely looking package that is easy to use and allows for improvements to boost its already good performance much further.
AT A GLANCE

Build Quality:  Excellent build and finish
Sound Quality:  Detailed, clean and transparent with good sound staging that can be tweaked to take it further
Value for Money: Excellent considering the competition is tough at this price point. Even better when you factor in Henley's package deals with the Quintet moving coils 
Pros: 
Great build quality, excellent looks and very good sound to boot. Tweakable, a plus point for enthusiasts wanting to experiment
Cons: 
The screw on clamp slows things down; I'd have preferred a weight instead
Price: £1400 without cartridge
Ian Ringstead