Father and son team David and Rob Stevenson review the entry level Pro-Ject Primary turntable costing £189.
The vinyl revival has extended to supermarkets but its delights and reputation are lost in the plethora of cheap nasty plastic 'record players'.
European makers Project offer a range of decks from basic to exotic and now offer a very budget entry level named ' The Primary' .Its an ideal gift aimed at fresh starters or at upgraders from a tacky thingy, and to those wanting USB interfacing or to add to AV setups.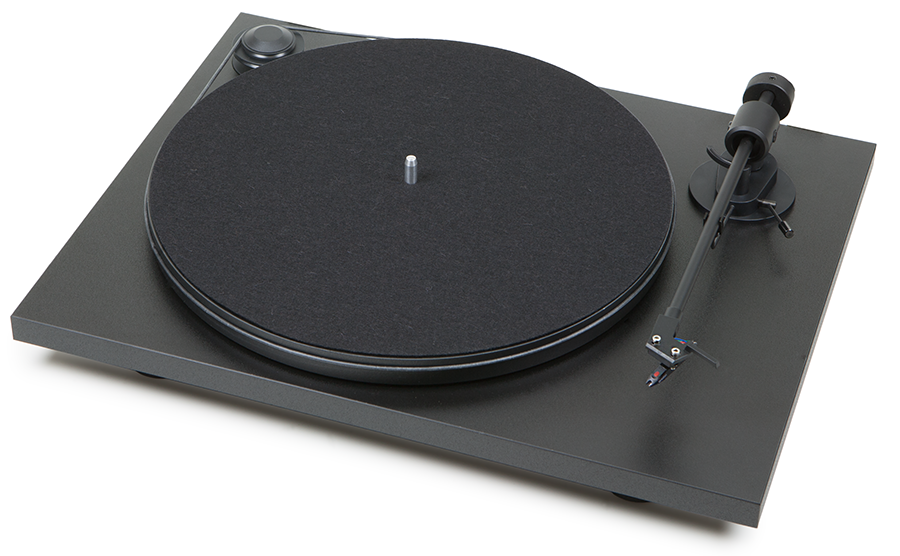 The sample arrived in a box emblazoned all over with 'EISA 2016 Best Product Turntable' and in smaller print 'The Classic.' We got excited…until a smaller label announced its contents as 'The Primary' which was a plain all black, very lightweight turner of MDF plinth and thin aluminium arm on 3 anti-vibration  feet that could easily tuck away between shelves unnoticed.
Enthusiasm was waning. Maybe the red or the white variant would have more interest; expectations were on the low side for sound too. This deck had an uphill task convincing us that it was worthy.
It did and then some!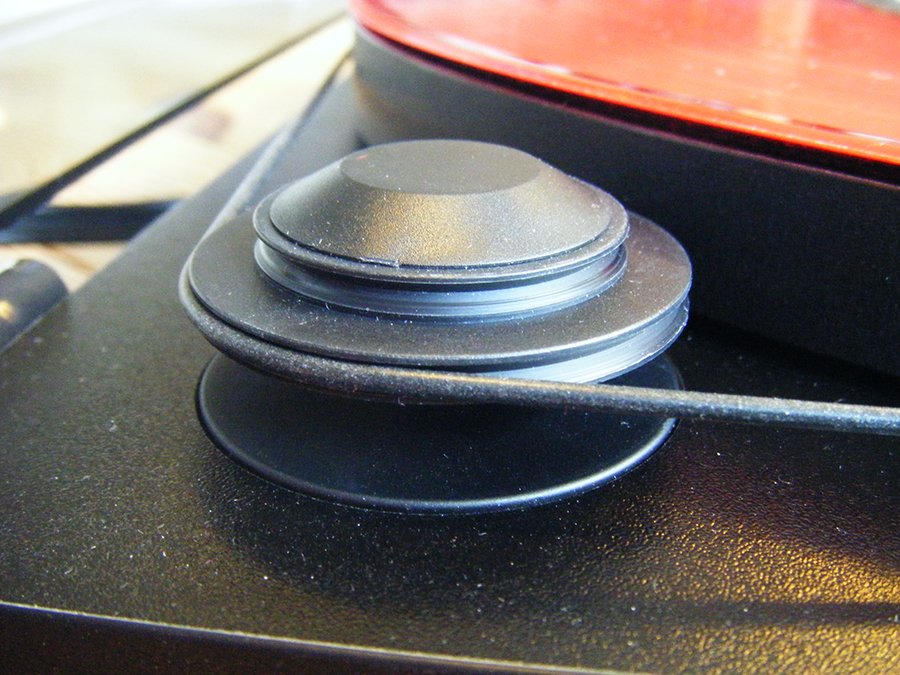 Project has wrought a super enjoyable listen from budget bits.
"How was the setup Dad?". Rob is in work tea break now. "No fiddly bits, it's factory set, a 'plug and play' as they say".
"Well errr. I washed my hands free of the expensive skincare balm that attracts sophisticated ladies and fast cars and applied the silicone belting around rim of the 12 inch MDF platter, but then came the plugging in bit".
"So?". Honourable son was puzzled wondering if ageing Father was 'losing it'.
"Its multi part international wall wart style puzzle designed to fit sockets in Azerbaijan, Mongolia, and Zanzibar and France depending on the configuration. I eventually choose a shape that would enter the mains near the Russ Andrews 'Silencer'. Actually setup was easy and the phono lead is solid quality too with decent gold plugs.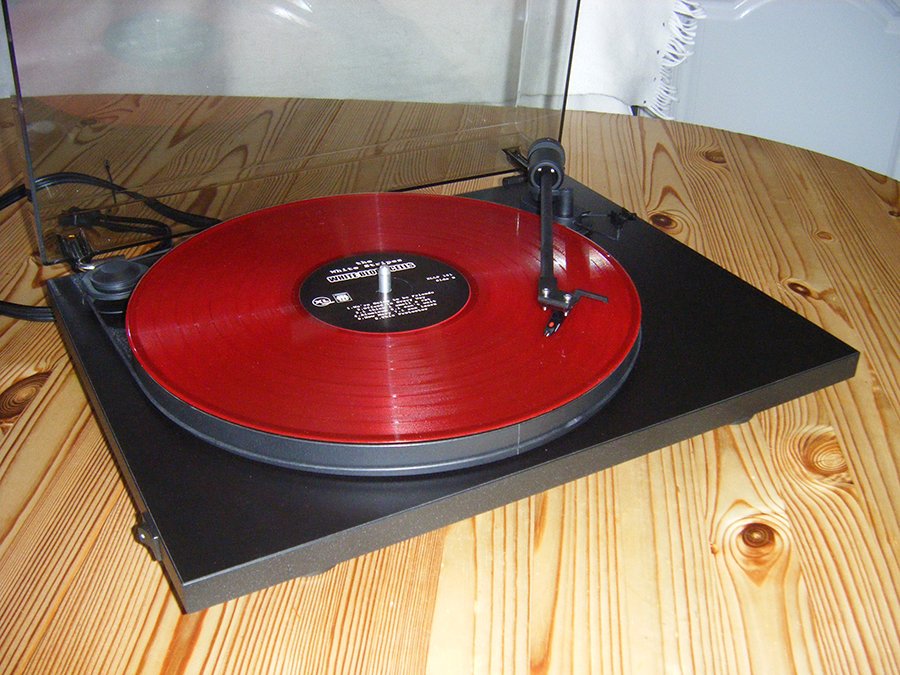 "I levelled it on a wall shelf next to the modded Technics. I'm sure I saw the Hana SL looking over disparagingly."
"Yeah right". Mutters Rob.
"It's more than ten times the price and is silent without its SUT. Anyway the USB variants have on board phonostages but this variant doesn't so what are we using, the valve Ear 834P, the Lounge LCR, or the Rega Fono Mk11?".
"Well err, I was thinking (Rob groans), the person buying would be on a budget, so I found this £30 Maplins phono preamplifier". More groans.
Rob says. "You've fetched down the attic based NAD 326 B then?"
"Well it did win EISA best amp".
"Mmmmm, this century?"
Pater uses Van Damme connect and cabling to budget 2.5way style Epos floorstanders.
Fifteen minutes later Rob gets a pinging mail "It's good".
45 minutes later. "It's truly good". The sonic balance starts to form.
Four LPs later it's working. "It's a good listen Rob, you are in for a surprise, see you later".
How can it be that less than £200 can give this amount of joy?
It's not a 'looker'. The designer has concentrated around the long time tried and tested cartridge Ortofon OM5e. It's a small and light but a capable clean moving magnet, mounted exactly on a simple short arm with under slung counterweight and very good bearings. The deck is low mass so resonances are minimised and adds very little, if anything, to the signal.
It has no bias control or down force adjustment other than the movable counterweight or pillar height change. It's set for this elliptical diamond only.
Our usual test record (Hifi and Sound) was passed on the two accepted tracking ability levels but, along with many very fine cartridges, failed the third torture band at 13+ dB.
The lid was interesting. The friction of the hinges allow it to 'park 'nicely and the deck plays cleanly with it down!
Regular test routine starts with Joan Armatradings standard cut disc inner grooves on "Me Myself I". It's an 'open' recording with big dynamic swings, strong drum work, bass, sustained low tones and testing vocals. The music gushed out exciting, clear multilayers, good central voice, dipping, soaring  and expressive. Simply enjoyable!
We looked at each other. "Errrr, how much is this?" Asked Rob.
"It'll fail on complex harmonics and dynamics. Get the Gregory Porter".
'Liquid Spirit' sounded out. We had heard it recently from the Hana SL  MC so this was not really fair, but this little gem gave us the shapely stand up bass and the rasp of his voicing. We liked it. That certain 'air', that mystical 'ethereal vibe' (no we don't know what it is but we know when it's absent) was not there but there was enough top notes with harmonics to suit most CD listeners. And of course just a touch of that lovely warming that Moving Magnets can give to make a lovely listen.
My turn. "Errr, how much is this?"
Next under was Yellos new 'Toy'. A super recording from all points of critique (unless you hate electronica) and really showed the ability was inherent.
It bounces joyfully through 70 – 80s tracks with nails and hammer hits on strings, distributed cymbals, sufficient slam and heft, with acoustics around the voices enough to satisfy.
Tchaikovsky symphony 5 did not extend further left or right than the speakers but it did 'big fast clout' when asked and carried the orchestral sections well.
Mono did well. The Zombies classic 'She's Not There' had all the angst required. The Stones recently announced a return to their early music with the Blues, so 'Honky Tonk Woman' sounded out and was much enjoyed.
On and on and on, all day vinyl, no edge of the seat 'will it, won't it?' It just did, and at volume without ear fatigue. Simply pleasing.
Rob says. "I could live with this".
The Primary is a synergy of good value parts maximising the hifi content by operating within their performance envelope.
Overall – a balanced soundscape with clarity and bounce beyond expectation for this budget.
AT A GLANCE

Build Quality: It's ample and functional for the job at hand
Sound Quality: Surprisingly good speed stability and a great sounding way to enjoy your vinyl
Value For Money: Very much worth the stretch over the cheaper turntables on the market
Pros: VERY easy to set up and sounds great
Cons: Not much, perhaps isolation, but it's nit picking at this price
Price: £189
David and Rob Stevenson
Specifications
Replacement Stylus:  Ortofon 5e Stylus
Pre-Fitted Cartridge: Ortofon OM5e
Nominal Speeds: 33/45 RPM (Manual)
Speed Variance: 33: 0.80% 45: 0.70%
Wow & Flutter: 33: 0.29% 45: 0.27%
Platter: 300mm MDF (0.8kg)
Effective Tonearm Length: 8.6″ (218.5mm)
Effective Tonearm Mass: 8.0gr
Overhang: 22.0mm
Tracking Force Range: 0 – 25mN
Power Consumption: 4.5W
Dimensions (W x H x D): 420 x 112 x 330mm
Weight: 4kg