Henley Designs, who distribute Pro-Ject in the UK, contacted the Hifi Pig office to tell us all about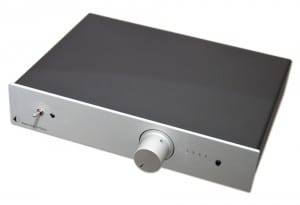 the new Stereo Box Phono from Pro-Ject.
The Stereo Box Phono from Box Design by Pro-Ject Audio Systems combines an integrated amplifier design with one of the best selling hi-fi phono stages of recent years to create a compact solution for vinyl fans on a budget.
The Stereo Box Phono has three analogue line inputs alongside one MM-only phono stage inspired by Pro-Ject's well known Phono Box design. The new Stereo Box Phono adheres to Pro-Ject's ongoing philosophy that "less is more" and certainly looks the part. However, its size and construction is also complementary to their wider Box Design S range, so if you can add digital inputs or add a CD player in the future.
The amplifier section is based on the Stereo Box S making the power output 30W (4Ω) per channel, and so capable of driving a decent pair of bookshelf speakers. The power-stage has the ability to drive 2Ω loads which should be good for system matching. A dual-mono design principle is employed inside, and the "low-noise pure audio circuitry and other premium components used make the Stereo Box Phono punch well above its diminutive price-point" says the company's press release.
The Stereo Box Phono is obviously designed to be a perfect partner for Pro-Ject's affordable turntable models. Usability is said to be simple and intuitive, but there's also an included compact IR remote control.
The Stereo Box Phono is available with Black or Silver faceplates.
Price will be £199.95