Poland is getting a bit of a reputation in the Hifi world for producing products at great prices. Here Dominic Marsh checks out the Pylon Diamond Monitor loudspeakers costing €899.75 to €999.75.
Here is an interesting thought;  I have now reviewed more speakers for Hifi Pig that have been sourced from Poland than from any other country, which shows just how active the hifi industry is in that particular neck of the woods.  It would also be fair to say that they have all been very good value for money and surprisingly good performers too.
This leads me on to introducing the Diamond Monitor from Pylon Audio, once again company of Polish origin.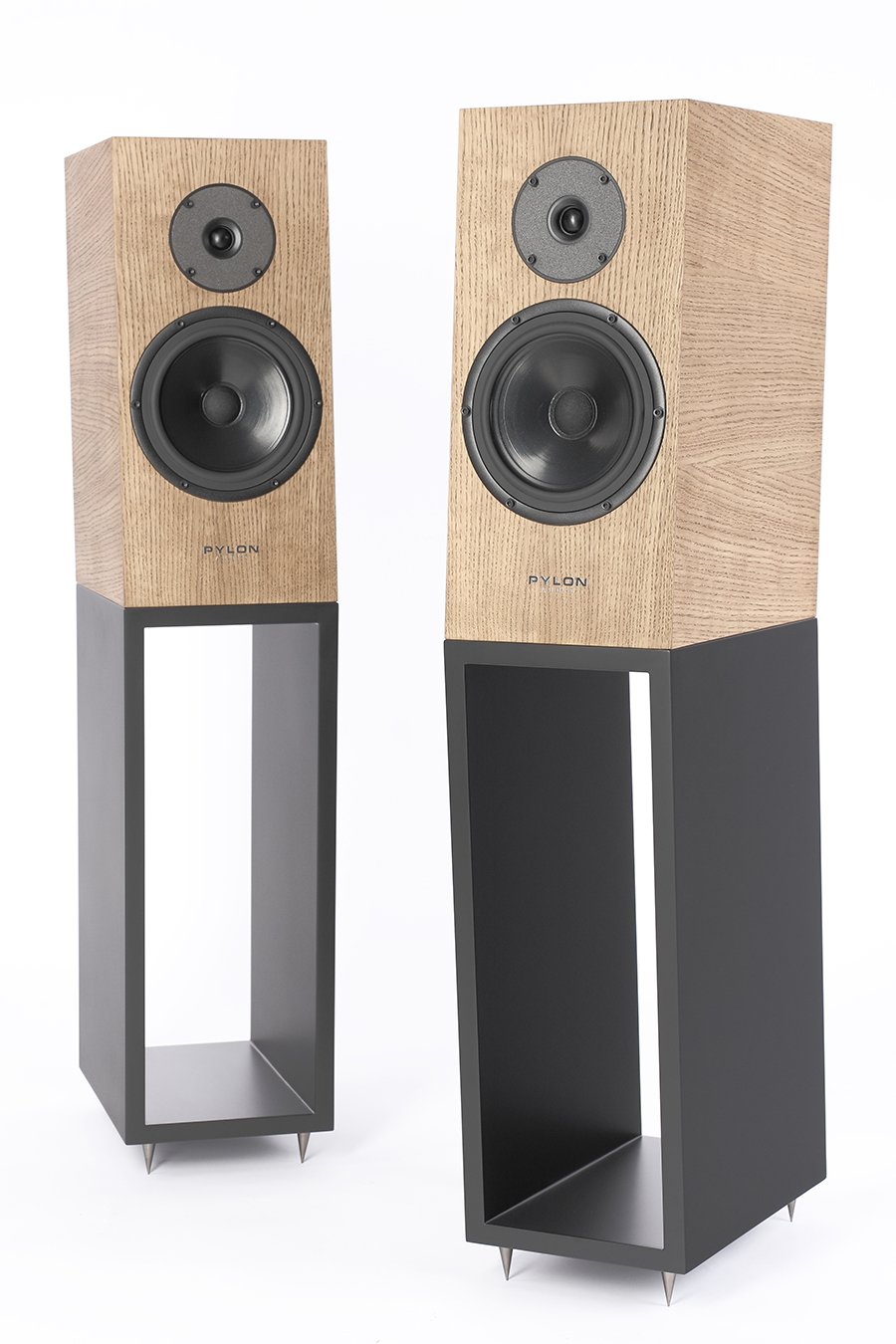 Construction
The first impression you get of the Diamond Monitor is its unusual cabinet design.  Sloping slightly backwards, they are mounted on their matching, and unusually open stands. The purpose of this is two-fold; firstly it makes for a more rigid structure, secondly it reduces the amount of internal reflecting surfaces by a half and I am none too sure if there is a third purpose, which is for time aligning the tweeter to the bass driver.  Doing the knuckle test on top of the cabinets yields a dead knock with no ringing or hollowness.  The speakers are not fixed to the stands but simply perched on them and I used them for a while as thus supplied, until I brushed up against one of them and dislodged it slightly.  A small pad of BluTak in each corner made them more secure.
Enclosure volume is around 16 litres, reflex ported with rear exit exhaust port.  Cabinet walls are 19mm thick, braced and strengthened at critical points, lined with bituminous mats and real sheep wool fleece damping.  The bass driver is a modified SEAS CA18RLY, while the tweeter is a selected Scanspeak D2010/851300 unit.
Cabinet finishes are available in a  decent range, from natural wood veneers, some of which are hand black waxed to enhance the grain figuration, plus a palette of over 100 solid RAL colours to choose from, which is then top coat lacquered.
The stands are available in any colour you like, provided it is black as standard, to which  6mm carpet spikes can be fitted if required and grilles with magnetic attachment are supplied, which have a reassuringly strong grip.  The review sample finish was black waxed Oak with black stands.
Prices range from 899.75 Euros for black waxed veneer to 999.75 Euros for lacquered finish cabinets.
Sound Quality
Immediately before receiving the Diamond Monitors I had 3 pairs of speakers submitted for review, all of which had polite, subtle and rather refined bass outputs, so it came as a pleasant surprise when these speakers were fired up there was ample and bountiful bass emanating from them.  Bring it on.  I was quite taken aback just how powerful they sounded and at long last I was listening to a pair of speakers that were forthright and direct in the way they played music, which is exactly my kind of speaker.  I was instantly in love and that was even before they had any running hours on them, so the best was yet to come.  Treble though had a slight steely edge to it, especially at high volumes and as time has moved on and after some running hours had elapsed that trait has vanished, although it is right on the tightrope boundary of being accurate and maybe just a tad uncouth at high volumes, depending on source material, as poor recordings are revealed for exactly what they are and not lightly tolerated.  These speakers do merit the epithet "Monitor" for that reason.
They are very expressive, full of tonal colours, textures and fine details, pumped well out into the room, which of course may not suit every kind of listener.  Bass had a wonderful taut solidity with no boom at all, plus a deep growl and thump to it, manifested well in kick drum beats which smacked you squarely in the solar plexus with the right kind of recording, the Pylon Diamond Monitors even showed up my big floor standing resident speakers somewhat with their bass output and fast dynamics.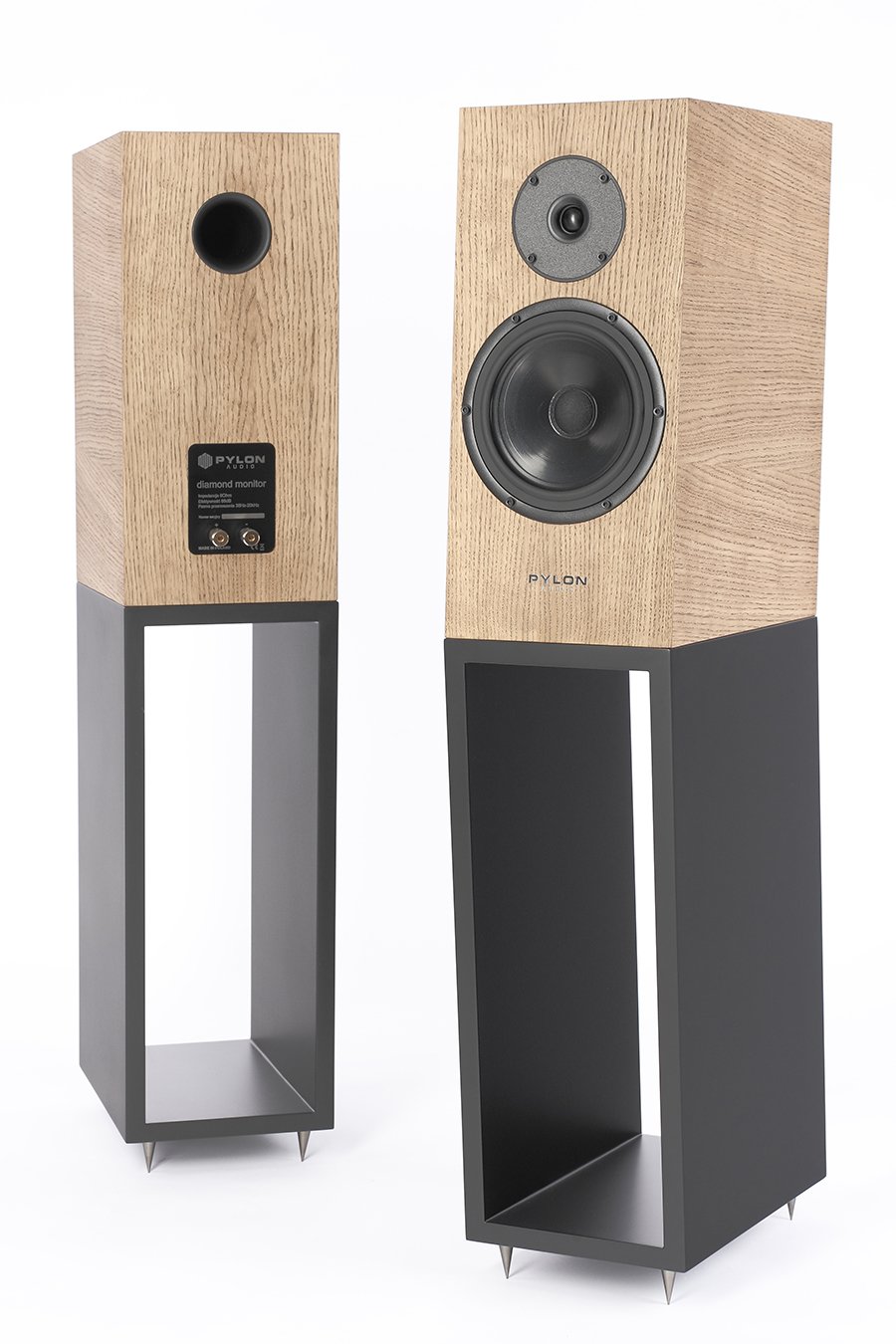 Of course there is far more to a speaker than just spectacular amounts of bass, so the remainder of the audible spectrum must be in perfect balance and the Pylon Diamond Monitor doesn't disappoint in that respect.  Leaving aside for the moment that bad recordings and the Pylon tweeter don't gel well together (don't play them then is the answer!), when they are fed with a good clean signal the treble has immense clarity and sweetness, plus they have the ability to pick out presence and ambience cues that some other speakers can blur over and fog up to the point of being virtually inaudible by comparison.   This also makes imaging and instrument placement three dimensional in nature and again this isn't feeble or vague either, with a defining solidity.  They are not power hungry speakers either, as I had excellent results with a 25 watts per channel Clones Audio 25i amplifier and this pairing let me say was very sweet and highly musical, bass was not curtailed at all given the Clones amplifier's modest power rating.
Naturally, I had to play Fink's "Wheels Beneath My Feet" album to see how the Pylon Diamond Monitors stacked up to my benchmark tests for overall sound quality. This album was recorded live in various venues around Europe during one of Fink's many tours and each track sounds slightly different as a result, both in venue ambience and in the way audiences react to the band's performances.
The audience was reproduced very accurately with no 'shooshing' sounds, each person was singled out as individuals and very realistic.  The ambience of each venue was recreated accurately and full of fine details that required no effort at all to hear.  Bass drum had a good solid thud with every beat and you could easily tell that a hard faced beater was being used, plus the cymbals had a true crisp metallic 'ting' so you were in no doubt whatsoever a wooden stick was hitting metal with differing energy… beautifully rendered.  The track "Sort of Revolution" has a pounding kick drum, plus some powerful floor tom strikes that really do make my listening room vibrate and the bass guitar had a deep throaty growl which sent shivers down my spine.  I love bass that powerful but it must and I mean MUST be under perfect control, which the Pylon Diamond Monitors managed with ease.  The SEAS bass driver that Pylon are using is a real star for sure.
Another live album now in the shape of Fleetwood Mac's "The Dance" begins with Mick Fleetwood stomping his right foot down on the kick drum which sorts out the men from the boys when it comes to bass drivers and the Pylon Diamond Monitor didn't fall short here either.  The entire album was a delight to listen to and I had no concerns that the Pylons weren't delivering the sound I was expecting to hear.  If you are a Fleetwood Mac fan then this is an essential album for your collection with 17 tracks of well recorded classic Fleetwood Mac to revel and immersed in.
I then moved on to my favourite torture tracks in the shape of Porcupine Tree's "Deadwing" album. The title track on this particular album either sounds raw and unvarnished, or it will sound smoothed out and rolled off, depending upon how revealing a system is, speakers in particular. With the Pylon speakers that rawness was not quite full on and unrelenting as it sometimes is, whereas lesser speakers are a lot more forgiving. Having said that, there is a bass guitar riff around 6 minutes 40 seconds into the track where I would expect to hear a long low bass note flowing outwards from the speakers rather than just emerge from the cabinet and the Pylons gave a superb deep flowing rendition of that bass note, growling, resonant and almost snaking it's way across the carpet towards you and in that respect the Pylon Diamond Monitor gave just about the best I have heard it performed from any stand mount speaker.
Over a period of some weeks I had almost gone through my entire CD collection and each one was a revelation at how much satisfying music is stored on those little silver discs.  By now you might have gathered that these speakers had impressed me considerably and so my thoughts turned to a nomination for an Outstanding Product award.  However, as much as they had impressed me personally when coupled up to my hifi system and of course in my own listening room too, how would they fare when another reviewer's critical ear is exposed to them, connected to another completely different system and a totally different listening room?  So I took the Pylon speakers over to fellow reviewer Dan Worth for his verdict on them.
I knew beforehand of course that Dan has a completely different system to mine and a completely different listening room layout as well, so I expected there to be a different sound response with the Pylon speakers.  My room is fairly small, very well furnished (as in full of clutter and hifi related odds and ends) with wooden walls and floor, thick carpets and plenty of furniture that breaks up standing waves.  Dan's listening room is more sparsely furnished with a leather sofa, laminate flooring with a large rug and solid concrete block walls.  So from the off, the Pylon speakers must work well in either listening room scenario to be even nominated for Hifi Pig's Outstanding Product award.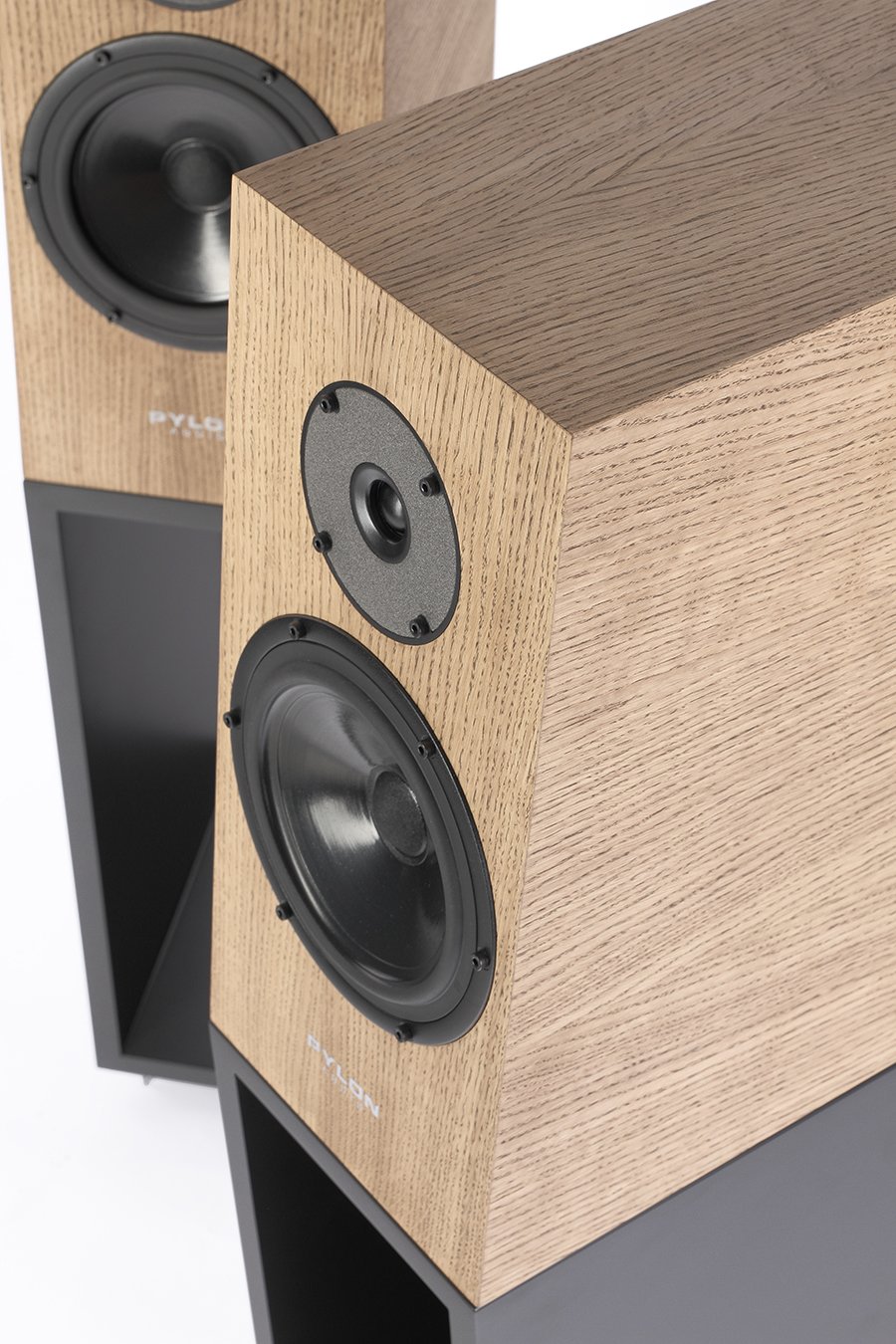 I could tell immediately though that Dan was within moments listening to the Pylons and was directly comparing them to the ATC SCM 19's we both reviewed back in July 2015.  Given that the ATC speakers are twice the price of the Pylons, that was indeed flattering and by the same token also an unfair contest.  I could easily understand why Dan was so minded because of the basic qualities of the Pylons, with their dynamic presentation approaching that of the ATCs, albeit it with certain differences.  For Dan it was the treble that just didn't have that extra tiny fraction more sophistication compared to the ATCs, yet we agreed the bass performance of the Pylons exceeded the ATCs by hitting the lower registers the ATCs didn't even go near.  In an ideal world then the bass performance of the Pylons coupled with the treble of the ATCs would be a truly knockout speaker, so we came to the conclusion that the Pylons had most unfortunately only just fallen short of that coveted Hifi Pig Outstanding Product award.  This actually set a precedent between Dan and myself in that we had different views on the same product and one of us has disagreed it was 'Outstanding', so it was a prime test of Hifi Pig's policy of having two independent reviews of a product from two different reviewers for the Outstanding Product award to be given.
Conclusion
Irrespective of what Dan's verdict was regarding the Pylon Diamond Monitor, my own verdict is that for under a £1,000.00 they are a genuine hifi bargain, especially so when they gave the ATC SCM 19's which Dan and I compared them to, a run for their money at less than half the price.  I would say that the tiny loss of refinement at the extreme treble that Dan pointed out, should not be a cause for concern for the average listener, as it didn't bother me at all during any of my listening sessions and Porcupine Tree's Deadwing album would have let me know for sure if there was any issues in that area.
So, to summarise then, this is an affordable awesomely good sounding speaker that I am more than positive will be putting as big a smile on many owner's faces as it has mine throughout my time with them.  They fit in well with most room decors and the dedicated stand included in the price makes it even more of a hifi bargain.
I therefore give these speakers my wholehearted endorsement and my Highly (Very Highly) Recommended award without any hesitation.

Build Quality:   Very well put together and the leaned back stance I found attractive.
Sound Quality:  When direct and relevant comparisons are being made with a speaker more than twice the price and reputation, it says it all really.
Value For Money:  I cannot think of anything that might suggest they were not good value for money.
Pros:  Attractive shape, quality construction, dedicated stands and excellent sound. Price.
Cons:  Cannot think of any cons at all.  That's why I am buying a pair!
Price: €899.75 for black waxed veneer to €999.75 for lacquered finish cabinets.
Dominic Marsh