The Friday of Rocky Mountain Audio Fest was to be the first day proper with real and paying punters turning up in very encouraging numbers. The general feedback from exhibitors seemed to be that they were happy with both the quantity and the quality of visitors. I suppose one of the features of the current venue is that it is a destination and as such people have to make a considerable effort to get there, and perhaps because of this are more likely to be more "keen" and in a buying mood. We arrived at the show bright and early after an evening spent with the lovely Cardas family at their event in SoBo, Denver – thanks for a lovely evening, guys and thanks for the socks.
Parasound and Tekton
Parasound is well known on both sides of the pond for offering great value electronics but at Rocky Mountain Audio Fest they were partnered by a relatively unknown quantity in the shape of Tekton Design loudspeakers.
Electronics were the Parasound JC 2BP preamplifier offering six pairs of unbalanced line-level inputs, two pairs of balanced XLRs and four outputs, including XLR. It's a dual-mono design and had the JC 3 Jr phonostage for MM, MC and MI cartridges attached and for power amps the JC 5 power amps offering up 1200W in bridged mode into 8 Ohms.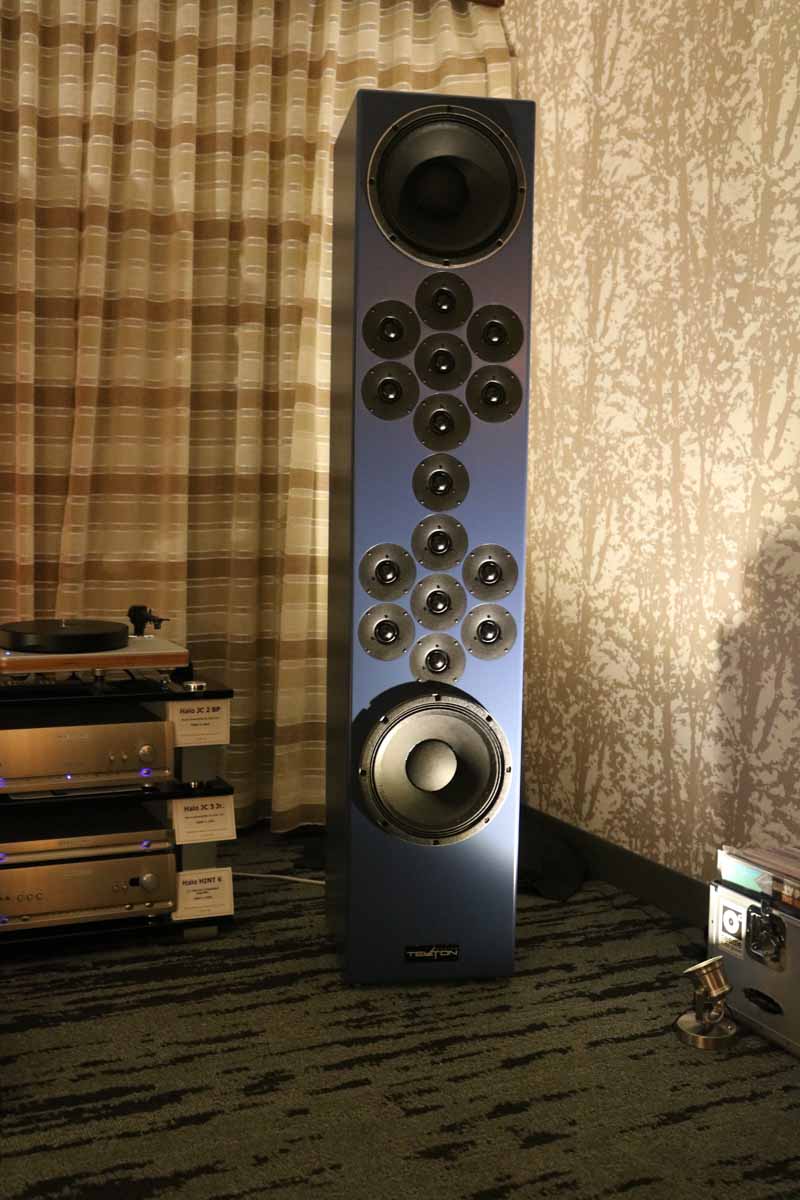 Also present was the new Parasound 200 pre and 200 integrated models that look on paper at least to offer a good deal of features including MM/MC phonos inputs, USB, Coax, Optical inputs and an onboard DAC. The integrated will deliver 110 watts into 8Ohms and has an onboard high-pass crossover for bass management, all done in the analogue domain.
Now the speakers looked expensive and a bit American in that they had lots of drivers, but I was pleasantly surprised to see that the Tekton MOABs come in at what looks like a very reasonable $4500 a pair, delivered. MOAB is the company's new flagship model and certainly delivered on the day with a musical presentation and slightly forward mids. Certainly the speakers didn't sound brash or overblown which could quite easily have been the case.
Wilson Audio, VTL, Shunyata, Roon and dCS
Let's be fair, here we are getting into the realms of seriously high-end audio and visitors to the main room were treated to an effortless presentation of music.
However, in a side room we were presented with the all-new Wilson Chronosonic speakers that come in at $329K. PIctures are Sheryl Lee Wilson and Dale Wilson.
Manger, Primare, Dr Feickert, IsoTek, Koetsu and Solid Steel
Here was another winning formula that simply delivered great-sounding music, in this case, Papa Was A Rolling Stone. The turntable is the Dr Feickert Volare, a belt-drive model sporting what looks very much like an Origin Live tonearm.
The Manger speakers pictured are their passive P2s, a two-way design that will go as low as 35Hz and with a sensitivity of 89dB, whilst all electronics are by Swedish brand Primare. The speakers feature Manger's unmistakable high-frequency drive unit whilst the bass unit is an 8″ carbon fibre foam membrane in a sandwich layer…round the back are two passive radiators. Depending on the finish the speakers are $19000 a pair.
Wharfedale, Primare, Cardas, IsoTek
It's great to see Wharfedale coming back to the market with such a fanfare. The standmounted speakers are the new Linton that has a clear family resemblance and harks back to the Wharfedale designs of yesteryear. It's a three-way standmount model, retaining similar proportions to the classic Linton models. Its wood-veneered cabinet has a vintage look, yet the standard of finish is distinctly contemporary. The Linton makes use of its wide baffle by incorporating a large (by modern standards) bass driver with a 200mm Kevlar cone, mounted on a rigid, die-cast chassis. Above this sits a 135mm midrange driver, also sporting a woven Kevlar cone and housed within its own internal enclosure. Finally, a 25mm fabric- dome tweeter with a high-flux ferrite magnet handles high frequencies. Price is around £1000 a pair.
The tower speakers in the main room are new from Wharfedale too and sport a ribbon tweeter to give a nice and airy presentation to Christy Moore who was the music of choice whilst we were in the room.
Turntable and phonostage is from Mofi and electronics were all Primare.
Little Fwend
We've all done it – left a record playing and fallen asleep leaving the stylus to track the run-out groove until you wake up. There are a handful of solutions with the latest being the Little Fwend that will automatically lift your tonearm and precious stylus at the end of the record, leaving you safe to slumber. This one is made specifically for the Technics 1200 series of turntables and is about to be positioned on our Technics that resides in the second system.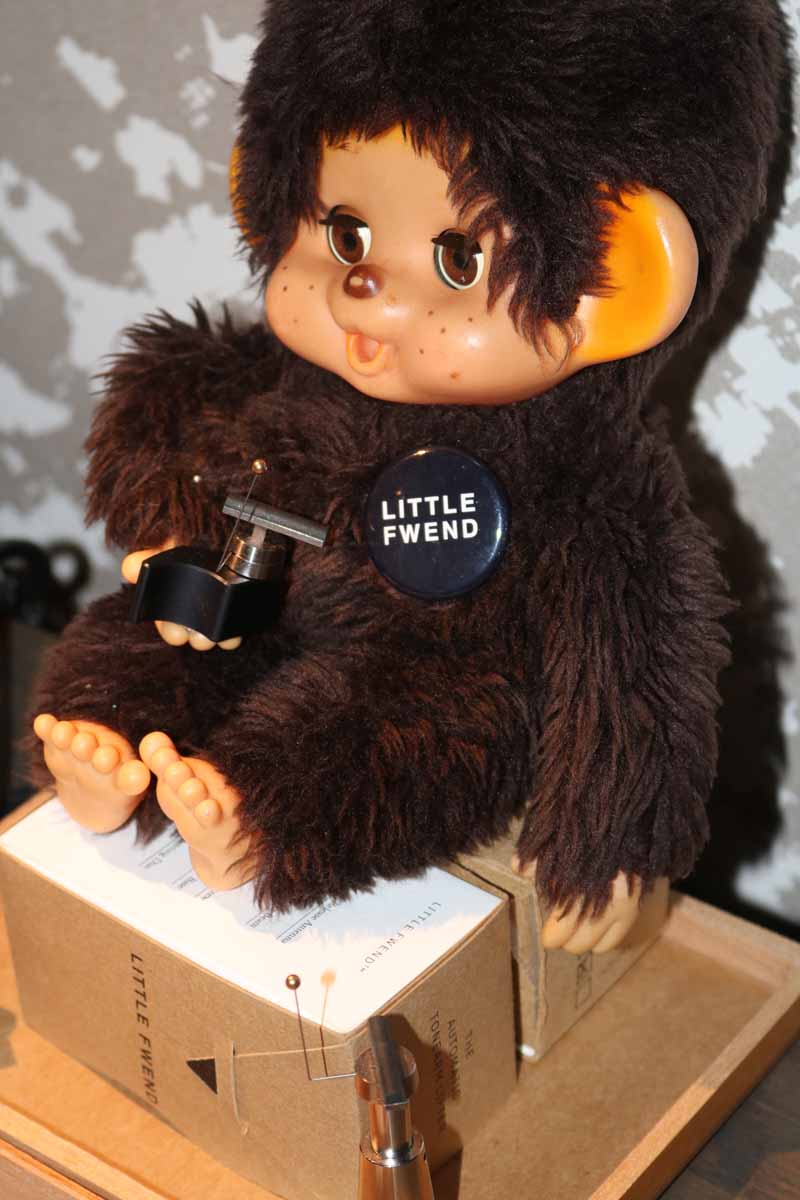 Auralic, Ayre, Cardas and Dali
We love a bit of Auralic and have their G1 streamer in permanent residence in our second reference system. A full review is on the way but it just delivers zeros and ones to the DAC effortlessly and without hassle. At RMAF Auralic had the Aries and Vega G2s along with the Leo GX clock.  Today they were partnered with Colorado-based Ayre Electronics and Dali Rubicon loudspeakers from Denmark to give a clean and musical sound, particularly to the piano of The Beatles Fool On The Hill.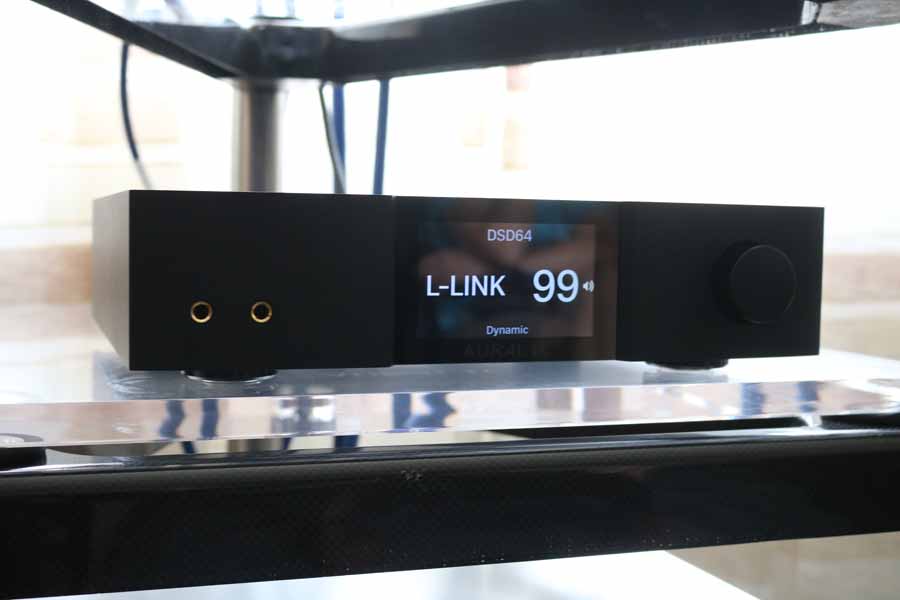 Balanced Audio Technology, Falcon Acoustics, Dr Feickert. My Sonic Labs and IsoTek
I was looking forward to this room and it certainly did not disappoint. I've heard the Falcon Acoustics speakers a few times now, mainly with relatively modest electronics but at Rocky Mountain Audio Fest we were treated to hearing the HP80s, a two-way design that is ported at the bottom and costing £12995 ($16000).

Electronics from BAT were the Rex amps and pre along with the Rex 3 DAC. The DAC is Cardas wired inside with Andreas Koch having designed the digital side of things and where his DAC chip has a "psychoacoustic filter" which is said to make the product more "musical". Victor Khomenko, the chief designer at BAT, looks after the analogue side of things and the DAC used has a whopping six 6C19 tubes to handle analogue and rectification. Transformers are by Lundahl. The pre is $30K and the power amps are $25K each with all the metalwork and construction being carried out in the USA.
Playing the Black Eyed Peas (yep, not as surprised as I was) we had a lovely detailed and punchy presentation.
Pneuance Audio
We are just leaving a room when the chap from Pneuance Audio asked if he could show us his product, and very interesting it is too. Basically what you have is a set of three or four pods (Pneupods to be more accurate) that are placed underneath your kit with the intention being to stop vibrations reaching delicate electronics and transducers. The NP-1 comes with a bulb type pump and has a maximum weight capacity of 20 lbs. each (80 lbs. for a set of four). The NP-2 comes with a piston pump and has a maximum weight capacity of 40 lbs. (160 lbs. for a set of four). Price for a box set of four is $1,295 for the NP-1 and $1395 for the NP-2. These look to be a very interesting product that will isolate your kit in all planes. Interestingly the whole concept of isolation (or decoupling) rather than coupling has been a hot topic on the various Facebook groups in recent weeks.
Aurender
Sadly the Aurender room was a static an silent room but on show was the company's new ASC10 which is described as a "caching music server and streamer, CD ripper, Dual HDD storage and library manager…and which I fully managed to miss snapping a picture of. However, it features one-touch ripping with metadata and cover art retrieval with files stored as FLAC, WAV, MP4 or AIFF with files being saved onto dual 3.5" up to 24TB – so ample for pretty much everyone. It features a nifty tool called SmartCollect program which will allow you to sync and remove duplicate files, particularly useful when using additional external drives. You get app support for Tidal, Qobuz, Bugs, and Melon, plus Spotify Connect. Connection to an external DAC is by Class 2 USB and caching is done by a 240 or 480 GB SSD and 8 GB (DDR3) for system memory. It will sample up to PCM 786kHz/32bit and DSD to 256 DoP and Native to 512.
Photographs are of the A30 ($18K), A10 ($5.5K), A100 ($3.9K) and N10 ($8K). I have taken myself outside and given myself a proper talking to.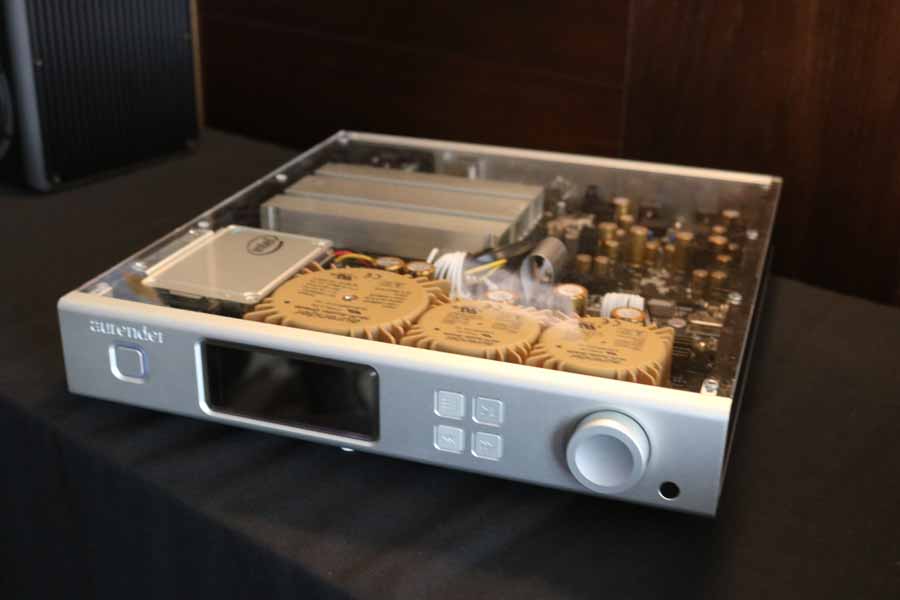 Raidho, VPI, Moon and Nordost
Benno Baun Meldgaard is the top designer at Raidho and you can tell that he is as pleased as punch with his new creations, the TD2.2.It's a 2,5 Way with a bass reflex port to the rear and uses a Raidho TD Ribbon Tweeter, a 6,5" Raidho Tantalum Diamond midbass driver, and a 6.5" Raidho Tantalum Diamond bass. Crossover point is 400Hz and 2.4 kHz stepped slope and they have a claimed frequency range of
32Hz – 50 kHz with a sensitivity of 88dB and nominal impedance of 6 Ohm. They are a relatively compact speaker measuring 200 x 1055 x 520 mm and weighing 45 kg. Price is $46K.
what I got from this set up was a feeling of accuracy and tight bass with lovely airy (again) tops with dynamics being a major plus point when Benno played Pink Floyd's The Wall, which Benno was ken to tell us was used in the voicing of the speakers. The "walking" bass line on Another Brick in the Wall was stunningly well reproduced and I spent a long time in this room…as did many others.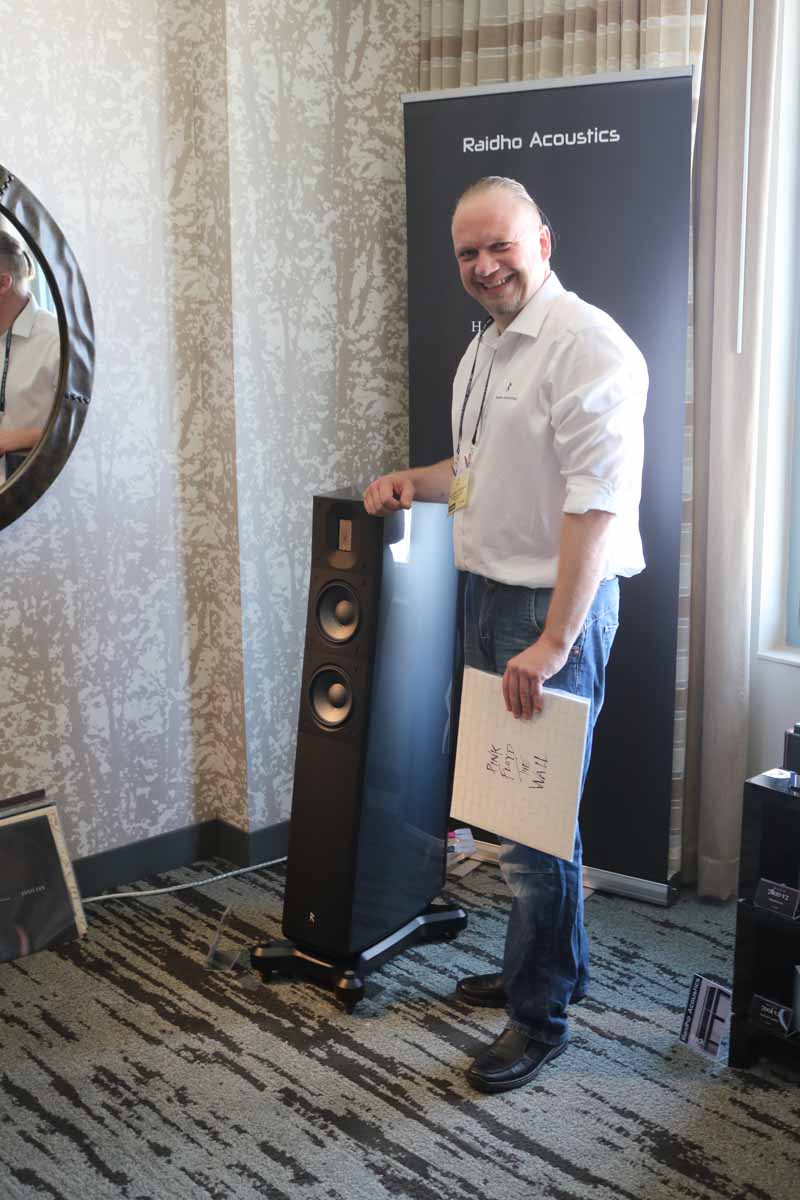 PranaFidelity
Steven Norber of Prana Fidelity is clearly VERY passionate about music and music playback. At Rocky Mountain we were treated to the PranaFidelity model 108a loudspeakers that are a 3-way active model with DSP and featuring dual 216 mm woofers, dual 130 mm ceramic midranges, and a 25 mm tweeter. Frequency response is a believable 22 Hz – 25 kHz and they have a programmable digital crossover. Retail price is $34,950  which includes onsite programming. Class D modules are used throughout for amplification.
Steven was playing choral music when we went in there and the sound was huge and my notes tell me this was a "Superb sounding system" which fully comprised of the following:                                                                                                                                               Playback Sources Digital 
Antipodes DSx: Music Server
Pioneer: Pioneer PD-65 CD player (transport)
Wyred 4 Sound: PranaFidelity modified Wyred 4 Sound DAC-2                            
PranaFidelity model: purna/ca preamplifier
Full function symmetrically balanced preamplifier (option)
MM/MC phono stage, 40 – 80 dB gain (option)
Line stage gain: 0/6/12 dB selectable
THD: 0.0002%
Signal to Noise ratio: 115/112/107 dB (0/6/12 dB)
Input impedance: 100 mΩ
Output impedance: 0.1Ω
Frequency response (-3 dB): 0 – 25/10/4 mHz (0/6/12 dB)
Slew rate: 500 v/uS
Retail price:
Purna pre: balanced w/ phono $9,950
Purna pre: single ended w/ phono $8,500 Purna pre: balanced line stage $5,950
Purna pre: single ended line stage $4,500
Cables were by Audio Conductors and Furutech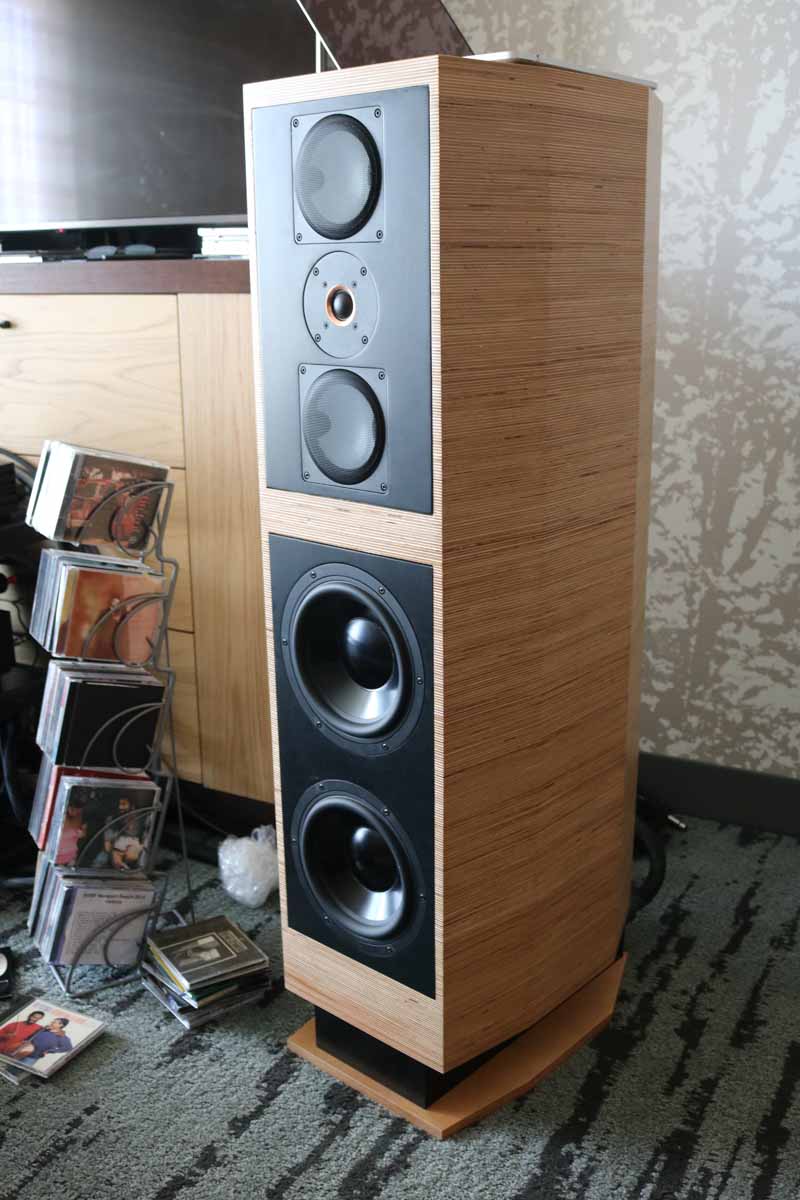 ATC
I like ATC and the fact that they have a studio heritage that they have brought to the domestic market. Here we have the SCM 50SE speakers with the CDA2 MK 2 CD/Pre/DAC.
The active SCM50SE 3-way system features a fully discrete amplifier dedicated to each drive unit and active crossover filters with phase correction.  ATC's  75mm soft dome mid-range driver was first produced in 1976.  The newer 25mm dual-suspension SL tweeter is built by ATC to the same exacting standards.  The 234mm SL series bass driver incorporates ATC's super linear magnet technology. The Special Edition series uses only ATC drive units and electronics all hand-crafted at their UK factory.
The ATC CDA 2 Mk2 CD/DAC Preamp represents a re-engineering of its predecessor in all the key performance areas. Developed as the ideal partner for ATC's latest P2 power amplifier and active speaker designs, the Mk2 combines convenient USB access to high-resolution music streaming with an upgraded CD transport and DAC board, dedicated headphone amplification, expanded input choices, and redesigned analogue circuits.
What I took away from this system, also playing Pink Floyd, was a powerful yet effortless presentation.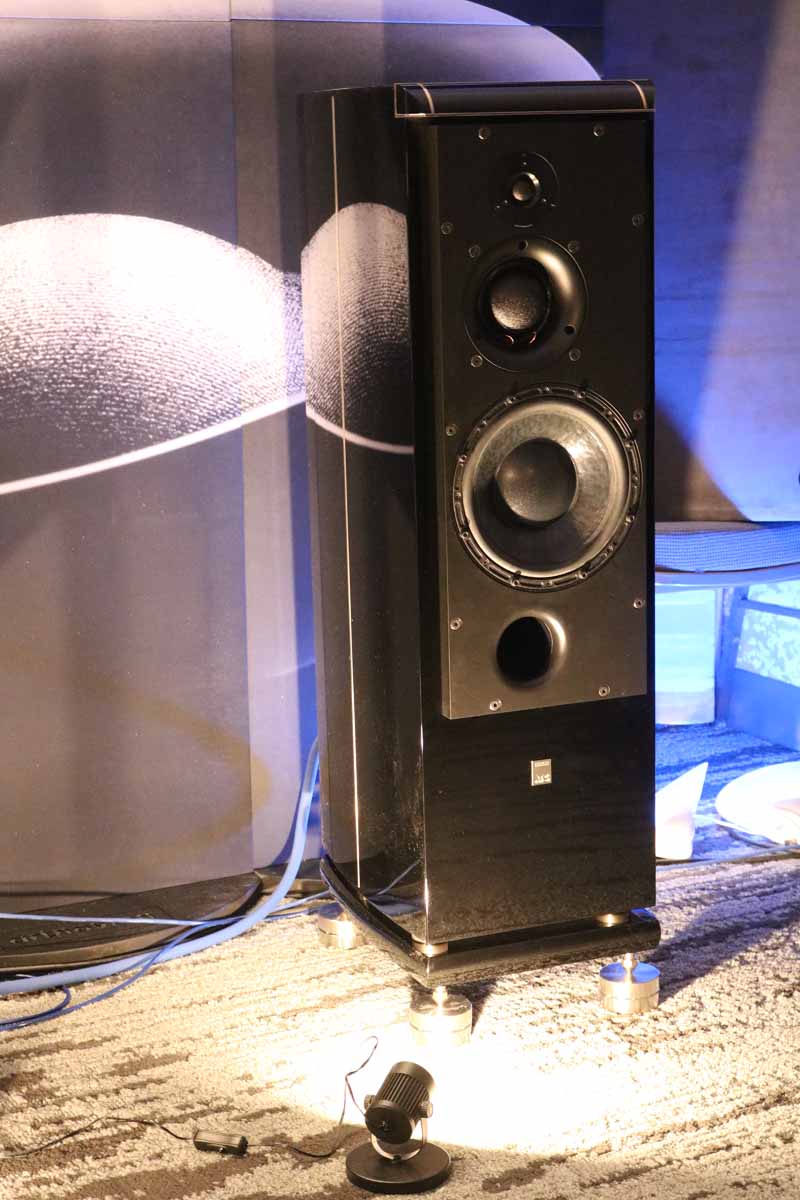 The standard of this show really is very good and whilst some rooms are better than others, the overall standard is very high indeed.
Krell, Alta Audio, VPI, Zen Sati, and Audio Technica
This was a very organic and natural sounding room with the whole being extremely fast. The speakers are ALEC which are a 93db sensitive model that will go to 35Hz and use a quasi vented transmission line loading and will cost around the $10K mark. The ribbon tweeter (we are seeing a lot of ribbons, which I think can only be a good thing) is a peach on these.
Amps were the Krell Illusion preamplifier ($7700) the Duo 300XD amplifier giving 2 x 300watts into 8 Ohms (£10500). At the front end we have the direct drive HW 40 turntable from VPI ($15K) partnered with the Fatboy 3D printed tonearm and the superb Audio Technic ART 1000 cartridge which has the Boron cantilever and coils married together. The phonostage is the VPI Voyager and there's a PS Audio power block in there too. Cables were from Danish brand Zen Sati.
More Rocky Mountain Audio Fest coverage from Hifi Pig