Work marks Pope's seventh studio album. To date, he has surpassed one million monthly listeners on Spotify, sold out shows in more than 20 countries, sold over 2 million digital tracks, had over 200 million streams on Spotify, 630 million plays on Pandora and 150 million views on YouTube.
The album was recorded completely in analog at Welcome to 1979 in Nashville, TN where Pope and his fellow musicians locked themselves in the studio for one week until completion. Work was co-produced and recorded with Grammy award-winning engineer Ted Young, his third consecutive collaboration with Pope. The lead single, "Bad For Your Health" was co-written by Pope and Jonathan Tyler.
Of the new recording, Pope says, "This album follows me from when I was thirteen and a teacher told my mother that I'd probably end up in prison; I started messing around writing songs that year. It's been mostly uphill ever since.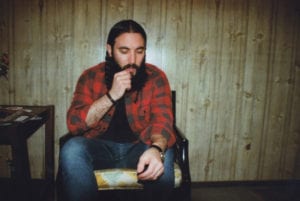 Appearing on the album are Jay Collins on sax (Gregg Allman Band), Mike Riddleberger on drums (Bleachers), Andrew Pertes on bass (Savoir Adore), Kai Welch on keys/accordion (Abigail Washburn, Glen Campbell), Jeff Malinowski on guitar (Frances Cone), Alex Brumel on guitar/pedal steel and Charles Ray on flugelhorn/trumpet plus guest vocals on select tracks from Mary Richardson (The Banditos), Katie Schecter, Molly Parden and Vanessa McGowan.
Last summer saw the release of the feature-length documentary One Way Ticket by Kelly Teacher (No Cameras Allowed, Austin To Boston). The film follows Pope and his band on the road and during recording sessions for Ron Pope & The Nighthawks in Lake Blue Ridge, GA. In the film, Spotify's D.A. Wallach notes, "Here's a guy who's figured out how to do this basically by himself and is really proving the power of streaming music."
Pope's music has been featured on NBC's "The Voice," CW's "Vampire Diaries," "90210," and multiple seasons of FOX's "So You Think You Can Dance," which sent two of his albums into the top 100 on iTunes simultaneously. Pope also guest starred as himself in Season 3 of the show "Nashville."
Upcoming UK live dates:
November 5—London, UK The Garage
November 6, Manchester, UK—Academy 3