Rupert Neve is a name that will trip of the tongue of anyone who has been interested in or worked in recording studios; put simply he is a giant/demi-god in the industry. Neve has now put his name to a £469 headphone amplifier and who better to put it through its paces than Janine Elliot. Having spent a quarter of a century listening to various form of Neve mixing desks at the BBC, whether the GP desk produced under licence by them and two other companies (Calrec and Audix), or my favourite the Neve 66, I have got accustomed to the sound produced by this great man. Air Studios in London have three specially made Neve consoles. Legendary Beatles producer and founder of Air Studios, George Martin (1926-2016) was heavily involved with Rupert Neve in the design process of what was a radical new desk at the time. With toroidal wound transformers it was clear that sound quality was the key aim here, as it always should be. As a new BBC sound engineer in the 1980's aiming for the best in sound quality, with Neve desk plus Quad 405 bi-amped into LS5/8 speakers I was near to heaven. Those GP desks, first thought of in 1975, were so well made they lasted well into the 21st Century, maintained and loved by sound and electrical engineers alike. Some parts were taken out and adapted in standalone boxes well after the GP desk saw its (other) celestial maker in the skies; the compressors, limiters, and EQ were just what was needed. Then when Rupert's new Neve 66 desk arrived I was even closer in heaven; an analogue desk with digital routing of channels that had clout and passion and that worked so well and was so easy to use.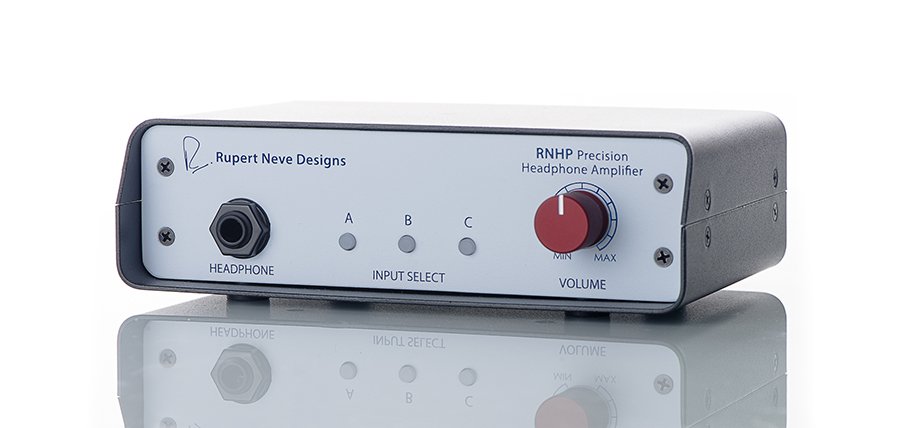 To see a Rupert Neve headphone amp at Whittlebury in 2016 for £469 pricked my ears into wanting to relive all that I had wanted to be involved in since my teens; broadcasting, mixing, performing and working with legends. Rupert Neve is a legend, and this modest looking, professional headphone amp was something I just had to listen to.  Rupert was born 31 July 1926 in Newton Abbot, England. Growing up mostly in Argentina before WWII, his experience with broadcast equipment design spans almost 80 years.  Starting it all from his home and then moving to a purpose built factory near Cambridge, Neve Electronics created professional audio consoles and systems with class-A designs and using high quality components. The Neve history is complex. Setting up the company in 1961 and then leaving it in the 70's Neve was sold to German company Siemens in 1985 and then linked with AMS (Advanced Music Systems) becoming AMS Neve. Siemens moved the Neve factory to the AMS Burnley site. Setting up ARN Consultants, Rupert's links to Focusrite, Amek, sE Electronics and others show his interest in getting involved in all areas of analogue broadcasting consoles and ancillary equipment. The massive Amek 9098 was probably his best work to my mind. sE Electronics is a recent venture helping designing microphones for the Shanghai company. More importantly for this review, Rupert Neve Designs was set up in United States, where he has resided since he and his wife became U.S. citizens in 2002. This great British master craftsman now has his masterpieces designed in Wimberley, Texas, not Wembley, London. This company continues the work of one of the most  respected names in the business, with many famous musicians and broadcasters having their utterances played about through his creations.

My favourite mixing desks were analogue, and Neve continues to produce analogue products. Their 5088 console combines the best of analogue including audio transformers on every single input and output with a true floating ground and high quality capacitors and inductors. His present portfolio goes back to the days of modular design; the days when you could get your fingers to any controls on the desk without needing to press a touch screen with drop-down menu. By which time it is too late. Even synthesisers are now going back to buttons and knobs. The new 24V 6W RNHP headphone amp is based on the headphone output circuit in the 5060 'Centerpiece Desktop Mixer'. Headphone monitoring in the studio is sometimes a necessity and Rupert Neve can see the importance of a reliable and accurate monitoring source. Originally designed for studio use this little beauty is now available for anyone to enjoy.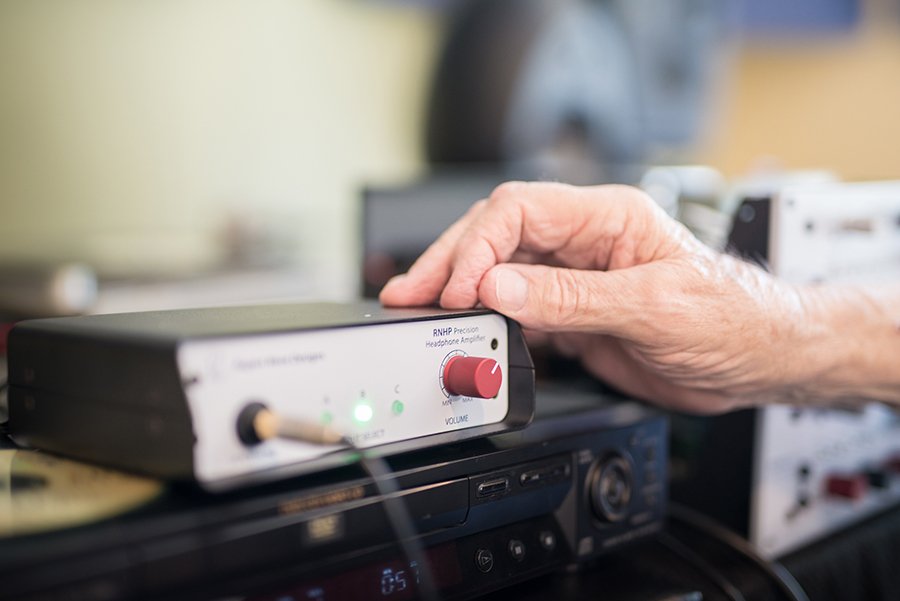 The RNHP
The surprisingly small unit (just 165 x 117 x 48mm) is machined from solid-steel to reduce RFI, a clam-shell construction, and built to a high standard with an overhang to protect the connectors at the back and main level control at the front from glancing blows, as well as having shock-absorbing rubberized feet. This is a very robust and industrial looking machine which can also be VESA-mountable. Indeed, the name 'RNHP' is equally industrial, reminding me of the days of BBC equipment codes such as DK4/19, DK4/26 (original GP desk working name), AM8/12 (power amps for use with BBC speakers), oh and of course names like LS3/5, LS5/8 etc.  "DK" was the short cut for "DesK" and "AM" for AMplifier, "LS" was short for, well, you know that one.
The new Neve headphone amp has three inputs, selected by three green illuminating buttons on the front, and allows stereo RCA phono sockets, stereo 3.5mm input (calibrated to work with mobile devices such as phones, tablets and laptops). Thirdly is a calibrated +4dBu line input with two combo jack accepting either XLR or TRS inputs for balanced professional devices. Both impedance and gain have therefore been carefully optimised to best suit whatever source is to be used. The RNHP allows high-impedance up to 600Ω headphones. Importantly the RNHP has been designed with a near zero Ohm output impedance (.01Ω at 1kHz) to minimize changes in the sound due to reactive load impedance; something which is noticeably greater on headphones than loudspeakers.  Indeed, headphones can sound so different on different amplifiers and at different levels that I often have to touch base with original sources I know well. It was good to be able to use any headphone and know that I was getting an honest account of the music with only the headphone driver and design being the limiting factor.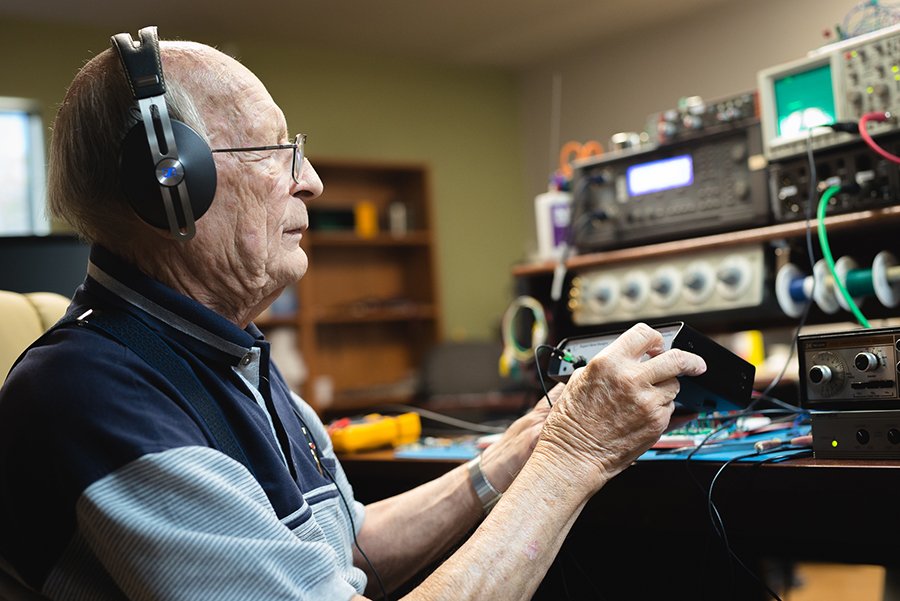 For the review I used the Fiio X5 DAP analogue line output into the RCA inputs, .wav files from an iPod, and XLR line output from my Revox 15ips PR99 reel to reel.  There is a single highly damped dark red aluminium potentiometer on the front and a cute looking small rocker on/off switch on the rear. Power supply is, surprisingly, from an external wallwart switch-mode power supply, this from a man famed for class-A designs and toroidal power supplies. But, switch mode supplies can be very efficient and quiet and he intentionally chose them for this design, which is no doubt also reflected in the extremely good price point. They also operate with whatever input voltage and frequency you have in your country meaning that one unit fits all. It would be nice to see a toroidal option to quell my inquisitive quandary, though the supplied unit is selected for best output power and noise performance. My only criticism is when affixing the UK's 3-pin 13A plug (or indeed any of the others) the rectangle unit fits sideways meaning you cannot connect it on a multiway mains adaptor without hiding other sockets. However, that is my only criticism of a product designed for the professional and audiophile alike, and at a price that is hard to believe. No clever spin, frills or selling hype. Just pure, honest audio in a design you can feel secure is going to give you sound satisfaction.
Whilst normal headphones can be used, balanced cannot. That didn't give me any problems as I used my broadcast Sennheiser HD650 and latest generation Audio Technica W1000X, two entirely different sounding headphones and different impedance matching.  The former is still widely used in recording studios and the latter offering an exceptional 3D sound with a spacious and clear presentation giving me a chance to explore these headphones accurately.
The Listening Tests
"One More Time" (Ray Davies 'Working Men's Club') offered a smooth and lifelike presentation of Ray's distinctive voice on the 300 Ω HD650's, showing how musical and well-designed these aged cans now are. It was only after putting on the much more comfortable 43Ω AT's that the soundstage totally opened up and the individual elements of the music excelled, and the love affair with the RNHP began. We might all be having relationships with Planar based headphones these days, but AT headphones are very capable and underestimated, like their cartridges. The openness from the AT's and the clarity and depth from the RNHP gave a fullness of sound in Ray La Montagne's "Till Son Turns Black" that I hadn't heard so well on a headphone amplifier anywhere near this price. The atmospheric reverb and the genteel piano and strings, plus pin-sharp acoustic guitar on the right ear were individual pieces of a jigsaw pieced together to form a well-framed painting of beauty. The bass tom rumble at the start of "Empty" was clear and very precise, just as the recording engineer would have heard it. This headphone amplifier was not wanting, coping precisely with any extremes I threw at it. The Sennheiser HD650 just wasn't so good at the tops and with such speed, however it was able to present the violin long notes that anchored me back to my days at the BBC mixing violins on a Neve 66 through LS5/8s. Turning appropriately to the strong string entrance on Sibelius Pelleas et Mielisande "At the Castle Gate" (Linn Records 24/192, Scottish Chamber Orchestra, Joseph Swensen) the AT W1000X opened up the sound with a clarity and musicality that only someone with the studio experience of Rupert Neve could have produced.
Johannes Fischer's percussion album "Gravity" is an exceptionally well recorded compilation to indicate initial transients and decays of percussion sounds. This is particularly shown by the non-pitched hand drums in Xenakis's 'Rebonds A' and 'Rebonds B' that open and close the album respectively. 'Calculo secreto' by José Manuel López López shows immense detail and encapsulation of the transients and harmonics of the vibraphone. This was getting addictive, and the more I wanted to unplug and get on with other house work, the less I could.
Turning to the 'Jazz Masters Vol. 1', a ½ track 15ips recording courtesy of STS recordings, the extent of the musicality from this pint-size unit came into its own. This excellent album includes Buddy Tate on tenor sax, Milt Buckner on electric organ and Wallace Bishop on drums; all effortlessly performing with a tight close mic'd saxophone and live organ sound (complete with noises from Milt), plus a carefully performed drum kit. Sometimes simplicity is best and this pairing excelled with ease and space. Being accurate didn't make this RNHP boring. Quite the opposite. It was lifelike, and that was far more important, getting me very close to the musicians; more so than most headphone amps I have tried. A sound engineers dream.
Listening To Britten's "Dawn" from Peter Grimes (Michael Stern, Kansas City Symphony Orchestra) gave further evidence of the speed and clarity of sound that make this a truly professional sounding purveyor of honest music. The detail in strings in the third movement between the viola and cello, with wind rustling noises from violins and birds flying about from the flutes with patterns of rain and thunder splattered about the landscape, capture an almost pictorial image of nature.
Pink Floyd's "Cluster One" from 'The Division Bell' gave tight ride cymbal minim beats effortlessly floating high above the long chords and guitar lines, in a way I could impelled to listen on and on. Everything was honest and sincere. The top wasn't sacrificed for the bottom or vice versa. Swapping the unit with other headphone amplifiers at this price point I could see just why this one was so special. A secure and detailed bass, extension in the highs and low noise made this a very enjoyable listen. I guess my background with mixing desks for some 40 years and recording speech and music made me realise that sometimes simplicity and good old fashioned ideas are the best. This might be a 21st Century product but it has a lifetime of sound soul searching.
Conclusion
For around £469 the RNHP was far more than just the headphone stage of a mixing desk. This was a far more musical and authentic product than its price point might suggest. With sockets for all your likely analogue line sources, plus honest performance and excellent headroom this is a little belter well worth considering, if you are happy with the rather industrial looks.
Another Neve work of art.
AT A GLANCE
Build Quality:  Solid construction with good electrical design, though might look too industrial for some.
Sound Quality:  Detailed, quick, and very good headroom, with a classy bass end and treble finesse. A totally neutral performance with nothing added or taken away.
Value For Money:  One of the best headphone amps I have heard, whatever the price. Worth a listen to and if bought from Russ Andrews you get a 14 Day 'Home Equipment Trial' just to be sure. 
Pros:
Excellent audio quality for £469
Transparency of sound; nothing added or taken away
Analogue musicality that you just won't want to switch off
Cons:
That power supply hides other sockets.
Price: £469
Janine Elliot
Technical
Maximum Input Levels
"A" XLR I/P: +22.8 dBu @1kHz "B" RCA I/P: +14.7dBu @1kHz, "C" 3.5mm I/P: +3.3dBu @1kHz
Output Power: 
As measured with typical headphones, Z=44 Ω: 3.617 VAC RMS @1kHz = 300mW RMS 16 Ω typical Load: 1.933 VAC RMS @1kHz = 230mW RMS 150 Ω typical Load: 5.108 VAC RMS @1kHz = 175mW RMS
Output Impedance
.08 Ω @ 1KHz, 16-150 Ω load, 0dBu input
Frequency Response
+/- .2dB from 10Hz to 120KHz
Noise
Measured with typical headphones, Z=44 Ω, BW 22Hz – 22kHz "A" XLR Input: -101.9dBV, "B" RCA Input: -100.9dBV "C" 3.5mm Input: -88.8dBV
Dimensions
6.5" wide x 4.6" deep and 1.9" tall