US cable manufacturer Sablon Audio have announced the arrival of their new baby –  the Petit Corona power cord.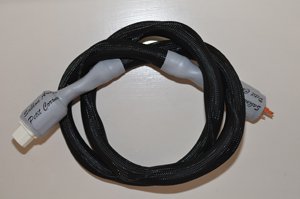 Weighing in at 7 AWG, Petit Corona has been designed to bring Sablon's sonic achievements at a lower price point to a wider audience.  Key design features include "noise reducing crystals, cryogenic treatment, customized iec connector, external grounding and a high degree of flexibility". Sablon claim the Petite corona is "at least the equal of its Robusto sibling, but with a more neutral presentation to enable it to sing in a wide variety of systems." Priced at $495 shipped worldwide.
At the other end of the product range, Gran Corona is now fitted with a modified Oyaide C-004 IEC connector. A retro-fit service is available for earlier cables.