Sadurni Acoustics introduces the Staccato Horn Speaker System, a 4-way system,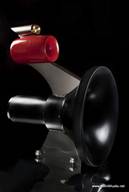 using compression drivers for both the high- and upper mid-frequencies.  It is one of the first horn systems using a front-firing (i.e., not folded), wooden bass horn, which extends down to 120 Hz say the company.
Sadurni Acoustics developed a proprietary horn system over many years with unique components to achieve the Staccato Horn and Bass system. Sadurni Acoustics developed a manufacturing process which they say "removes distortion from the horns to deliver crystal clear sound, avoiding the famous horn shout and horn sound".
With the introduction of the Staccato Horn System and the assignment of Merrill Audio as the US Distributor George Sadurni, CEO of Sadurni Acoustics says, "We are very excited about the Staccato Horn System as a new standard for music reproduction and extremely pleased to have a very high value partnership with Merrill Audio as our US Distributor".
The Staccato Horn System will be sold in the Singapore region through Horizon Acoustics, LLP based in Singapore.
The Staccato Horn Speaker System will carry a MSRP of USD $40,000 with Shipping beginning June 1st.