Sbooster Best of Two Worlds Power & Precision ECO (BOTW) Power Supplies cost £300 each and are replacements for the all too common wall-warts that seem to be de rigeur with many audio products. Dan Worth feels the power.
Sbooster are not new in understanding how important  power supplies are in any good audio setup. The "Best Of Two Worlds Power and Precision ECO Power Supply" is more than a mouthful to utter and yes it is one product, so I will be referring to the unit as BOTW. The BOTW supply is the successor to the companies previous supply which was based around a high quality switching supply that was smoothed incredibly well giving a notable improvement overall ripple to standard switching supplies – I've used a couple over the years, still favouring good linear supplies.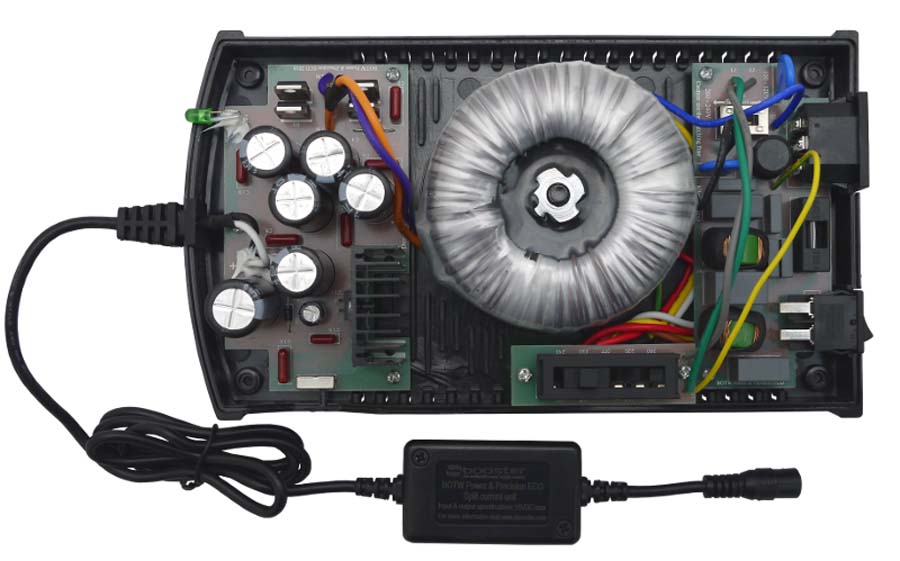 Sbooster themselves champion their new BOTW supplies as a fine balance between power, precision and efficiency. At the supply's inlet their is a dual-stage line filter and earth choke, which eliminates any high frequency pollutants from entering the audio-grade transformer, which is precision wound and heavily shielded.
The design of a BOTW PSU is quite unique, Sbooster are able to obtain 50% more power from the electronics than conventional designs, with a remarkable ability to run up to 35% more efficient at the same time – with Sbooster stating "The BOTW Power Supply will only cost a few more euros a year to run than standard switching supplies supplied with electronics."
Towards the end of the DC output cable Sbooster employs their 'split current system'. "The electronic design and components used in this Sbooster version differ from the design of the Sbooster Single Unit addon upgrade. The power supply of the BOTW P&P ECO audio upgrade provides the split current system with powerful and clean power, so the electronics can do their job profoundly well, which is to buffer the power so that the power supply becomes very fast and able to filter one last time the voltage and current before they enter the attached audio device."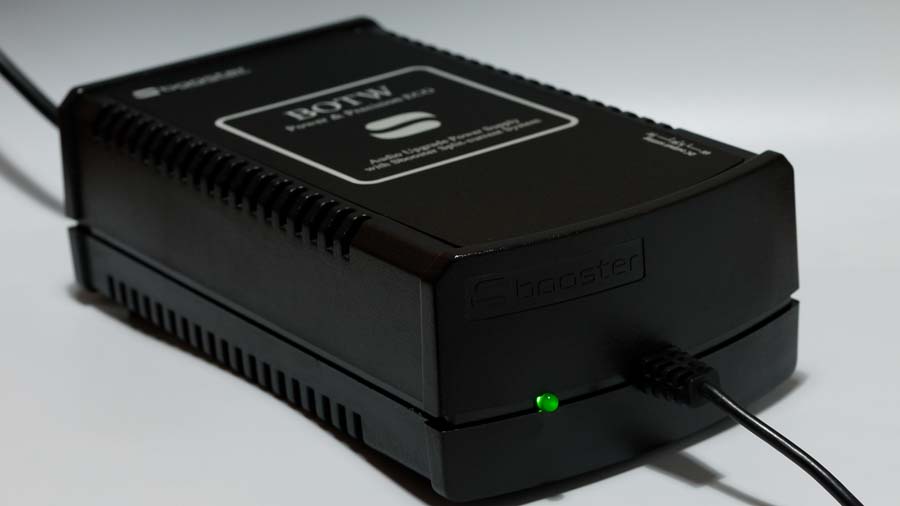 The supplies themselves are in ABS enclosures making them safe from electrical fault shock and have a pleasant, weighty and chunky design concealing excellent component choices. The DC output lead, although fixed and not user replaceable has a female two pin adapter, capable of attaching a whole range of various plugs included in the package. It's very simple to install each connector due to there pin sizes which ensures installation is at the correct polarity.
This review will comprise of three of Sbooster's Best Of Two Worlds power supplies. The items powered by each of these supplies will be the Aurelic Aries Mini, the Audiobyte Hydra Z clock and a Mytek Brooklyn DAC.
Aurelic Aries Mini 
The Mini reviewed by me earlier this year is a significant step up in performance for the price range it adorns. It's a highly musical and flexible piece of equipment with a great range of features. I asked Aurelic at the time of the review to send me one of their own upgraded linear power supplies so that I could hear the Mini at a greater potential, unfortunately at the time there were none available so I completed the task without. After Sbooster contacted me to take a look at the BOTW supplies, I instantly requested one for the Aries Mini as it was a prime opportunity to assess its performance with a good solid and clean supply from a company I respected. Wanting a 15v DC supply the Mini wasn't something I was able to add out of my existing inventory due to its less than common rating.
Adding the BOTW supply gave me exactly what I imagined it would. Speedier dynamics and rhythms which made Nils Lofgren's incredible guitar solos come to life, greater precision on leading edges and a darker a background exposed finer details and dynamics really rather effortlessly. I enjoyed the cleaner complexion of his vocal also which along with the intricate guitar work gained more texture and dexterity.
If I was to create a minimalistic system for an office for instance, the Aries Mini along with a set of KRK actives and the BOTW would be an intoxicatingly addictive bouncy and musical listen. If your a listener of Pop, Dance or Rock you will love what the BOTW supply does to enhance musicality with the Mini, bringing out more detail and smoothing the resolution extremes. A bit of Nirvana at high volumes and then some old skool Ferry Corsten completed today's listening tests with the Aurelic. The combination of the two forces you to listen to music and forget the electronics entirely.
Audiobyte Hydra Z 
My SPDIF converter of choice for many years now have been from Audiobytes (parent company Rokna), they again retain great musicality and smooth digital signals to where they become a more fluid event. Along with the Hydra Z I have a choice of power supplies already – the Audiobyte ZPM which works on capacitor bank stored energy, a Paul Hynes SR5 and SR7 Dual Regulated linears. I do change from time to time and the different supplies have slightly differing effects on the sound. The ZPM doesn't produce such a  highly resolute sound as either of the Hynes, yet is very even handed and is a big step up over the USB powered converter. Each of the Hynes then differ in information retrieval with the SR7 DR dominating on detail retrieval and background silence.
The BOTW from Sbooster actually had a nice mixture of the three. There is a definite even-handedness with the Hydra Z and again it has great speed, leading edges and dynamics, which although not as natural sounding as the Hynes, are a huge improvement over standard installation. The background was also very quiet and the sensitive nature of the FPGA circuit inside the Z seemed to express great control, realism and enthusiasm to the sound with the more modestly price Sbooster connected, allowing for some incredibly controlled female vocals and good strong bass lines, which gained my attention. 
Mytek Brooklyn 
Now this is where things will become a little more serious The Brooklyn is probably the best value for money DAC around and is the heart of one of my active systems. I've again been using this DAC most often with a Dual Regulated Hynes supply as it really does deserves the best I can give it. However since moving the DAC into another active system and leaving the Sbooster to run in I have found myself completely enjoying the performance.
The Sbooster isn't as resolute as the leading Hynes Supply, yet again has qualities of speed that only a design such as it can master. My findings are a little strange to the hardcore Hifi enthusiast but for those of you out there who try to balance an increase in all round performance with the struggle of retaining musical dexterity and cost effectiveness I'll explain…
All too often when auditioning equipment the initial wow factor of a product is its selling point. A customer can purchase and take home a piece of equipment hoping it to perform for them as it did in the demo room, only to be dissatisfied after extensive listening, finding either fatigue or balance to be uncomfortable. When I first installed the BOTW on the Brooklyn I noticed a perceivable drop in resolution over the DR Hynes but what I lost in plinky plonky details I was hugged with by music in a really endearing way.
The settle in period was shortish with the Sbooster, gaining more detail over the space of a week where it stabilised and established itself, kicking out tune after tune delightfully. I reconnected the IEC cable that goes direct into the Mytek's on board PSU after this time and the extra distortion and grain throughout the treble and midrange proved immediately how profound an improvement the BOTW was. Connecting the BOTW again gave instantaneously more tuneful expression to the bass and vocals again popped out of the soundstage and stood prouder in a much blacker background.
There's really not much to dislike about the Mytek, it's a stunning piece of kit. The Sbooster power supply had seriously done it justice and coincidently it was around this time that the Sbooster guys contacted me to mention that I should be switching the supply if being used with the Brooklyn to the 13v setting rather than the 12v, simply because it sounds better still.
So like a car audio system, if anyone has gone as far as building one with several amps, multiple batteries and a larger alternator you would most likely have replaced the main battery with a 14v one, which I'm sure you also have heard the benefits of. Now increasing the voltage of any power supply is not a given, small increases are usually acceptable by the internal components of the attached equipment and in this case with Sbooster and Mytek being close and friendly any component concern was put aside with a total reassurance to me. The additional volt or so was switched in and yes there was a perceivable difference, if not a huge one – a slight increase in detail retrieval and a better upper-mid range control gave a stronger overall presentation especially its strong female vocalists and busier music.
Whether on a 12v or 13v setting the soundstage produced with the Brooklyn was spacious and quiet, with smaller harmonic details more prominent than using the onboard supply. I listened to a few tracks from the artist Bliss and the soundstage could clearly be more defined with an overall better flow to the larger pictured details in front and around my listening position. 
The Full Monty
With all three of the devices mentioned in this review being capable of working together my next task was to build the front end of my main system around the three items and the three associated Sbooster BOTW P&P ECO supplies.
The Aries was fed into the Hydra Z on USB and the Hydra feeding the Mytek on AES/EBU. I actually haven't used this exact combination previously so I ran the system using the wall wart that comes with the Aries Mini, the USB power bus of the Hydra Z and the onboard switching supply of the Mytek DAC.
This solution alone is a great little setup and brings the musicality of the Mini combined with the re-clocked information of the Hydra into the Mytek for analogue conversion to the preamp in a wonderfully synergistic manner and made the Aries Mini flourish. However with all three BOTW supplies installed a more audiophile, mature and accomplished sound was reached.
Dynamics certainly came into their own with vocals gaining a much more appreciable range, giving the likes of some of my favourite female artists real character along with being able to convey small dynamics in their vocal ranges and minor breathes and inflections reminiscent of more expensive stand alone front ends.
The system, had great speed in the bass with an overall larger, more detailed and tightly extended lower region with a well balanced and wider more airier top end. Midrange displayed great timbre and the overall tonality was relaxed and natural with energetic transients and great separation – significantly more than the standard supplies.
Conclusion 
It's never the easiest of reviews to produce when writing about aftermarket power supplies. If a friend asked me how I found the Sbooster BOTW power supplies I'd simply say they just give you more of everything and excel in speed and background silence, which ultimately allows you to hear more.
However, I have a job to do here and my job requires a certain level of thoroughness. That's why I decided to give small reviews on the effectiveness of their power supplies on a few different items I own. There's absolutely no doubt how effective over standard supplied power supplies the Sboosters are, but to their credit were not totally out shone by the Paul Hynes supplies, which if you are fortunate enough to own, would probably conclude that there really isn't anything out there to better them in the common market.
For €300 I feel the supply is terrific value for money. Especially when connected to expensive equipment that warrants a boost in performance; the Sbooster P&P ECO BOTW offers significant value for money and I will certainly be using a couple of these across my systems in the future.
I've encountered many pieces of equipment in my time that have had their internal power supplies upgraded and put forward as a new model and sold for several thousands more. Here we have a relatively cheap option that can be retained by the user when changing equipment and which can be used again and again with other equipment of the same input voltage. Most equipment has a standard of 5v or 12v inputs for external power supplies making the BOTW something that can migrate with your systems changes and growth.
I would have definitely liked to see a detachable DC lead so I could add my own with fixed ends but the flexibility of the BOTW's construction makes absolute sense. A better aftermarket power cable did also help to improve performance but I'm sure if you relate to the notion that power is incredibly important I don't need to tell you that.
All in all I'd highly recommend the BOTW P&P ECO BOTW Power Supply, its a sure way to obtain increased performance from any product with a less than bespoke off-board PSU.
AT A GLANCE

Build Quality: Not the prettiest, I'd prefer all wires to be on ones side, sturdy and electrically safe none-the-less
Sound Quality: Fantastically noticeable increase in resolution, bass density and back silence
Value For Money: Absolute no brainier
Pros:
Excellent flexibility it's a range of output plug sizes
Large range of 11 output voltages
Very noticeable upgrade over stock power supplies
Great musical and audiophile qualities
Great value for money
Cons:
Realistically none, but I'd like a detachable DC Cable
Price:  €300