Steve Crowe visits Sydney, Australia and Serhan + Swift to listen to their Brigadier Mu.2 Loudspeakers costing £4950 in the UK.
BACKGROUND
I recently spent six weeks in Australia and, being an audio enthusiast, I wanted to hear some of what the Australian HiFi industry had to offer. Researching what was available in the Sydney area I found that Serhan + Swift, makers of the Brigadier Mu.2 was only 20 minutes walk from where I would be staying. I'd previously heard about the Brigadier Mu.2 from Paul Clarke at HiFi Lounge in Biggleswade. He'd been raving about them and said that they were one of the most musical speakers he'd ever heard.  An initial visit was arranged, and I met with Brad Serhan at his small unit in a storage complex.
Brad has been involved in designing and manufacturing loudspeakers for over 30 years and is well known for his Orpheus Loudspeaker brand. Brad won 2017 CES Award for 'Best Sound in Show' for their BA.2 speaker. Brad also won the 2016/2017 Lifetime achievement award at the Sound And Vision Awards 2017.
A few days later I met Morris Swift. Morris, an experienced electronics engineer, with a successful electronics company to his name.  He sought out Brad in order to form a loudspeaker manufacturing company, leading to the establishment of Serhan + Swift.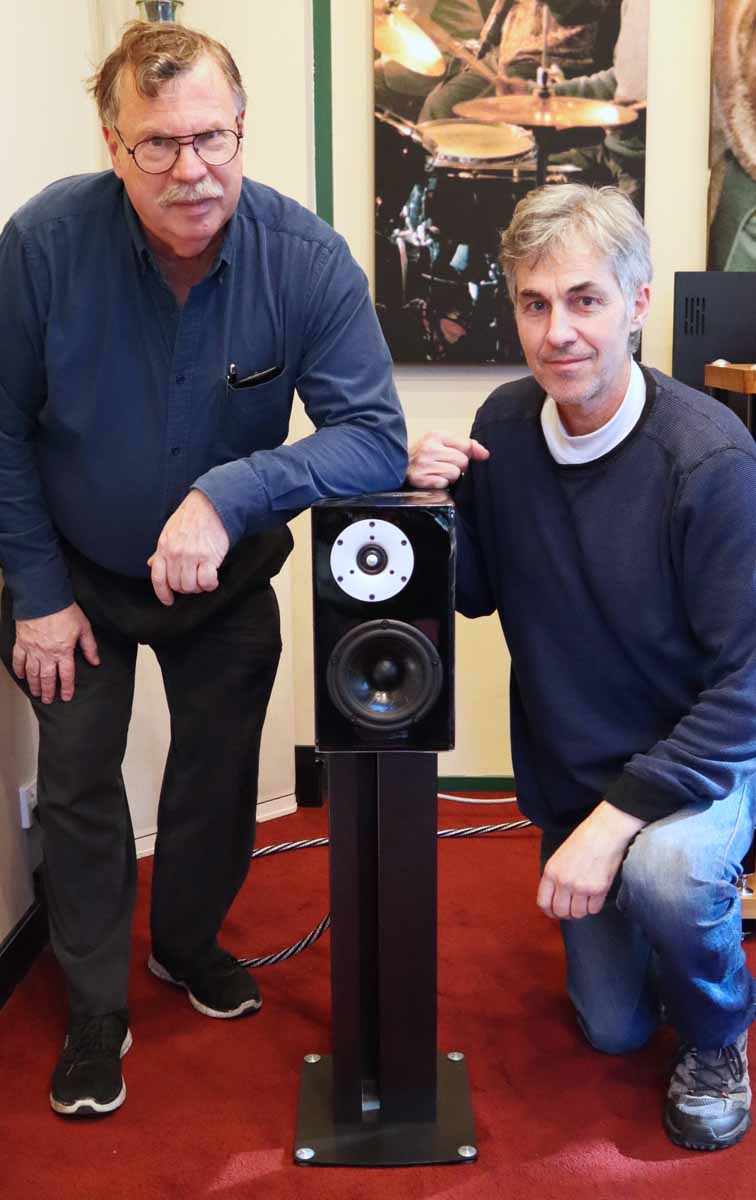 Over a few weeks I was able to evaluate the Brigadier Mu.2 in different settings, including two dealers, and also speak to Morris, Brad and their business associate Les Davis of Les Davis Audio. Les provides the isolating materials for the project, more of which later.
CONSTRUCTION AND SPECIFICATIONS
The basic box construction is birch ply, which is available in a variety of wood finishes as well as mirror black and mirror white. Brad is also experimenting with Corian, a reconstituted stone product (think kitchen worktops). This material does add considerable weight – and cost.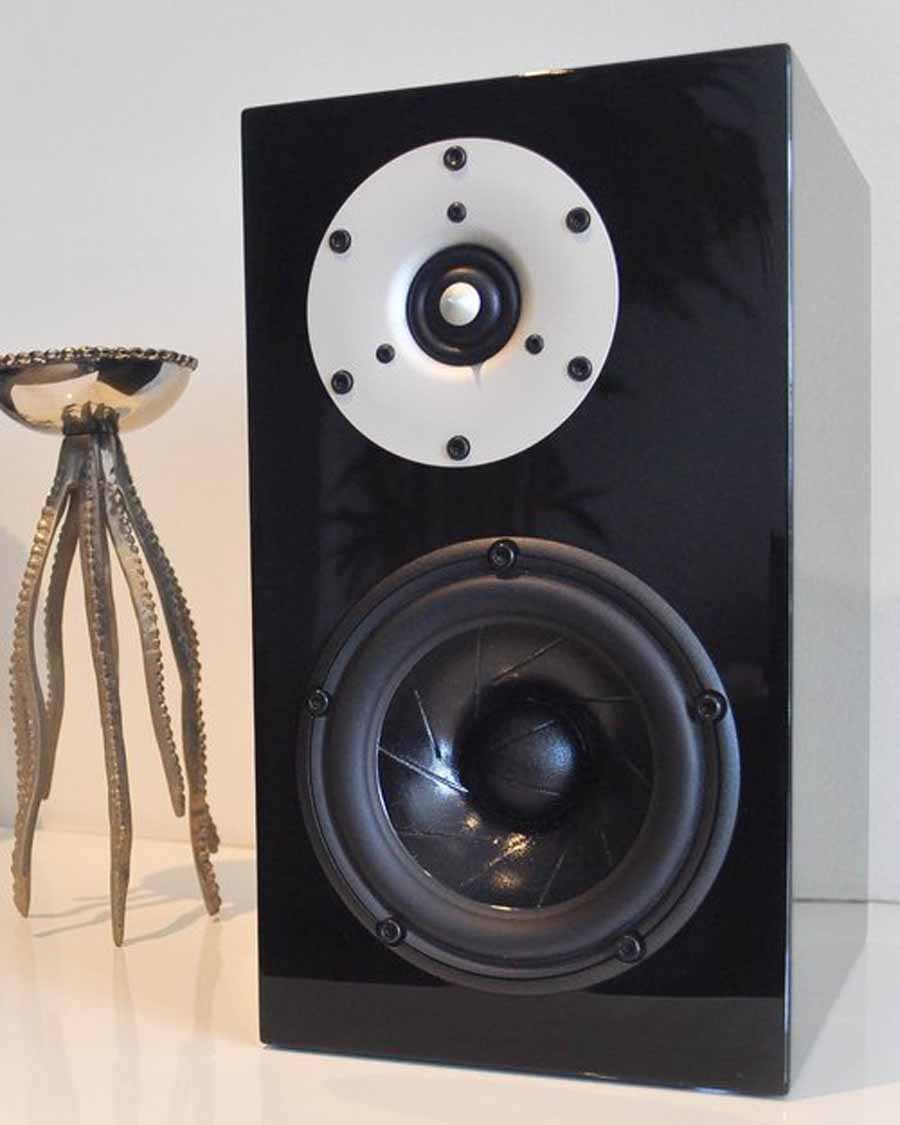 Dimensions are; height 32.2cm, width 18cm and depth of 23.6cm. They weigh-in at 10kg per speaker and have a sensitivity of 84db/1m. The nominal impedance is 6 ohms. Speaker drivers are ScanSpeak.
Visually, the ScanSpeak 1" ring radiator tweeter has a rather spiky phase plug. Probably not child-friendly, but few speakers are. If you prefer your speakers with their clothes on,  Serhan + Swift supply a magnetically secured grille.
Continuing the ScanSpeak theme is a 5" Revelatory mid/bass driver. Brad described matching the tweeters and mid/bass drivers in each speaker pair and how he can hear the two units 'click' together when the in-house designed and hand-built crossover hits the sweet spot. Attention to detail is evident in everything Serhan + Swift do, from the superb finish to the cabinets to selecting matched capacitors for the crossovers, after rejecting components that don't meet their exact specifications. Speaker testing is carried out at Sydney University in an anechoic chamber, and electronics labs using laser interferometry.
The crossover, hand-built in-house, is a split design with separate boards for the treble and bass speakers. All components are connected directly using a 'point-to-point' process.
In Australia the Mu.2 sells for AU$6,500 and in the UK for £4,995. They are also available in the U.S. and Germany.
LISTENING
Having been involved with audio for over forty-five years I have naturally drawn conclusions about what works and what doesn't. Two of these 'givens', for me, were that if you want deep bass you get big speakers, and isolation needs to be reasonably substantial to be effective. Spending time with Brad Serhan, Morris Swift and Les Davis seriously debunked those perceptions.
Hearing the diminutive Brigadier Mu.2 for the first time, in less than ideal conditions in a workshop, was a revelation. This rear-ported speaker can create a believable 3-D soundstage and seriously deep bass, at even modest volume levels. It does a lot of things 'right' and, above all, is exceptionally musical.  The partnering system for this first listen was an Arcam CD transport, a PS Audio DAC and a 1974 Rotel 'wide-body' 50-watt receiver.
Brad recommends the use of 'Solid Steel' three-legged speaker stands which are often sold at a discount in combination with the speakers.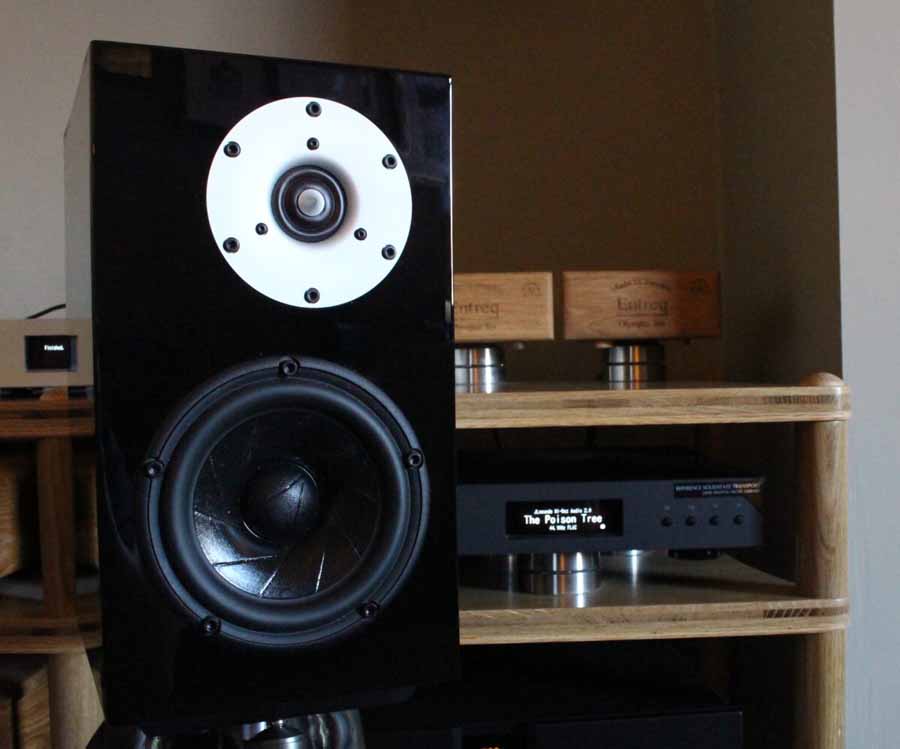 Brad and Morris work closely with a fellow audio enthusiast, Les Davis, who has a self-named audio company. Over recent years Les has been experimenting with isolation materials and has produced a multi-layer sandwich of a specialist material which is just 1.5mm thick. This is precision cut into gaskets for the ScanSpeak 5" drivers, reducing direct excitement of the cabinet. The material is also used to isolate the crossover from the cabinet. Small squares of the material can be used under audio components and Les has developed a wood sandwich construction with isolating material on both sides of a piece of oak for isolating the power supply board. In addition, he sells a turntable mat made from the same material.
Listening to Lou Reed, Walk On The Wild Side, in, as mentioned, less than ideal conditions in the workshop, the soundstage was wide of the speakers and quite deep. As an experiment, we removed the Les Davies materials, following which the soundstage reduced slightly but noticeably, although the speakers retained their exceptional musicality. Just to check, we repeated the process with the same results. The combination of speaker and isolation was quite extraordinary.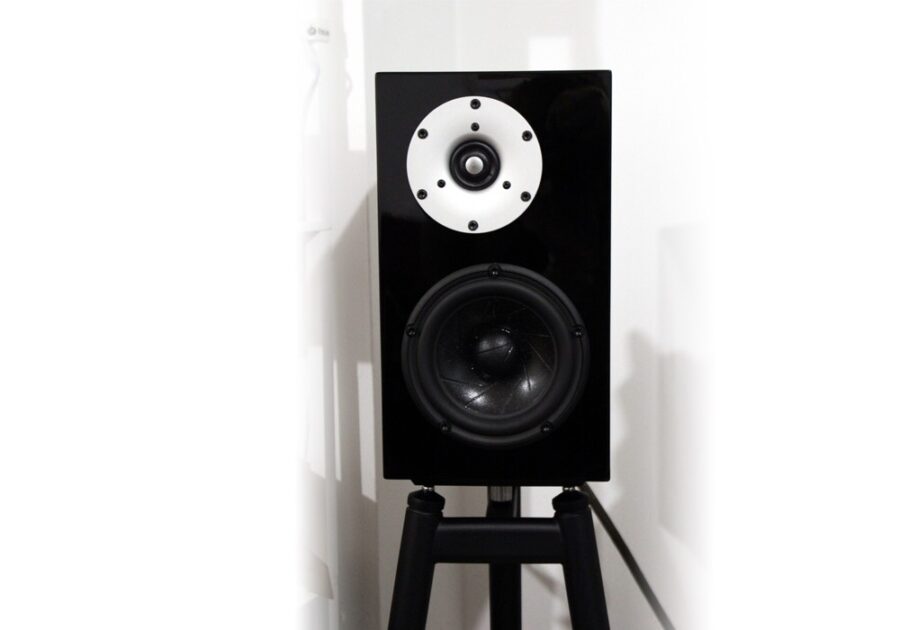 The best demonstration of the speakers took place at Sturman's Audio in Wollongong, about an hours drive from Sydney. Michael Sturman is a dedicated audiophile as well as one of the country's leading HiFi and audio-visual specialists. In a rather large demonstration room using Serhan+Swift's preferred amplification, Pure Audio One 100 watt integrated amplifier (manufactured in New Zealand by Gary Morrison), the stock speakers were fired up. Despite the low sensitivity, there was no difficulty playing them loud.
I had loaded a memory stick with a lot of familiar tracks which helped with making comparisons with my own system.
'Castilian Drums' from Dave Brubeck at Carnegie Hall had a massive soundstage with all instruments properly positioned. This track has a large dynamic range from delicate, as well as heavy, drumming, to full-blooded piano, sax and double bass. The performance was completely believable, belying the small size of the speakers.
Our listening session lasted over two hours and I just wanted to keep listening to familiar tunes. Jen Chapin's 'You Haven't Done Nothin' from 'Revision: The Songs Of Stevie Wonder' had a rich and dynamic texture with a sense of presence which is often difficult to achieve. The opening bars of 'Soothing' from Laura Marling's Semper Femina had the ability to push you back in your seat.  The bass in 'Sort Of Revolution' on Fink's 'Wheels Turn Beneath My Feet' hit you in the stomach, just where it should.
The common theme through the listening session was how the speakers just pull you into the music. Compared to my usual system of Melco server, PS Audio DirectStream DAC via a Bryston 4B3, and Vienna Acoustics Klimt Series – 'The Kiss' speakers, all of which cost considerably more than the demo system, they Mu.2s appeared to be more musical and less clinical, with no reduction in detail. These units do an awful lot right. The speakers I heard were a frequently used demo pair and therefore fully run in. According to Brad they sound pretty good out of the box, even better after about 10 hours and are fully run-in in 50 to 100 hours.
The soundstage generated is very impressive. Even more so is that the sense of width and depth stays with you even when off-axis. Yes, the soundstage is skewed slightly when sitting opposite one of the speakers but, unlike the vast majority of HiFi speakers, the soundstage doesn't collapse completely.
The Mu.2 goes down to 45khz, which it does with little fall-off in volume. For some, they will want deeper, but this speaker will satisfy most in terms of smoothness of treble, dynamics and bass.
FUTURE DEVELOPMENTS
Plans are underway for an advanced version of the speaker with higher quality capacitors together with a kit of additional isolation pads. I had the opportunity to hear a prototype pair and, whilst they retain the original sonic signature, you just get 'more'.
At the time of my visit, Morris was experimenting with creating both analogue and digital active versions of the speaker. I was fortunate to hear the first prototype of the analogue version – in mono, as only one amplifier and crossover had been completed.  Morris has designed and built an external electronic crossover together in the same box as a two-channel Class D amplifier. This connects to the speaker with a cable terminated with a four-element Neutrik connector. Morris says he wants to compare passive, analogue active and digital active with a view to meeting the demands of both die-hard analogue fans and digital enthusiasts. If customers want to use their own amps, there will be versions for those too. In the sort of quantities, we are talking about here, each build will be to the customer's requirements.
There is a further speaker in the range, the Ba.2, which uses a ribbon tweeter. There is also talk of a possible floorstander to go alongside the Mu.2.
CONCLUSION
The best way to describe the sound of the Brigadier Mu.2 is musicality, and ease of listening at all levels.  Great recordings sound superb, average recordings are listenable.
Over the six weeks I was on vacation in Australia I spent quite a bit of time with Brad, Morris and Les. They were very candid in their conversations, which gave me a real insight into the issues which audio manufacturers in general face and, in particular, the vast number of small companies, where every sale of their product is truly important. The care with which Serhan and Swift put together every speaker is astounding. I've heard them play at their best, well set up and with good partnering equipment, and they sound sublime with a huge, natural and detailed soundstage. I've also heard them in less than ideal conditions with great partnering equipment and, whilst they still sound good, the 'magic' was just not there. I began to understand the faith that Brad and Morris have to put in their dealers and, overseas, also in their distributors, hoping that their product is demonstrated at its best.
The Brigadiers Mu.2 is never going to be an easy sell. It is basically a small box, which won't appeal to Hifi buyers who require visual confirmation of the money they've spent. For those whose main goal is an experience which draws them into the music and encourages them to put on another album, a properly set up pair of Mu.2 speakers is remarkably good value for money.
AT A GLANCE
Build Quality: First Class, hand-built to a very high standard.
Sound Quality: Very musical across the frequency range. Smooth treble, clear mid-band and well-defined bass. Not the last word in low frequencies but exceptional for the size of the box.
Value for Money: At £4,950 they are not cheap.  However, if you can get past the diminutive size they will better many other standmounts and floorstanders in the same price range. In driver integration, they can compete with the best.
Pros: Excellent musicality. Wide sweetspot.
Cons: Some may prefer a deeper bass.
Price: £4,950 per pair.
Steve Crowe