Continuing what has been a particularly cosmopolitan set of review CDs this month we have this album from the él stable. Nope, I've not come across the singer before and this is part of the reason I love él; never afraid to dig out the obscure and interesting and release it on the unsuspecting music loving public.
Sylvia (or Silvia) Telles was the first female bossa nova singer, and is widely regarded as the most influential of her generation. She was Brazilian composer Antonio Carlos Jobim's favourite vocalist and is seen as being the best interpreters of his songs. She was a huge success in her native Brazil and soon attracted the attention of the US market and with her starting to record albums with arrangers like Nelson Riddle and jazz guitarist Barney Kessel before she was killed in a car accident in 1966.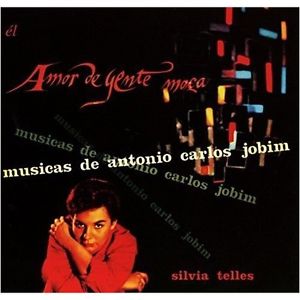 This album is made up of her first record Amor De Gente Moca (Young Love); released in 1959 the album was exclusively made up of Jobim's works with many of them being written specifically with Telles voice in mind. There's also tunes from her Canta Para Gente EP, Amor EM Hi-Fi, Silvia and Garcia
Musically Young Love is laidback and chilled bossa nova that harks back to an age where songs were beautifully crafted by their writers and wonderfully delivered by the singer. This is really quite delightful music that is a million miles away from what I would normally listen to but it's easy to appreciate why Telles became such a star in her homeland. There's a certain cinematic feel to the compositions and I can't help being reminded of Sunday afternoon, post lunch, black and white films that we were forced to watch because there was nothing else on.
Interesting and beautiful music that doesn't really do it for me but will, I'm sure, find favour with many looking for a throwback to the past.
Track Listing:
1. DINDI
2. DE VOCÊ, EU GOSTO (I LIKE YOU)
3. DISCUSSÃO (DISCUSSION)
4. SEM VOCÊ (WITHOUT YOU)
5. FOTOGRAFIA (PHOTOGRAPH)
6. JANELAS ABERTAS (OPEN WINDOWS)
7. DEMAIS (TOO MUCH)
8. O QUE TINHA DE SER (WHAT HAD TO BE)
9. A FELICIDADE (HAPPINESS)
10. CANTA, CANTA MAIS (SING, SING SOME MORE)
11. SO EM TEUS BRAÇOS (ONLY IN YOUR ARMS)
12. ESQUECENDO VOCÊ (FORGETTING YOU)
13. EU PRECISO DE VOCE (I NEED YOU)
14. EU SEI QUE VOU TE AMAR (I KNOW I WILL LOVE YOU)
15. SAMBA TORTO (PARDON MY ENGLISH)
16. CORCOVADO (QUIET NIGHTS OF QUIET STARS)
17. SAMBA DE UMA NOTA SÓ (ONE NOTE SAMBA)
18. POR CAUSA DE VOCÊ (GARDEZ MOI POUR TOUJOURS)
19. CALA MEU AMOR (QUIET MY LOVE)
20. É PRECISO DIZER ADEUS (I NEED YOU)
21. MÁGOA (SORROW)
22. CAMINHOS CRUZADOS (CROSSROADS)
23. ESTRADA DO SOL (ROAD TO THE SUN)
24. AULA DE MATEMÁTICA (MATHS CLASS)
25. POR CAUSA DE VOCÊ (BECAUSE OF YOU)
26. SUCEDEU ASSIM (IT HAPPENED LIKE THAT)
27. SE TODOS FOSSEM IGUAIS A VOCÊ (SOMEONE TO LIGHT UP MY LIFE)
28. FOI À NOITE (IT WAS THE NIGHT)
29. EU NÃO EXISTO SEM VOCÊ (I DON'T EXIST WITHOUT YOU) – Sylvia Telles & Lucio Alves
Stuart Smith