Simaudio have announced the release of three new bits of kit which should be ready for shipping with immediate effect.
The MOON 810LP Phono Preamplifier, a dual-mono fully balanced design and said by Simaudio to be an "all out assault" on phono preamplification. It has selectable gain, impedance loading, capacitance loading and equalization curves (accomplished using DIP switches.) The 810Lp is said to work with virtually any cartridge.

Secondly, the MOON 380D Digital-to-Analog Converter which is designed around the M-AJiC32 circuitry performing in true 32-bit fully asynchronous mode.

The unit features the ESS SABRE32 Ultra DAC operating in 32-bit Hyperstream™ where the conversion process uses 8 DAC's per channel. There are eight digital inputs covering the full gamut of connections and all of these inputs can accept a signal up to 24-bit/192kHz resolution. There is also both a full digital monitor loop (S/PDIF) to accommodate external devices such as a room correction component, as well as a S/PDIF digital output.
Finally the MOON 180 MiND (MOON intelligent Network Device) Music Streamer, allows streaming of digitally stored music from a computer, NAS device, the internet, subscriber-based music services or a UPnP enabled device. The included control software app can operate on an Apple iPhone, iTouch, iPad or any Android-powered device.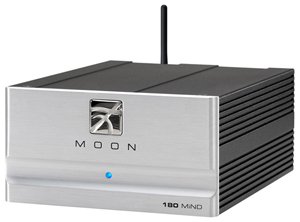 The unit can stream music either through a standard Ethernet connection or wirelessly over a Wi-Fi network. Digital music files in all common formats are supported up to 24-bit/192kHz resolution, however a 16-bit/48kHz limit exists when streaming wirelessly. A jitter-free digital audio signal departs from the MiND streamer via any one of its three different digital outputs which is connected to a digital-to-analog-converter.