SOtM have announced the worldwide release of their dCBL-CAT7 and the iSO-CAT6 Special Edition which are designed to be used together.
The dCBL-CAT7 cable is said to provide "stable, ultra-high speed transmission with excellent sound characteristics".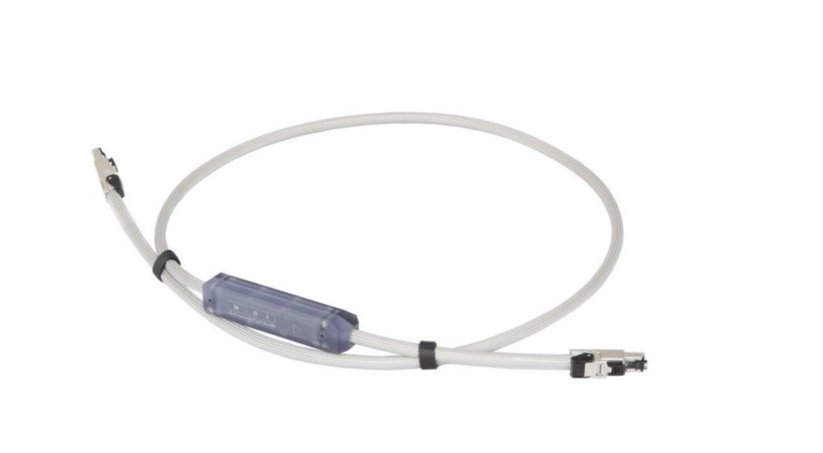 The Filter Block on the dCBL-CAT7 is a new addition and is designed to "eliminate the wide band digital noise inflowing from the router or NAS interfering with audio signals".
The iSO-CAT6 Special Edition is configured with 3 kinds of network cables which the company say "offer respectively different sound characteristics with high quality, which allows the user organize own unique customized audio system selecting bright & pompous tone, neutral, mild & comfortable tone".

The length starts from 1.5M as standard and longer than 5.5m of dCBL-CAT7 is also available.
dCBL-CAT7 1.5M(Standard) : US$500 dCBL-CAT7 2.5M : US$600
dCBL-CAT7 3.5M : US$700 dCBL-CAT7 4.5M : US$800
dCBL-CAT7 5.5M : US$900
The iSO-CAT6 Special Edition comes with 3 different network cables, they are distinguished by black, dark grey and grey colour, the standard length is 50cm and can't be changed.
dCBL-CAT7 1.5M with iSO-CAT6 Special Edition : US$1,100
dCBL-CAT7 2.5M with iSO-CAT6 Special Edition : US$1,200
dCBL-CAT7 3.5M with iSO-CAT6 Special Edition : US$1,300
dCBL-CAT7 4.5M with iSO-CAT6 Special Edition : US$1,400
dCBL-CAT7 5.5M with iSO-CAT6 Special Edition : US$1,500