At just £200 the funky yellow Steljes NS3 powered speakers offer a whole lot of connectivity including Bluetooth, but can they cut the mustard? 
We're keen at Hifi Pig to be inclusive and we realise that not everyone either has the money or the desire to own systems that cost thousands and take up a good deal of space. We also realise that there are younger people out there that access their music in a whole new way with many using their smart phones and computers as their main source of music. Step up the NS3 from Steljes Audio.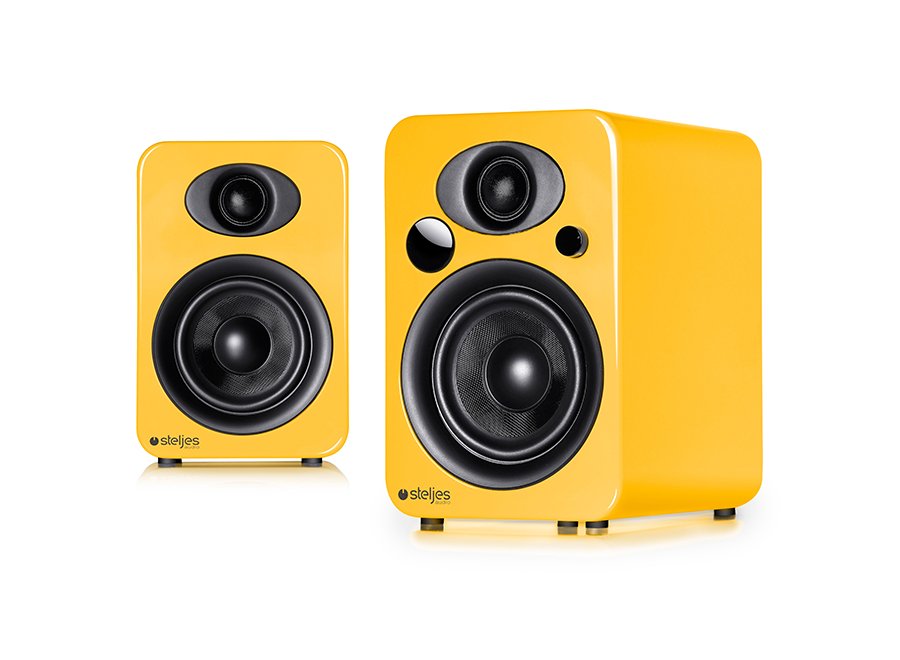 These powered speakers arrive well packaged and in a very cool looking bright yellow, though another six colours are available, including the more traditional black and white. They certainly make a bold statement on the shelf and look modern, compact and funky.  In essence one speaker acts as the "master" with the other being connected to it by standard speaker cable – the included cable is pretty flimsy stuff and I would perhaps suggest it's worth spending a few quid to get better. However, build is solid and the speakers are really well finished…and not just for the money.
The master speaker has a remote receiver window, volume/selector button and an LED light that is red when the speaker is on standby and then blue when in Bluetooth or work mode. Around the back of this speaker you have a plate with a pair of RCAs so you can connect a CD player or other line source, even a turntable if you have an external phonostage. There's a 3.5mm minijack for connecting sources using this kind of connector, a sub out, a power on off rocker switch, a digital optical in and a USB socket that can be used to charge your smart phone or other device. There's also a figure of eight power input and a pair of speaker binding posts. This pair of binding posts is used to connect to the second speaker which looks much more conventional around the back with just a pair of speaker binding posts. You also get a remote control which is nice looking and it controls all the functions of the system. Point it at the master speaker and you can turn the system on, increase or decrease bass output, mute, select the source, adjust the volume and treble and pair your Bluetooth source, you can also pause tracks or skip/shuffle tracks.
Setting up the speakers is a two minute job and the instructions are clear and simple to follow. Bluetooth connection likewise is a doddle, even for this relative newbie to the whole smartphone thing – select Bluetooth on the remote, enable Bluetooth on your phone, enter the pairing code and your done…the LED on the front is now blue. I was up and playing tunes in a matter of tens of seconds which was a bit of a shock really!
Connecting other more standard sources is a doddle too with – plug them in, select them from the remote and off you go.
The 45W x 2 power is provided by a class D amplifier and you've got one inch soft dome tweeters and four inch woven fibreglass woofers with a port on the back of each speaker. The speakers are 85dB sensitive, 4 Ohm and have a claimed response of 60Hz to 20KHz. They're a relatively dinky 210 x 140 x 190mm (HWD) and weigh 6.1Kg.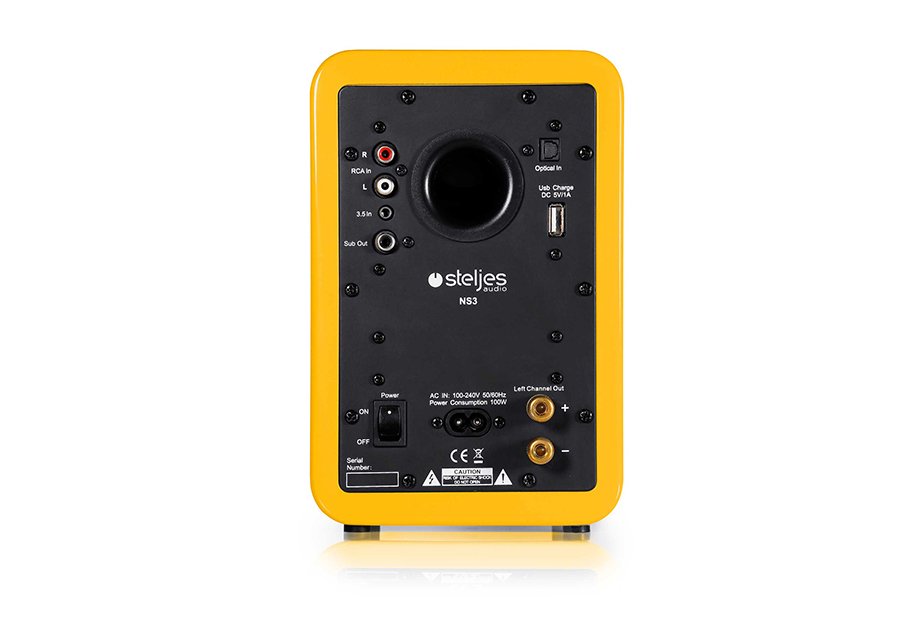 Sound 
For the purposes of this review I initially simply plonked the speakers on one of the hifi racks we have, spaced them about a metre apart and that was it. I reckon most of the folk that are going to buy these speakers are going to be using them on desks, in bedrooms or either side of the TV or computer, but more of that later.
Initial reaction was a bit of a "Wow, these don't sound half bad" playing files off the Android phone and I confess to thinking immediately that I'd have been well happy with these in my early teens for my bedroom, but then this wasn't any critical listening session.
As I said previously lots of people are going to be using these on their desks and so, having recently moved into a new office space, the little Steljes were installed on my desktop. I'm a reasonably happy bunny sat here listening to Daft Punk's Discovery album via Bluetooth. What's pretty nice is that the stereo image is like having a mini soundstage in front of you. Hats have a bit of grain to them, as do vocals, but there is movement of instruments within that image – by this I mean that it's not just a left and right one dimensional image and there is an element of three dimensionality.
Listening critically to Eels Novacaine For The Soul at decent volume there is some confusion and lack of separation of instruments and a feeling that I'm driving the speakers a little too hard, but dial back the volume a notch and things improve, but there is lack of definition and that graininess. I believe this is not down to the speakers but the fact that I'm feeding them with crappy files and that is a positive point for the speakers in some ways.
We have a little AR DAC/headphone amp here for review that is sat on my desk so lets see what happens when we play higher resolution files at the NS3s.
The little Steljes have enough about them to be able to tell you are listening to a superior format and that is a very good thing. On the same Daft Punk album I'm able to turn the volume up to uncomfortable levels on One More Time and get the diminutive drivers really moving and it feels like there is more balance to the overall sound. This is interesting to me. Many teens use their phones pretty much exclusively as their source of music, but it is clear that it is not really suitable for critical listening in my opinion; FLAC, through the AR DAC is clearly a much better listening experience with the NS3s. There is a feeling that the Steljes have been allowed to open up and sound a good deal better than previously. The soundstage is still in miniature and between the speakers but that's just what happens with desktop speakers, though it does extend forward towards the listener in a pleasing manner. The hats have lost that graininess to them and there is good definition throughout the frequency range. Bass is tuneful and whilst it is still limited in its extension, is perfectly acceptable for such a small speaker.
Gil Scott-Heron's Pieces Of A Man goes on next and I'm really surprised at how good these things sound. I did find I have to wind back the volume a little otherwise it's all a bit much for the NS3s. Pianos sound acceptably like pianos as do the rest of the instruments in the mix. There's not the refinement or depth of insight into the mix we get on our main rig, but you know what, these certainly play music and get your toes tapping which to me is the main thing and they are detailed enough to be more than acceptable to the vast majority of people.
Conclusion
Truth be known, I wasn't expecting much at all from these speakers, but I've been really pleasantly surprised by how much fun they are. As an office pair of speakers, or if you are on a tight budget they really do play your music very nicely.
Yes they have limitations; bass is obviously restricted and they focus on the mids and tops, but at this price, and considering all the onboard amps, Bluetooth etc, they offer great value for money. In a lot of ways I'm reminded of my first proper pair of speakers, the original Wharfedale Diamonds.
Speaking of Bluetooth; it's fine if you are having a party and you are not really concentrating on the music, but I do think in its standard iteration as used on these speakers it is limited to what it can convey in regards of detail and definition. It's a useful feature to have and people not used to high quality audio may well get on well enough with it, but it is worth spending a little more on a decent little DAC and feeding them with good files to get these speakers really singing. They certainly come on song with better files!
The included remote is a useful little device and whilst not the last word in fit and finish works well enough and is better made than many of the remotes I've seen on similarly priced products. The USB out on the back is useful for charging your phone and if you do want more bass you can add a sub.
Overall it's hard to find fault with the NS3s; they are very well made, sound fab', look funky and offer brilliant value for money. If you are looking to add a pair of speakers to your desktop they're great. If you are looking for your first pair of speakers and can live with some limitations that all small speakers inherently have these are great, just feed them with the quality signal they deserve.
AT A GLANCE

Build Quality: Really nicely made and solid feeling
Sound Quality: Offer enough detail and insight into quality recording to make them more than acceptable. Bass is limited as it was always going to be
Value For Money: It really is difficult to fault these speakers given the very modest price-point 
Pros:
Great value
Very nicely put together
Fabulous fun but with enough detail in the music to satisfy more critical listeners 
Cons:
Bass is limited 
Price: £200
Stuart Smith
Specifications
45W x 2 Power Output
1 Inch soft dome tweeter
4 Inch woven fiberglass
4 Ohm Nominal Impedance
85db Sensitivity
60Hz – 20KHz
Class D Amplifier
Inputs: RCA Pair (1), 3.5mm Stereo (1), Optical (1), Bluetooth (1)
Outputs: USB Charge (1), Sub-Woofer (1)
Dimensions: 210 x 140 x 190mm (H x W x D)
Net Weight: 6.1Kg