For over 40 years, Supra have been a hifi and AV cable manufacturer, designing their own products and making them in Sweden. To help celebrate this anniversary, Supra are launching a limited edition version of the award winning LoRad 2.5 shielded mains cable: The LoRad 2.5 SPC.
LoRad is an abbreviation of Low Radiation. First launched over 10 years ago, the cable is one of the few available worldwide that is fully CE approved. Supra say:"The main benefit is the highly efficient shielding which helps to ensure that other low level signal cables are not affected by the close proximity of the LoRad mains cable. Likewise induced RF interference has been one of the biggest bug-bears of high quality audio and video reproduction and so by equipping one's hifi or AV system with LoRad, you should both see and hear a difference as the cable cannot act as an antenna and "pick up" airborne electrical interference from the likes of room thermostats and central heating systems and hence "dirty" the mains supply of connected hardware".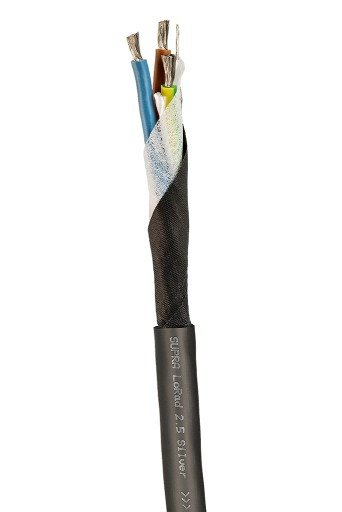 The Supra LoRad product range is used in hospitals, flight control towers, etc. where there is no room for system malfunction due to electro-magnetic interference deriving from multiple sources. The mains cable is a flexible cable, approved according to Intertek's scrutiny, has helped to maintain the mobility of medical equipment, thanks to the flexible and durable design.
Instead of the standard tin-plated OFC conductors in the standard LoRad cables (which continue in production) the LoRad 2.5 SPC uses silver plated OFC, in order to appeal to those audiophiles who want to use natures best electrical conductor, within a mains cable. In order to establish a "difference", externally between the original LoRad tin-plated conductors and LoRad SPCs silver-plated conductors, the outer jacket is in an Anthracite Grey colour.
LoRad 2.5 SPC is available now both on 50m reels as well as in factory terminated lengths, fitted with a UK 13A mains plug (with gold-plated contacts and optional gold-plated Bussman fuse) and with either 10 Amp or 16Amp IEC320 connectors (again with gold-plated contacts). Factory-terminated lengths available are: 1m, 1.5m, 2m and 4m. Once they are gone they are gone, Supra will not release any more.
Specifications:
3x 2.5mm sq. cores of silver-plated multi-stranded OFC cable
Brown (Live), Blue (Neutral) and Green/Yellow (Earth) coloured insulation jackets Mylar mesh (to protect inner cores from drain wire)
Tin-plated drain wire (Needs connecting to earth terminal at BOTH ends) Semi-conductive nylon/carbon shielding
Flexible outer insulation
Outer jacket colour: Anthracite Grey
External Diameter: 11mm Approx. 16A rating (@ 230V)
LoRad SPC will retail at £20 per linear metre (unterminated) with a 1m factory-terminated cable set (fitted with a UK mains plug, standard fuse and a 10 Amp IEC) retailing for just £62.50 inc VAT.
1.5m lengths are £72.50, 2m lengths are £82.50 and 4m lengths are £122.50