SVS, manufacturer of speakers, subwoofers and audio accessories, have announced the 4000 Series subwoofers, three new models loaded with "advanced features and technology" SVS 4000 Series subwoofers borrow heavily from the flagship SVS 16-Ultra Series.
Comprised of the SB-4000 sealed cabinet subwoofer, PB-4000 ported cabinet subwoofer and the PC-4000 ported cylinder cabinet subwoofer, each new SVS model features advancements to the driver, amplifier, cabinet and overall user experience.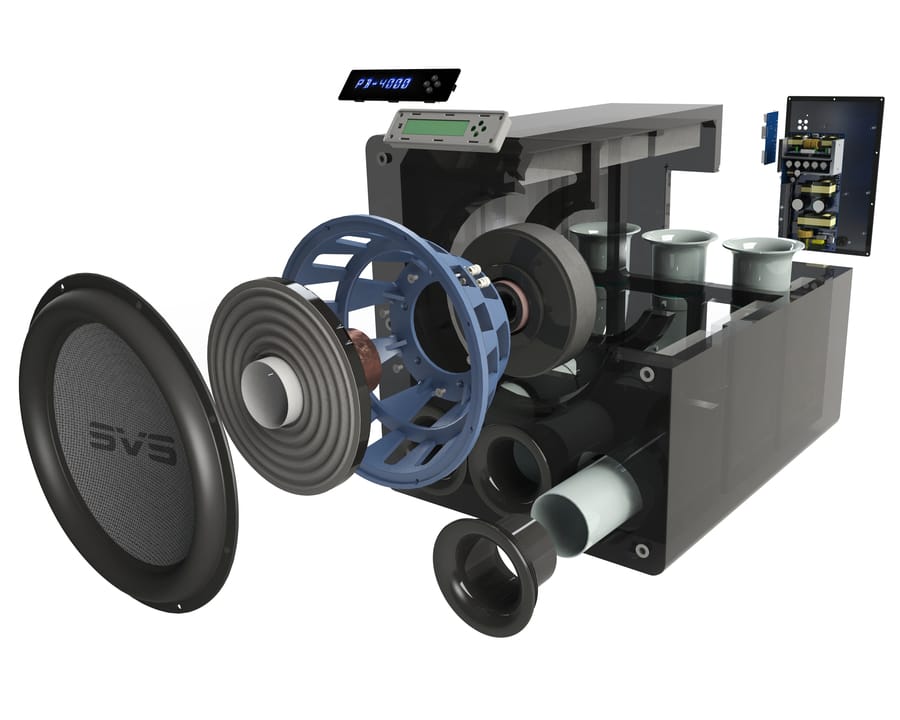 Powering the 4000 Series is a Sledge STA-1200D amplifier that combines the high current output of discrete MOSFETs with Class D efficiency. Harnessing the power of the Sledge amplifier is a 50 MHz Analog Devices Audio DSP with 56bit filtering Drivers in the 4000 Series subwoofers are built for "serious output and punishment". The proprietary SVS design features a dual ferrite magnet motor assembly weighing nearly 40 lbs. and delivering magnetic force to a 13.5-inch drive unit with long-throw parabolic surround. A lightweight and rigid composite cone with glass fibre dustcap moves the air without ever flexing.
Launched originally with the flagship SVS 16-Ultra subwoofers, the 4000 Series also feature control and custom presets via the SVS subwoofer DSP smartphone app for Apple® and Android® devices. The SVS app controls polarity, room gain, phase alignment, volume, parametric EQs and stores custom music, home theatre and other presets for easy one-touch tuning. For added convenience, bi-directional feedback shows updates in real time on both the app and subwoofer interface and Bluetooth connectivity allows adjustments to be made when the subwoofer is not in sight. Control is also available via IR remote and a front panel display. Active Power Factor Correction (PFC) within the 4000 Series serves as a line conditioner, surge suppressor and voltage regulator, letting the amplifier deal with wide voltage fluctuations and ensuring the subwoofers operate on any household circuit The 4000 Series are built with double thick MDF and rigid internal bracing to support the drive unit and ensure an acoustically inert environment.
"While the rest of the industry is chasing benchmarks SVS established with the 16-Ultra series, we raised the bar and redefined what is possible at even lower price points, taking the finest technology available and applying it in a way that lets more people than ever enjoy the breathtaking benefits of reference quality bass," said Gary Yacoubian, SVS President and Managing Partner. "Audiophiles and home theater fans who understand high performance audio will recognize what a genuine accomplishment the 4000 Series is after the first bassline drops or action movie erupts to life. And for the price, there's simply nothing in the same area code."
The three SVS 4000 Series subwoofer models include:
SVS SB-4000 Subwoofer: Sealed Cabinet

SVS PB-4000 Subwoofer: Ported Cabinet

Frequency Response:

16Hz to 200Hz +/-3dB (standard mode)

13Hz to 200Hz +/-3dB (extended mode)

18Hz to 200Hz +/-3dB (sealed mode)

Max Low Frequency Output:

134.5dB @ 32Hz 1/8 space 1m
SVS PC-4000 Subwoofer: Ported Cylinder Cabinet

Frequency Response:

17Hz to 200Hz +/-3dB (standard mode)

15Hz to 200Hz +/-3dB (extended mode)

16Hz to 200Hz +/-3dB (sealed mode)

Max Low Frequency Output:

133.1dB @ 32Hz 1/8 space 1m
The SB-4000 and PB-4000 are available in a premium black ash or piano gloss black finishes and come standard with a protective, non-resonant steel mesh grille. The PC-4000 features a piano gloss black top cap.
Pricing for the 4000 Series Subwoofers:
SB-4000: Premium Black Ash – $1,499.99, Piano Gloss Black – $1599.99
PB-4000: Premium Black Ash – $1,899.99, Piano Gloss Black – $1999.99
PC-4000: Piano Gloss Black – $1799.99