Another launch announced for CES, this time from German brand T + A. The new range from T+A bears the designation HV =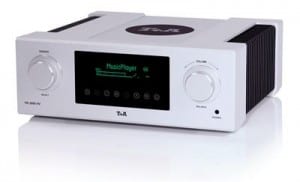 High Voltage and will be expanded with a line of products to form the pinnacle of T+A's solid-state product range. "Created to cater for the demanding audiophile and lover of two-channel music reproduction of the highest possible quality, each product features separate construction for each channel and boasts mirror-image symmetry throughout."
The PA 3000 HV integrated amplifier (£9,900) is the first product in the series: it has a continuous output of more than 500 watts per channel and an "enormous ability to deliver current". The output stages are driven at +/- 160 volts – twice as high as normal. The machine is equipped with a large number of top-quality symmetrical and RCA sockets and solid rhodium-plated speaker terminals.
The second product is the MP 3000 HV (£7900), a high-end multi-source player with a CD mechanism, streaming client, FM tuner, Super-DAC and FD 100 remote control with screen.
In mid-2013 these products will be followed by the P 3000 HV preamplifier and the A 3000 HV output stage, which can be used either as a stereo power amplifier generating 500 watts per channel, or as a mono power amplifier rated at 1,000 watts.
Both the PA3000 HV and MP 3000 HV will be available in the UK from February 2013.