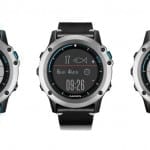 The Garmin Quatix 3 smartwatch could well be proof that there is room in the wearable market for niche devices as this tech is aimed at seafarers and anglers.
The water-loving Garmin Quatix 3 has those general fitness functions covered but this Android and iOS-compatible timepiece aims to reel in the buyers (sorry) thanks to its smart maritime features.
Get the full story at GadgetyNews.